A hybrid (live and online) evening about African wild dogs and wildlife photography to launch Remembering African Wild Dogs
About this event
As part of the launch of the much-anticipated Remembering African Wild Dogs fundraising picture book (the sixth in the Remembering Wildlife series), we are holding a special evening (both live at the Royal Geographical Society in London and virtually from the headquarters of Painted Dog TV in South Africa) about African wild dog conservation and wildlife photography. As well as a live event in London, we will also be broadcasting the evening, so online tickets are available for those unable to join us in person.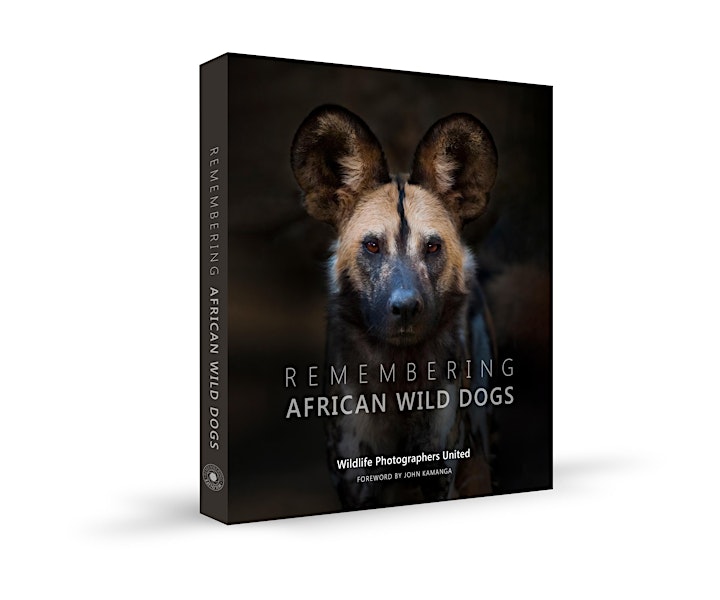 Remembering African Wild Dogs, cover image by Neil Aldridge
Remembering African Wild Dogs aims to be the most beautiful book on the species ever made and as well as a foreword by John Kamanga and an afterword by Jonathan & Angela Scott, it includes images generously donated by many of the world's top wildlife photographers including Greg du Toit, Marsel van Oosten, Will Burrard-Lucas, Art Wolfe and Frans Lanting and many others. Nearly 200 photographers have now contributed to this series which has raised more than £848,000 / $1.1 million USD for conservation so far. All profits generated by Remembering Wildlife are donated to conservation.
This year we are also pleased to be hosting a free exhibition of images from the book in the gallery space at the Royal Geographical Society. This will run from Saturday 6th-Sunday 14th November 2021 10am-5pm daily.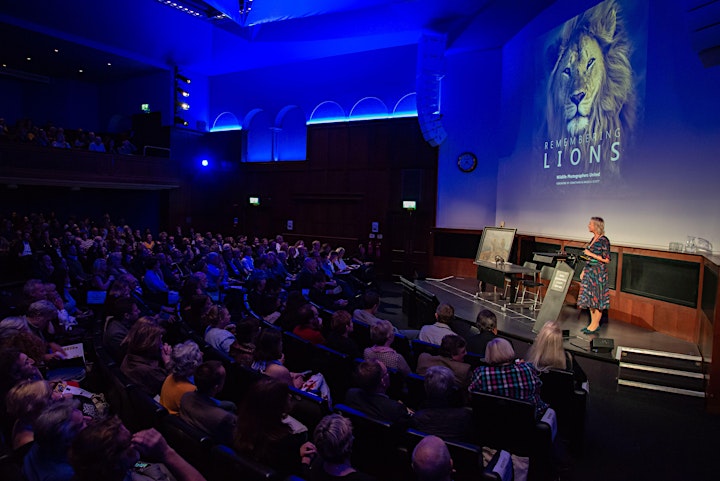 The evening will include a presentation of images from the book, and talks by series founder Margot Raggett (pictured above speaking at the launch of Remembering Lions), conservationist Cole Du Plessis and photographer Michael Poliza.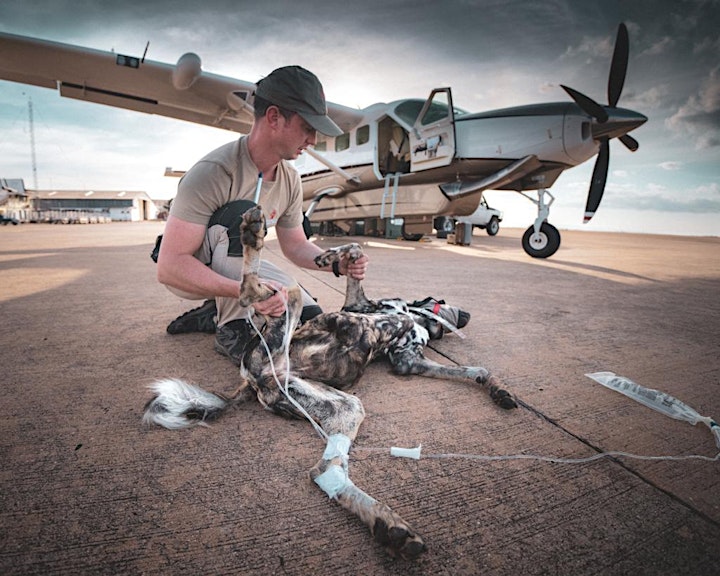 Cole du Plessis from the Endangered Wildlife Trust (joining live from South Africa) , who co-ordinated the recent reintroduction of wild dogs into Malawi (in partnership with African Parks) which Remembering Wildlife helped to fund with a $25,000 donation. Cole will give us insight into the translocation and why it is such a historic, an important move.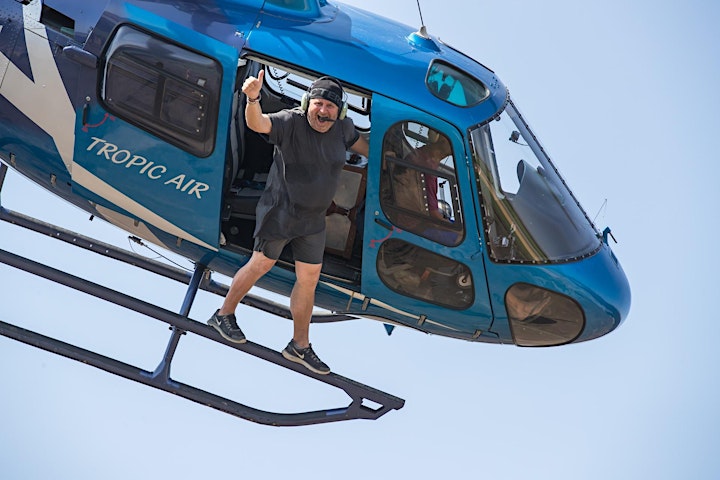 Award-winning photographer Michael Poliza who has supported and contributed to all six books in the Remembering Wildlife series so far, will be speaking about his career as a wildlife photographer and sharing some of his spectacular work.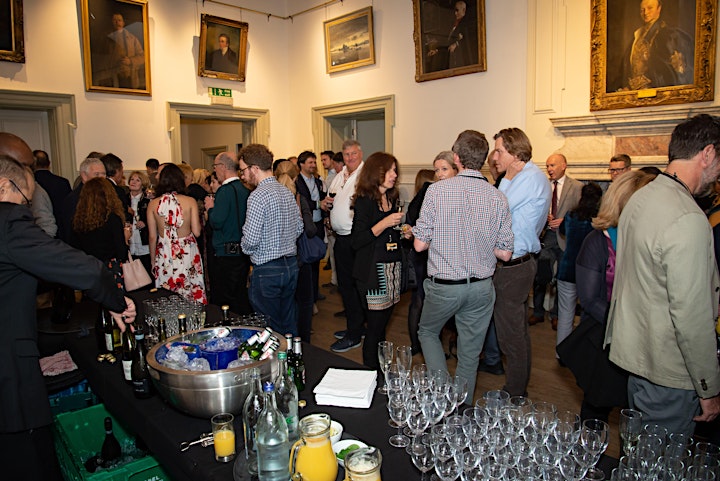 VIP ticket holders will be invited to attend a drinks reception (Remembering Lions VIP reception pictured above)where they can mingle with some of the photographers and speakers. The VIP ticket also includes front of auditorium seating, access to two virtual live game drives from South Africa on 13th & 14th November (courtesy of our friends at Painted Dog TV) plus a *Gary Hodges Remembering African Wild Dogs tote bag. In lieu of the drinks reception, virtual VIP tickets will receive a limited edition print of the Gary Hodges artwork being used on the bag.
VIP drinks reception will run from 18.00-19.00.
Main event starts 19.15 with one interval for a book signing.
*This year's Gary Hodges tote bags will initially only be available as part of the VIP tickets (both live and virtual) and sold at the event and exhibition. If we have any left, they might be added to our website in future for online purchase but this will be subject to availability.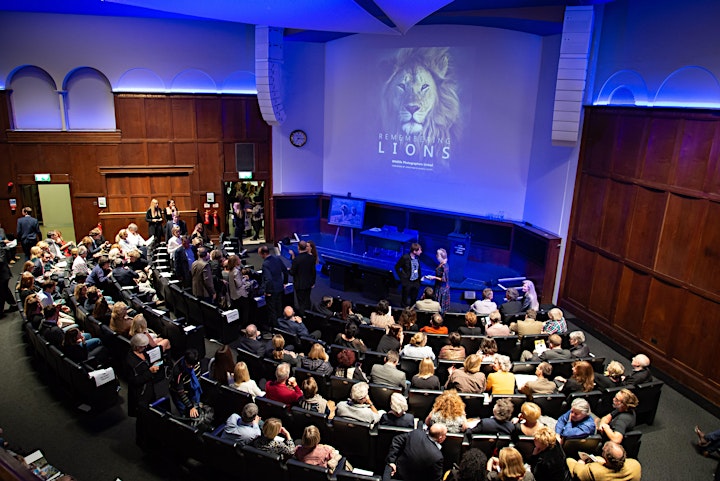 The health of our team and all visitors is paramount to us and we will follow all government guidance at the time of the event. While we are delighted to be able to meet face to face again, we will only be making available 500 live tickets to this event, so that with a capacity of 750 in the auditorium, we are allowing for some social distancing. We also please ask all attendees out of courtesy to take a free NHS lateral flow test on the day of the event and only to attend with a negative result. We also ask for masks to be worn on arrival in the busy check-in area. We will endeavour to hold a book signing once again for those photographers able to attend but this will be subject to our ability to run it in a socially distanced way.
*Ticket sales go live 9am Friday 10th September 2021
*Please note that we will not be offering refunds on tickets purchased for this event. If any purchaser of a live event ticket no longer is able, or wishes, to attend in person, we will happily transfer their ticket to a virtual one instead. Equally, if someone purchases a virtual ticket and nearer the time wishes to attend in person after all, then subject to ticket availability, we will transfer a virtual ticket into a live one. If due to any changes in government guidance we are no longer able to hold a live public gathering, all tickets will be converted to virtual ones for an event which will be held that evening.
Banner image credit Chad Cocking
Organiser of Remembering African Wild Dogs launch - live and virtual!
British wildlife photographer Margot Raggett is the founder of Remembering Wildlife, a book series designed to raise awareness of and funds to protect a succession of wildlife species. It all started when in 2014 she approached and secured the participation of 50 of the world's best wildlife photographers to each donate an image for the Remembering Elephants book. Such was the success that the book became the start of a series.
Her first five books, Remembering Elephants, Remembering Rhinos ,Remembering Great Apes, Remembering Lions and Remembering Cheetahs have so far raised more than £848,000 ($1.1 million USD) for conservation projects as well as raising much needed awareness of the issues facing wildlife. 
The Remembering African Wild Dogs book will be launched both live at the Royal Geographical Society and also online this year on Thursday 11th November 2021.