Remembering Samuel Coleridge-Taylor (15 Aug 1875 - 1 Sept 1912) - an Africa...
Description
Remembering Samuel Coleridge-Taylor
(15 Aug 1875 - 1 Sept 1912) - an African British musical genius & pan-Africanist
An audio-visual presentation
on African British history
& music
*
When: Saturday June 23 2012, 2.30-4.30pm
Where: Gayton Library, 5 St John's Road,
Harrow On The Hill, Middx HA1 2EE
Special Guest: The Mayor of Harrow, Cllr Nizam Ismail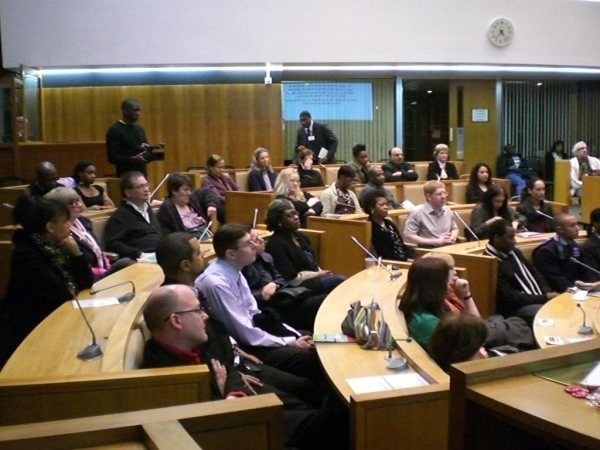 Audience at Kwaku-led 'Messrs Samuel Coleridge-Taylor & Courtney Pine' presentation at Harrow Civil Centre in 2010.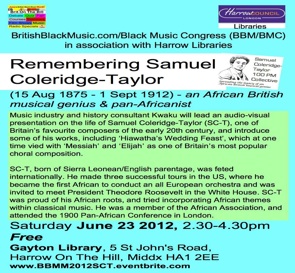 *
UK-based music industry and history consultant Kwaku
will lead an audio-visual presentation on the life of Samuel Coleridge-Taylor
(SC-T
), one of Britain's favourite composers of the early 20th century, and introduce some of his works, including 'Hiawatha's Wedding Feast', which at one time vied with 'Messiah' and 'Elijah' as one of Britain's most popular choral composition.
SC-T, born of Sierra Leonean/English parentage, was feted internationally. He made three successful tours in the US, where he became the first African to conduct an all European orchestra and was invited to meet President Theodore Roosevelt
in the White House. SC-T was proud of his African roots, and tried incorporating African themes within classical music. He was a member of the African Association
, which organised the 1900 Pan-African Conference in London, where SC-T met WEB Du Bois
, who had an influence on the composer. The dire circumstances of SC-T's estate partly led to the formation in 1914 of Britain's Performing Right Society
(PRS
), which collects royalties for composers and music publishers.

The presentation will be followed by a Q&A session during which SC-T's life as an African living in England at the turn of the 20th century, and a pan-Africanist, will be explored.