Description
Step inside Bloomsbury Publishing as we ask how,
when 'television' no longer means a box in the corner of the living room that we sit and watch together, do we keep safe the television of the past?
What is the past, present and future of television? We're experiencing a golden age right now with new show-runners, streaming services and unique collaborations popping up every other week but how does this brave new world take its cue from all that came before? Join us as we host a wide-ranging discussion with three self-confessed telly-addicts actively working to preserve the past and inspire future generations of TV creators, producers and writers to come.
Join us as we take another look at television's history by talking to the people who are making it their mission to keep the unforgettable moments alive for creators, researchers, writers and, most importantly, the fans. Authors of Remembering British Television, Kristyn Gorton and Joanne Garde-Hansen will be in conversation with Dr Elinor Groom, currently TV curator at the British Film Institute (BFI).
Date: Thursday, March 28th
Timing: Doors open and complimentary drinks from 6pm. Our guests in conversation, followed by Q&A with audience members, from 6:30pm to 8:00pm.
Venue: Bloomsbury Publishing, 50 Bedford Square, WC1B 3DP
Nearest station: Tottenham Court Road
Tickets: £15 for adults / £10 students and concessions
Online access: For those unable to attend in person, tickets are available for our video recording. A link will be sent out to view this recording a few days after the event.
If you would like to bring a group of five or more together, please email institute@bloomsbury.com for a significant discount on your tickets.
This event is hosted by Bloomsbury Institute, a division of Bloomsbury Publishing. Please read our Event Terms and Conditions carefully as by buying a ticket to this event, you confirm that you accept these terms and condition and that you agree to comply with them, alongside the Eventbrite terms and conditions.
***
Dr Elinor Groom is the Curator of Television and Broadcast for the National Science and Media Museum in Bradford, where she stewards a collection of broadcast technology that spans John Logie Baird's earliest experiments to state-of-the-art equipment, and roughly 1000 television sets in between. She's currently on secondment at the BFI National Archive, where she is responsible for a collection of roughly 800,000 programmes that is growing by the hundreds every day. She has a PhD from the University of Nottingham, and her thesis examined the emergence of the ITV regional franchise network through analysis of the Southern Television document archive held at the BFI.
Kristyn Gorton is Senior Lecturer in Television Studies in the Department of Theatre, Film & Television at the University of York. She is the author of Psychoanalysis and the Portrayal of Desire in Twentieth-Century Fiction (2006), Theorising Desire: From Freud to Feminism to Film (2008) and Media Audiences: Television, Meaning and Emotion (2009). She is co-author with Joanne Garde-Hansen of Emotion Online: Theorising Affect on the Internet, forthcoming with Palgrave. She has written numerous articles on television and film for journals such as Critical Studies in Television, Studies in European Cinema and the Journal of British Film and Television.

Joanne Garde-Hansen is Associate Professor in Culture, Media and Communication at the University of Warwick, UK. She is co-editor of Save As…Digital Memories (2009) with Andrew Hoskins and Anna Reading, author of Media and Memory (2011), co-editor of Geography and Memory (2012) with Owain Jones and co-author with Kristyn Gorton of Emotion Online: Theorizing Affect on the Internet.
***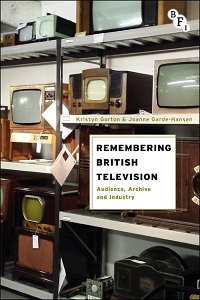 This original book asks how, in an age of convergence, when 'television' no longer means a box in the corner of the living room that we sit and watch together, do we remember television of the past?
How do we gather and archive our memories?
Kristyn Gordon and Joanne Garde-Hansen explore these questions through first person interviews with tv producers, curators and archivists, and case studies of popular television series and fan communities such as 'Cold Feet' and 'Doctor Who'. Their discussion takes in museum exhibitions, popular televison nostalgia programming and 'vintage' tv websites.
***
Event photo by Sven Scheuermeier on Unsplash