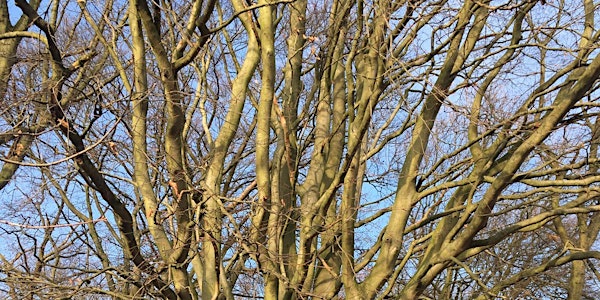 Remembering the circle of belonging: a nature connection taster course
Event Information
Location
King Henry's Walk Garden
11c King Henry's Walk
London
N1 4NX
United Kingdom
Refund policy
Contact the organiser to request a refund.
Eventbrite's fee is nonrefundable.
Get started with new tools and practices for deepening your connection to the natural world, right in the heart of the city.
About this event
A short course co-hosted by WIGS and lead by Catriona Macdonald of Re-embracing Kinship
Friday 12 June 6pm - 9pm (evening meal included) AND
Saturday 13th June 9.30am - 5.30pm (bring and share lunch)
_________________________________________________________________________________________________________
What does it mean to live a sustaining life in the heart of the city?
There are many different answers to this question: care for your body and mind; slow down; nurture relationships; be creative; shop local; earn more money; do your recycling; find a job you love (.....add your own favourite!). But in the spin of it all we can forget the deep truth that our primary place of belonging is to the land and the wildness that birthed us. It never changes and never lets us down. But like all relationships, it takes attention and practice.
This course will give you tools and experiences to remember and develop right relationship with the wildness around you. We call it remembering because it isn't new, our neurology and body awareness has evolved perfectly for nature connection over millions of years. It's life in the city which is new.
In this introductory course Catriona will guide us through the tools and practices she has developed over years of working in this way. These will benefit you personally, offering simple ways in to experiencing the circle of belonging with the wild ones around you and so supporting your relationships with people too.
These practices can also be applied to your work context, be that a therapeutic practice (eg. yoga, mindfulness, counselling, etc), social design and development work, education, or through your leadership. If it's possible in the borough with the lowest per ca pita green space (Islington), it's possible anywhere!
Course content is grounded in anatomy and neurological sciences (no expertise needed from participants) as well as the mythic wisdom of indigenous cultures who have preserved their knowledge of interdependence with the wild world since the beginning.
PLEASE CONTACT US WITH ANY QUESTIONS AND DIETARY REQUIREMENTS
HOSTED BY WIGS AND RE_EMBRACING KINSHIP
WIGS is a not-for-profit organisation that works with social and public sector organisations around the world. We help unlock the social imagination of people, communities, organisations and governments- expanding and reconnecting us with what might be possible and opening up new spaces for collective and creative processes of design and change to realise better outcomes for all.
Catriona Macdonald has spent more than 30 years working and living in the threshold place between human and other-than-human communities as osteopath, healer, horsewoman and animal communicator. She shares with course participants deeply practical techniques developed in response to the disconnection of humans from the web of thriving life on the earth. Techniques developed under the tutelage of some notable humans, and many notable animals both wild and apparently domesticated. This practice is an ancient one, innate to us all. Catriona's teaching combines the wildness of the practices of our ancestors together with recent understandings of anatomy, physiology and neuroscience Alongside her healing practice she spends her time wandering the land serving her apprenticeship as a story carrier, telling the old stories back to the land and our other wild kin. She counts several trees, a number of horses and the nearby Teifi River amongst neighbours and kin.
Date and time
Location
King Henry's Walk Garden
11c King Henry's Walk
London
N1 4NX
United Kingdom
Refund policy
Contact the organiser to request a refund.
Eventbrite's fee is nonrefundable.