Description



Universal Peace Federation - UK
Family Federation for World Peace-UK
Women's Federation for World Peace
Saturday, 1.30 pm May 11th, 2019
At 43 Lancaster Gate, London, W2 3NA
Family Festival: Marriage Beyond Borders


Dear Friends and Ambassadors for Peace,
It is our great pleasure to invite you to attend our 'Family Festival: Marriage Beyond Borders'. While last time we highlighted the stories that each family has to tell, on this occasion we will be focussing on the capacity of couples to overcome language, culture, race, religion or even enemy nation status. Love, marriage and families have the ability to bring the world of humanity together and are a major inspiration for a peaceful world.
The FFWPU (Family Federation), WFWP (Women's Federation for World Peace) and UPF (Universal Peace Federation) with its founders, Father and Mother Moon, promote marriage as a sacred institution that can create healthy and loving families. Those families can provide the experience of living for the sake of others, learning to love different types of characters and the art of compromise and negotiation. It is natural for such loving families to develop caring relationships among their extended network of relatives, which become a component of stable communities and nations.
At the Festival we will have a light hearted look at the great institution of marriage and hear some uplifting stories of those who overcame great difficulties to nurture vibrant and growing families.
This will lead up to a Rededication of Marriage Blessing Ceremony for some couples who have been preparing for this day. A series of faith's readings will be included for inspiration. To understand the significance of this Marriage Blessing please see this presentation.
There will be musical contributions during the programme featuring David Mann and Jeff Bateman.
People will gather from 1.30 pm for refreshments and registration on Saturday 11th May at 43 Lancaster Gate, London W2 3NA. The nearest station (7 minute walk) is Lancaster Gate on the Central Line. The programme will start at 2 pm. We intend to finish by 4 pm for refreshments and fellowship. There will be a children's room with many activities as well.
Please come along with your children and enjoy the afternoon with us.
Looking forward to hearing from you.
Warm regards,
Matthew Huish: National Director FFWPU - UK
Ajay Rai: Central London Community FFWPU
Francis Fobbie: Pastor East London FFWPU
Jeff Bateman: Pastor of North London FFWPU
Mitty Tohma: President of WFWP - UK
Robin Marsh: UK - UPF Secretary General
Ron Chandler: Pastor of Bromley FFWPU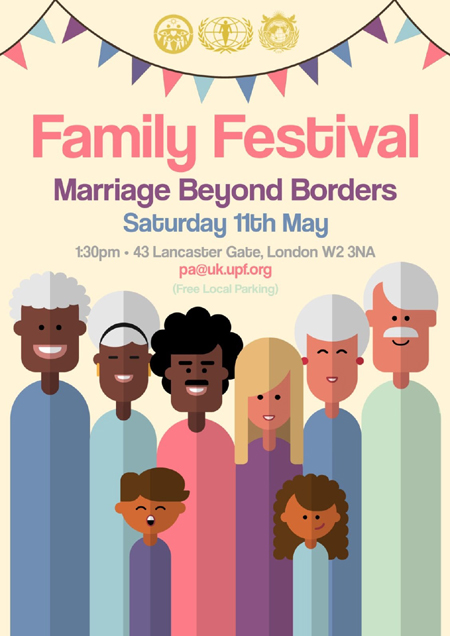 Organiser of Reminder Family Festival: Marriage Beyond Borders
Universal Peace Federation (UPF) seeks to enable a network of peace oriented, altruistic people to heal inter-racial, interreligious, inter-national tensions and build a unified world of peace by establishing an order of inter-dependence, mutual prosperity and universally shared values.
Universal Peace Federation - UK (UPF-UK) has been recognised as a Charity (Number 1185412) by the UK Charity Commission. Briefly summarised, the agreed Objects of the charity are: First, the promotion of national and international conflict resolution and reconciliation. The second set of objects are to promote racial and religious harmony and peaceful co-existence between people of different religions, cultures, races and nations.
UPF is an NGO in General Consultative Status with the United Nations Economic and Social Council (ECOSOC) and advocates renewal of the United Nations, including a proposal that the UN create an interreligious council within its structures. 
UPF International has launched the International Association of Parliamentarians for Peace (IAPP). It was inaugurated as a worldwide association of parliamentarians providing a forum to bring their experience and wisdom to bear in the search for solutions to our world's problems. UPF has also launched the Inter-religious Association for Peace and Development (IAPD) to promote interreligious dialogue. UPF encourages all religions to dialogue and cooperate for peace based upon the recognition that human dignity derives from a universal divine source that is the basis of harmony and unification.
Full charitable objects and other information: https://uk.upf.org/ukupf/peace-and-development/864-universal-peace-federation-uk-becomes-a-charity