Refund policy
Contact the organiser to request a refund.
Eventbrite's fee is nonrefundable.
Join a remote audio guided Forest-Bathing with meditation inspired by the trees to support your wellbeing from whereever you are
About this event
Take a break for you at the end of the day to pause, breathe and be with a dose of nature. A perfect way to wind down at the end of the working day.
This half hour session is based on the mindful practice of Forest-Bathing and involves:
sharing about the practice of Forest-Bathing
a Forest-Bathing 'invitation' to activate your senses and connect with nature
a gentle guided nature based meditation
sharing about the supportive energy of this month's British native tree
You will experience how spending time in nature can support your wellbeing whilst offering you an end of the day wind-down.
April: Willow Tree ~ their energy encourages you to act on your intuition. Nudging you to be flexible, spontaneous and to live in your natural flow. Great support for letting go too.
May: Hawthorn Tree ~ their energy brings strength to release stress, fears and blocks. Helping the flow of healing and to open the heart to love and positivity.
Spring: Oak Tree ~ their energy brings strength, great for relaxing and feeling at ease with. A tree deeply connected with the soul of the land and one that we can feel a heart connection to.
I love sharing these sessions and how we can use technology to support us in gathering together to connect with nature. It makes me appreciate the modern world a whole lot more!
You'll find testimonials from past 'live' sessions and further information below. Any questions you can send Amanda a message at amanda@letsstepin.com
Please note that if you are located in USA or Canada you are not able to join these live session, my apologies for any inconvenience.
See you in nature soon,
Amanda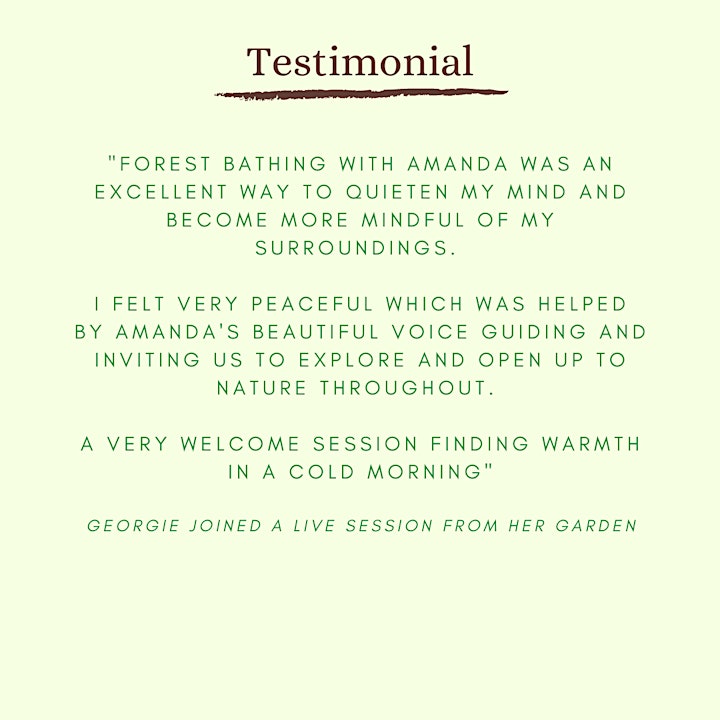 WHAT IS FOREST BATHING?
Forest Bathing is a guided, mindful walk where you are offered a series of 'Invitations' or exercises to support you in exploring nature.
It originated in Japan where it's known as Shinrin Yoku, meaning to 'bathe in the Forest'. They noticed, and later scientifically proved, that spending time immersed in nature benefits not only our minds but also our general health and wellbeing.
HOW A LIVE SESSION WORKS
We'll gather in real time on Zoom (audio only) and Amanda's voice will lead you through the session. You'll receive the zoom log in details and information to support preparing for the session before.
All you need to do is be somewhere in nature with phone signal so you can log in.
Please be in nature & arrive on zoom 5 minutes early so everyone can experience the full session.
If for any reason you can't make the set 'live' time you will be sent the audio recording after the event to do in your own time.
WHERE TO BE FOR THE SESSION
You can be anywhere to join this session as long as you have phone signal - in a woodland, in your local park, a nature reserve or even in your garden... Whereever you can safely access nature (and have permission to do so) is perfect!
PRACTICAL CONSIDERATIONS
make sure the nature spot you've chosen to be in for the session is safe for you to be in and that you have permission to be there, it's accessible to the public.
please be at your nature spot before the session begins. If you need to walk from a car park or from your home etc. please do that before the session so you're ready to start on time
make sure you'll be warm enough and protected from the weather. You'll be walking slowly and sitting so your body temperature will drop quickly, it's best to take extra layers with you and wrap up more than you expect.
GEOGRAPHICAL AREAS EXEMPT FROM JOINING
If you are located in the USA or Canada you are not permitted to join the session. Apologies for this, however it is outside of my control.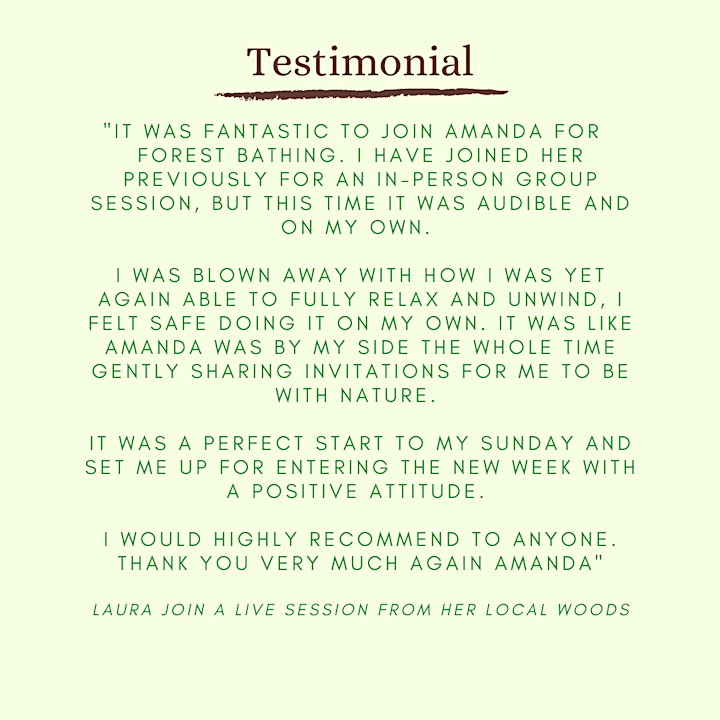 DISCLAIMER OF LIABILITY
Amanda Bailey and Let's Step In does not assume any liability from joining a 'live' audion guided session. Being in the outdoors has its own potential hazards, which need to be evaluated for each person based on that person's circumstances, the individual surroundings and the weather conditions on the day. By joining the 'live' session you recognise the foregoing and you agree to hold us harmless from any liability resulting from the session. You agree that you are responsible for keeping yourself safe at all times.