Refund policy
Contact the organiser to request a refund.
Eventbrite's fee is nonrefundable.
Support your wellbeing from whereever you are with an audio guided forest-bathing and meditation break in nature
About this event
Take a break for you at the end of the day to pause, breathe and be. A perfect way to wind down at the end of the working day.
This half hour session is based on the mindful practice of Forest-Bathing and involves being guided throughout with:
setting you up to get the most out of the session
grounding practice
nature connection activity
gentle nature based meditation
sharing about the energy of the month's British native tree
You will experience how spending time in nature can support your wellbeing whilst offering you an end of the day wind-down.
July: Holly Tree - their energy reminds you to take the path slowly, to be patient and hold an inner strength to calmly tread lifes journey. There's no hurry, you have the ability to change and adapt so you can overcome whatever life puts on your path.
August: Hazel Tree - a peaceful tree to take a break froom the everyday. They grow quickly and produce an abundance of nuts reminding us that life is full of abundance, there is no need to hold back. Their message is to go for it and embrace all that life has to offer.
September: Vine Tree - their energy reminds you are beautiful inside and out, their winding branches indicate the flowing path taken to reach a destination. Their grapes remind you to enjoy the fruits of your labour after all the work done bringing your desires to life.
About Amanda
You will be guided by Amanda, a certified forest therapy guide, meditation teacher and coach.
Amanda loves sharing these sessions and how we can use technology to support us in gathering together to connect with nature from afar.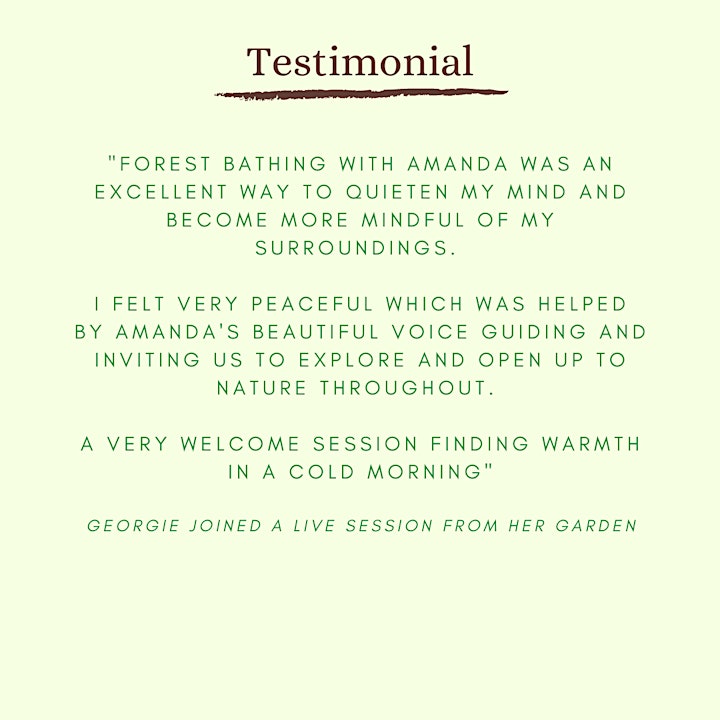 WHAT IS FOREST BATHING?
Forest Bathing is a guided, mindful practice that uses 'Invitations' or exercises to support you in connecting with nature.
It originated in Japan where it's known as Shinrin Yoku, meaning to 'bathe in the forest'. They noticed, and later scientifically proved, that spending time immersed in nature benefits not only our minds but also our general health and wellbeing. Find out more over on Let's Step In website here
HOW A LIVE SESSION WORKS
We'll gather in real time on Zoom (audio only) and Amanda's voice will lead you through the session. You'll receive the zoom log in details and information to support preparing for the session before.
All you need to do is be somewhere in nature with phone signal so you can log in.
Please be in nature & arrive on zoom 5 minutes early so everyone can experience the full session.
If for any reason you can't make the set 'live' time you will be sent the audio recording after the event to do in your own time.
WHERE TO BE FOR THE SESSION
You can be anywhere to join this session as long as you have phone signal - in a woodland, in your local park, a nature reserve or even in your garden... Whereever you can safely access nature (and have permission to do so) is perfect!
PRACTICAL CONSIDERATIONS
make sure the nature spot you've chosen to be in for the session is safe for you to be in and that you have permission to be there, it's accessible to the public.
please be at your nature spot before the session begins. If you need to walk from a car park or from your home etc. please do that before the session so you're ready to start on time
make sure you'll be warm enough and protected from the weather. You'll be walking slowly and sitting so your body temperature will drop quickly, it's best to take extra layers with you and wrap up more than you expect.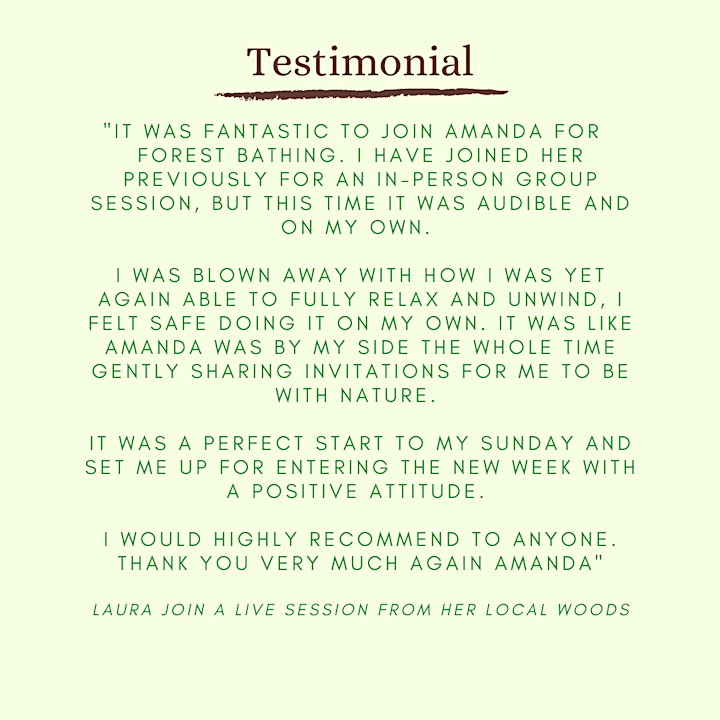 DISCLAIMER OF LIABILITY
Amanda Bailey and Let's Step In does not assume any liability from joining a 'live' audion guided session. Being in the outdoors has its own potential hazards, which need to be evaluated for each person based on that person's circumstances, the individual surroundings and the weather conditions on the day. By joining the 'live' session you recognise the foregoing and you agree to hold us harmless from any liability resulting from the session. You agree that you are responsible for keeping yourself safe at all times.