Description
This is the picture you will paint on this evening using acrylics with step by step guidance. You will start with a blank canvas and finish with your own masterpiece!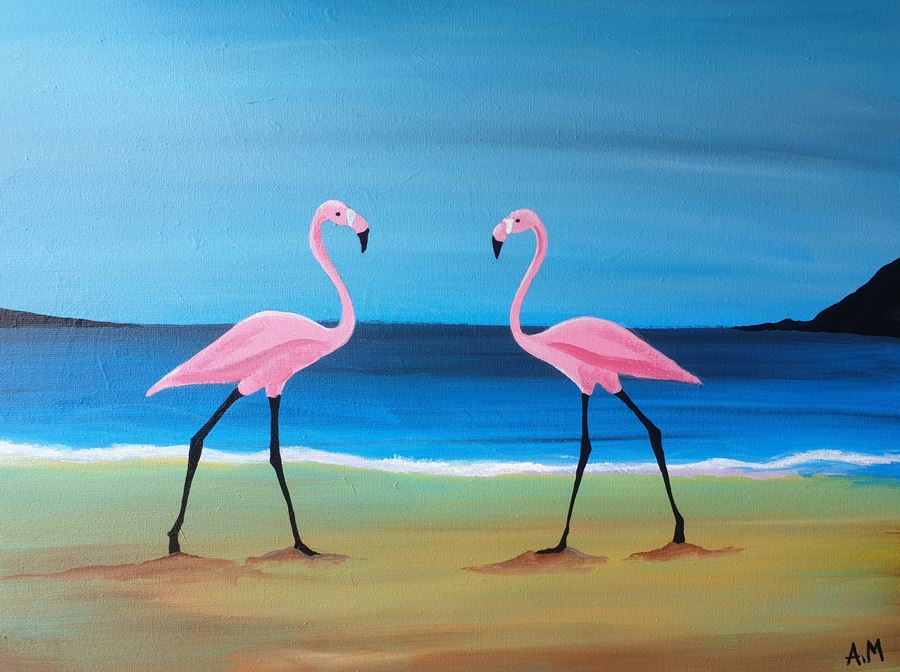 Everything you need to start painting will be ready for you: a 40 x 50cm canvas, easels, aprons, paints, brushes and 2 ½ hours of teaching.
Don't worry if you feel unsure because it's okay to feel that way. We adults over think things and sometimes talk ourselves out of things feeling we can't do it. Remember when we are kids and we just went for things? You will get clear instructions at every step and personal attention whenever possible to get something right. You will find that you will improve and feel more confident with each session regardless of whether you are a novice or expert.
I really want you to feel relaxed and feel proud of your work at the end of the evening.
Buy your tickets and turn up on the night in comfy clothes that you don't mind getting a little messy in.

Your ticket does not include food or drink. There will be wine and soft drinks for sale so bring small change.

If you are driving, I would suggest placing some old newspapers in your car boot or back seat just in case your canvas is still a tad wet.
Places are limited and places must be booked in advance to secure your place. Please note that unless stated, only over 18's are allowed.
Twisted Art is run by Maidenhead artist, Angela Mitchell. She is known for her warm and friendly personality, sense of humour and fun! Angela is originally from Malaysia where she trained in Graphic Design & fine art, lived and worked in Sweden and has been in the UK for 11 years! She has been a journalist, Marketeer and is also a Spiritual Therapist and Artist. She speaks four languages and loves to travel.
Parking: The nearest parking is the Sainsbury's car park at Hines Meadow, Crown Lane
Maidenhead, SL6 8QZ. Once you are out onto the high street, walk towards the Bear pub and you will see Bakedd on your right. The other alternative is the town hall car park at Grove Road, Maidenhead SL6 1SQ which is around the corner. There is off the street parking near the café but it is often taken up but you never know! It is also just about a 10mins walk from the Maidenhead train station and about 2mins from the Market Street & Library bus stops.
Contact: twistedartparties@gmail.com www.twistedartparty.co.uk
Please note that tickets are NOT refundable. You however can transfer your tickets to someone else however they must be over 18+ and valid only for the event the ticket has been purchased for and not for another event.