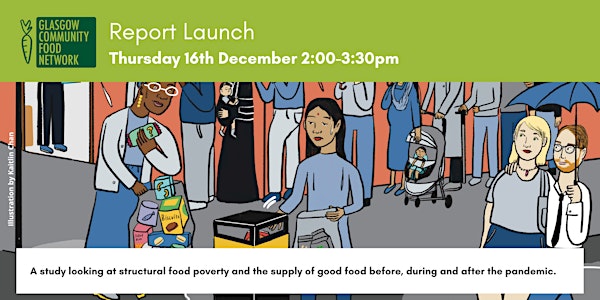 Report Launch: Tackling food poverty before, during and after the pandemic
Join us to launch our report looking at structural food poverty, and the supply of good food before, during and after the pandemic.
About this event
Through collective and collaborative work, we have made recommendations for a more resilient local food system for the consideration of the Scottish Government, Glasgow City Council and Third Sector Partners.
We'll be hosting an interactive, online event to showcase snapshots of the report and make space for discussion.
Speakers:
Sabine Goodwin, Independent Food Aid Network
- Cash First Approaches and Ending the Need for Foodbanks
Asma Abdalla, Empower Women for Change
- Recommendations for Refugee and Asylum Seekers
Neil Young, St Pauls Youth Forum
- Accessing Good Food in Blackhill, Glasgow
Siobhan Boyle, Glasgow Health and Social Care Partnership
- Glasgow City Food Plan and Fair Food for All
Zoom
We will be utilising a number of Zoom functions including polls and break out rooms. We'll give clear instructions and have a Tech Support person on hand to help.
Access
We want to make sure our event is accessible as we can. All access requests can be made via Eventbrite while registering or you can contact customercare_gcfn@glasgowfood.net.
We may be in touch with you directly to discuss certain requests but we wont ask for proof or evidence for your request. You can request anything that will make your experience better.
All requests are kept private. If you have any specific access requirements please share this when registering. We will do our best to meet any requests within our limited budget. The more notice we have, the more able be will be to meet your request.