Representing Craft/Crafting Representation: DHS Dialogues: Digital Agency
About this event
How has craft been represented through a variety of media? What impact does representation through the particularities of images, films, spoken and written words, digital platforms have on how craft is practiced and understood? To what extent do representations focus upon materials, tools, practices, makers, environments? How has the dialogue between craft and representation informed the transmission of craft skills? How has the mediation of craft informed its status within debates about heritage and identity? In what ways might translation across particular modalities of communication resonate distinctly locally, transnationally, globally? How has the representation of craft been mobilised to generate or to problematise consumption?
This series features speakers worldwide and across the widest possible range of disciplines and career stages who are thinking critically about intersections between craft and representation. 10-minute presentations in English illustrated by a single PowerPoint slide will generate a dialogue amongst all participants. These dialogues will be 'live' via Zoom on alternate Thursdays at 19.30 hrs GMT from 20 January - 31 March 2022. Please visit our listings page for the full programme here.
This week's session is themed DIGITAL AGENCY
Access event via ZOOM: https://us02web.zoom.us/j/82964767268
Shannon Black - Visualizing change: online representation and resistance in the Canada-US hand knitting industry
In recent years in the Global North, the popularity of craft has surged. Increasingly, crafters are turning to visual and digital mediums, such as photography and social media, in an effort to showcase their work, exchange creative ideas, cultivate communities, and generate business opportunities. As crafters move online, the ways in which inequities in general, and racial inequities in particular, circulate within craft sectors, and how they manifest, articulate, and are struggled against via visual and digital media, require urgent study. In this presentation I address this gap. Combining the testimonies of forty-two crafters and craft intermediaries working within the Canada-US hand knitting industry, with visual analysis of photos posted on knitting themed Instagram accounts, I examine how visual and digital media are important tools for confronting persistent discrimination within the hand knitting industry, and how the space of the digital platform in particular, is a key site for the transgression of barriers, the enactment of agency, and the organizing of anti-racist action and solidarity. However, because platforms, and the visualities and interactions that circulate within and through them, are not outside the material worlds in which they are situated and, as such, are not immune to existing structures of racism, the transformative potential of using visual and digital media to confront systemic inequities within the hand knitting industry remains tenuous. Highlighting potentials and pitfalls of online representation and resistance, this presentation invites conversation about the role of visual and digital media in the struggle for racial equity more broadly.
Dr. Shannon Black holds a Ph.D. in Human Geography from the Department of Geography and Planning at the University of Toronto. As a cultural and feminist geographer, Black's research focuses on the various ways in which visual, material and digital cultures intersect with craft and creative industries, and the complex impacts these intersections have on structures and subjectivities. The use of craft in feminist social movements, the role of creative industries in neighbourhood change, and the potential of art-based methodologies in critical scholarly research, are other areas of interest.
Laya Chirravuru - Crafting The Internal 'Other'?
Crafts and craft activities have always been the backbone of India's sustainable development with their strong socio-economic-political relevance. While several examples prove that Indian lifestyle(s) were fundamentally rooted in sustainability, the contemporary notions around the buzzword of sustainable fashion aim to locate a matchless cultural purity within the 'traditional' Indian village, which has typically been the site and source of handmade textiles. This perception of the village and its correlation with sustainability is strengthened by visuals that romanticize the lifestyles and landscapes of the village as India's 'traditional past.'
While many retail brands and organizations today focus on bringing awareness for textile crafts, this visual culture has simultaneously given rise to the contemporary style of 'otherising' and 'exoticizing' the rural lifestyle. As discussions around sustainable fashion have (re)cast a spotlight on the Indian village, the social identity of the artisan gets condensed into a category of the internal 'Other', often portrayed through their physical attire which remains noticeably distinct from that of the urban consumer. This identity of the quintessential Other is used variously by popular brands, either to communicate an 'emotional' narrative of 'sustaining livelihoods' or the 'exotic' narrative of promoting tribal-inspired handcrafted products.
Visual analysis of historical representation reveals the underlying colonial legacies within such contemporary representation of craftworkers, in a postcolonial India whose national agenda is to celebrate diversity. This study examines visual archives of the Great Exhibition of 1851, London's Liberty's departmental store in 1885, and the Colonial and Indian Exhibition of 1886, juxtaposed against contemporary visual-led marketing strategies. It uncovers the dilemmas of internalized coloniality in the practice of selecting and displaying artisans as the embodiment of 'timeless' purity. The central issue is to question what kinds of cultural imagery are we preserving, projecting, and reinforcing, in the quest for sustainable fashion.
Laya Chirravuru is a fashion designer from India. She is an alumnus of the National Institute of Fashion Technology, New Delhi, and holds a master's degree in Design Research from the Bauhaus Dessau Foundation, Germany. Having worked in the retail fashion industry in India, she is currently making headway into the field of research. Her passion lies in the areas of sustainability, cultural studies, and design anthropology. She critically examines the socio- cultural entanglements of indigenous textiles and craft activities of South Asia, shaping the contemporary discourse of sustainability.
Teal Triggs, Celia Matsunaga and Matt Lewis - Critical Ethics for Communicating Indigenous Craft Practices
This presentation raises questions about the roles that critical ethics and communication design practice play in a process of representation of indigenous craft knowledge and traditional cultural heritage. In an impassioned call to be prepared for an uncertain future, (chief) Cacique Domingos Munduruku of the Brazilian Munduruku peoples, who live remotely on an Amazon tributary, remarked: 'Families don't have access to information...we need a project to improve communication...we know the importance of education.' (2021) To address this challenge, a unique partnership was formed between the village inhabitants in Bragança, Marituba, Brazil, design educators at the Royal College of Art (RCA), and Universidade de Brasília (UnB). The project 'Building a Library for the Future: Munduruku Craft Practices and Indigenous Knowledge' is funded through the British Council's Crafting Futures Digital Collaboration Grants scheme. One aim of the project is to develop, through agreed actions, a 'way of doing', leading to a cooperative approach in fostering other 'ways of knowing'. The hoped-for result is a sustainable process through which a repository of craft practices and knowledge can be created, and eventually incorporated into a village library for the future.
An ongoing dialogue between the project's three partners, has already led to recognizing the importance of local cultural practices and protocols in communication research processes. For example, this includes consideration of orally recorded informed consent and '…group culture communities recognizing the leader's authority'. (Brazil's National Commission of Ethics in Research, 2012) Local telecommunications practices are central to the project's documentation (e.g., WhatsApp, mobile phone recordings). This process takes into consideration what craft practices are foregrounded and how participants represent these through chosen means of documentation modes and methods. These processes ultimately inform the representation and interpretation of Munduruku indigenous knowledge, crafts processes, and their place in history.
Project Team: Professor Teal Triggs is a design educator, historian, and researcher in the School of Communication, Royal College of Art. Dr Matt Lewis, is an educator and sound artist and musician who teaches on MA Digital Direction and MA Information Experience Design, School of Communication, Royal College of Art. Professor Celia Matsunaga is a design educator and researcher, University of Brasilia. Cacique Domingos Munduruku is chief of the village in Bragança, Marituba. Matheus Almeida is a designer and postgraduate design researcher, University of Brasilia.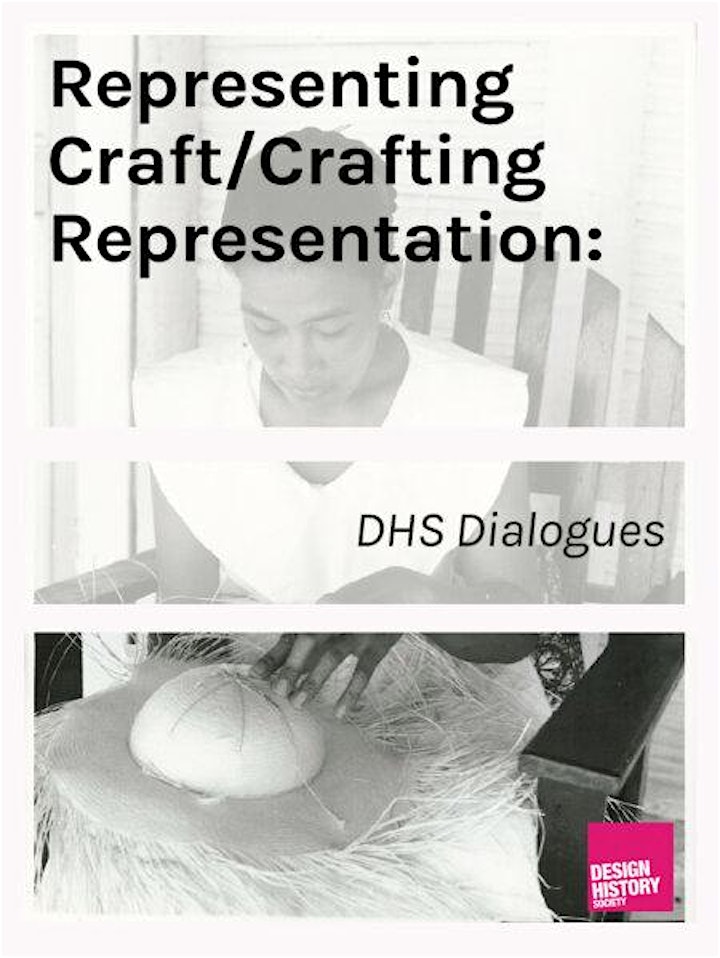 Organiser of Representing Craft/Crafting Representation: DHS Dialogues: Digital Agency