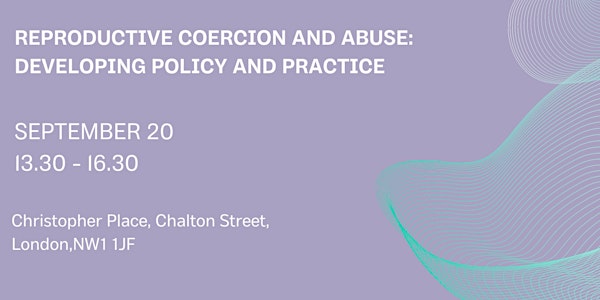 Reproductive Coercion and Abuse: Developing Policy and Practice
Location
Chalton Street
Chalton Street
London
NW1
United Kingdom
This workshop will hear interim research findings, share experiences and identify key issues for those at risk of reproductive coercion.
About this event
About this event
Date: 20th September 2022, 1.00-4.30
Venue: Christopher Place, Chalton Street, London,NW1 1JF
This workshop will be of interest to healthcare professionals with an interest in safeguarding in contraceptive provision, abortion care and maternity services, and experts from gender-based violence organisations. It focuses on reproductive coercion and abuse as a specific form of interpersonal violence which involves the exercise of power and control to reduce or prevent autonomous decision-making of another in the area of reproductive health (for example, denying access to birth control, abortion coercion, and enforced pregnancy).
The workshop will present interim findings from a qualitative research project which seeks to draw together knowledge and experiences from reproductive healthcare professionals and gender-based violence advocates.
It will provide an opportunity for in-depth discussions of the issues raised by the research. It will also inform the future direction of the project and ensure it reflects the priorities identified by stakeholders.
It also seeks to bring together experts in reproductive health and gender-based violence to develop a network of experts with an interest in this area for future policy and practice development.
We would like to thank the British Academy for funding this research project
If you have questions about the event, please contact Dr Pam Lowe (p.k.lowe@aston.ac.uk).
We are hoping to be offer some financial assistance for travel for those unable to access organisational funding. Please email for more details.
If needed, confirmation of attendance can be provided for continuing professional development (CPD) purposes.