(REARRANGED)Fresh on the heels of Undercover Festival 9 is this mouth watering line up of Doctor and the Medics + support in Guildford
About this event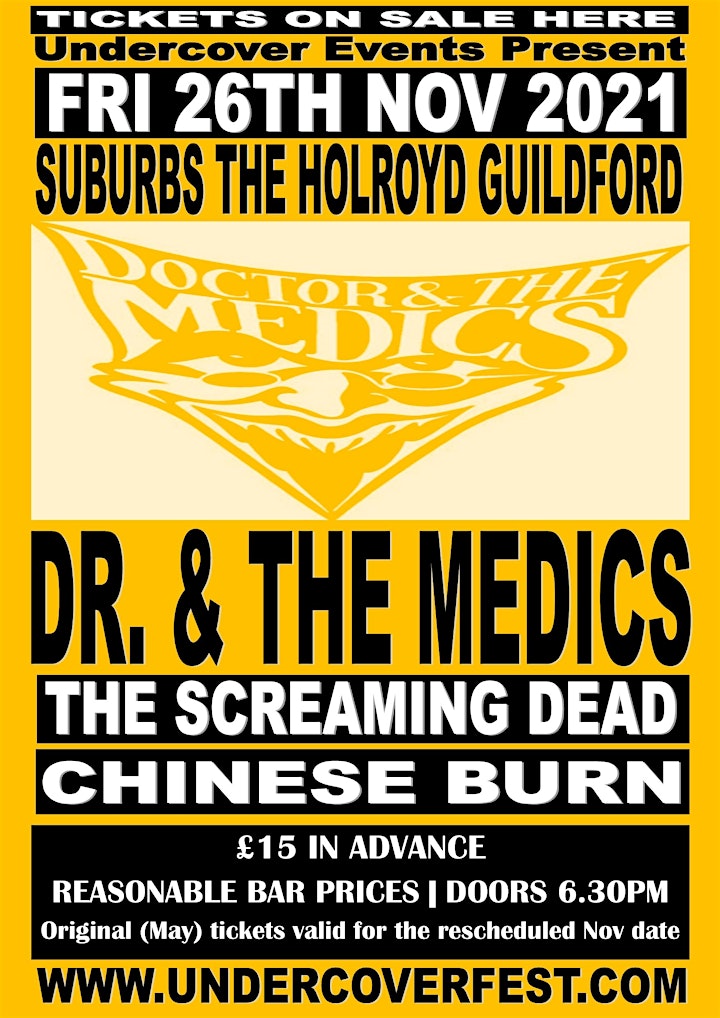 ... THIS IS A RESCHEDULED GIG TO FRIDAY 26TH NOVEMBER 2021
Doctor and the Medics
Screaming Dead
Chinese Burn
Gonna be a cracker this
Tickets £15 in advance £20 on the door
Dr and the Medics were created almost at the dawn of the 80's, in 1982 by The Rev Dr. Clive Thomas Jackson.
The band has had a very colourful and successful career as both recording artists and performers. Undoubtedly they are been best known for their massive 1986 No 1 "Spirit in the Sky," which sold over 24 Million copies world wide and was number 1 in 23 countries!! They are also recognized as a great live act, in 1985 the NME referred to them as "THE live band of the year."
Often promoted as 1 hit wonders, the band claim to be the only 1 hit wonder to have had 2 hits as their next single "Burn," got to number 21!! But as they don't make documentaries or publish books about one and a half hit wonders, the Doctor keeps quiet about "The other hit," and wears his "One Hit Wonder" badge with pride!!!
The band's last chart entry was "Waterloo" which they recorded with Roy Wood, In addition the band have recorded 5 albums, the latest being a live album featuring the current line up which is due out this year. This line up has been together since 1999 and has developed a unique and sensationally flamboyant live show. The current show features many hits from the 80's, All given the Medics unique treatment!! Such is the power of their performance that they produced the shock result of the TV show "Hit Me Baby One More Time," when they won the studio vote for best act against Jackie Graham, Belinda Carlisle and………………….. SHAKIN STEVENS!!!
n 2015 the band released Spirit In The Sky (29th Anniversary Remix Package) because the Medics wouldn't wait for it's 30th Anniversary. The song hit #1 in the United States.
We guarantee you will return home with a smile on your face, so as we say at Undercover See Ya Down the front!!