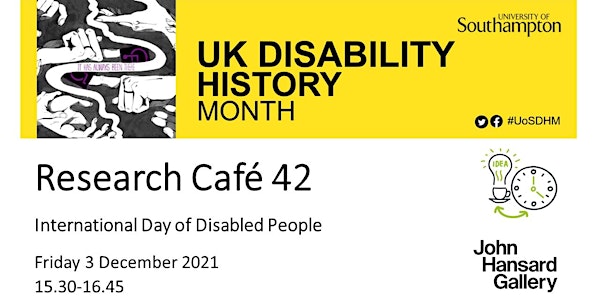 Research Café 42 for International Day of People with Disabilities
Location
John Hansard Gallery
142-144 Above Bar Street
Southampton
SO14 7DU
United Kingdom
Listen, sip, discuss. The Research Café enables people from across the Southampton community to meet and discuss research and topical issues
About this event
Join us for the 42nd Research Café event marking International Day of People with Disabilities, as part of UK Disability History Month, led by the University of Southampton Staff Disability Network. Registration is required for full details of the event location.
With guest speakers from SPECTRUM Centre for Independent Living and the University of Southampton, the discussion will focus on areas including disabled people's advocacy, support provision, independence, sexuality and cultural representation.
Tea, coffee and biscuits will be provided.
Speakers
Ian Loynes, Chief Executive, SPECTRUM Centre for Independent Living
Dr Andrew Power, Associate Professor of Human Geography, University of Southampton
Dr Ronda Gowland-Pryde, Civic University lead, Public Engagement with Research unit and Vice-Chair of Staff Disability Network, University of Southampton
Chaired by Research Café organiser Dr Tony Curran
Due to limited capacity and to follow Covid safety best practice, registration is required. To book, click on the event registration link.
Covid safety requirements. There will be people from highly vulnerable groups attending this event, therefore we are applying a high level of safety precautions:
1. Proof of at least double vaccination will need to be shown on arrival
2. Attendees are asked to take a Covid test in the 48 hours prior to the event and only attend if this is negative, AND they have no Covid-19 symptoms
3. Face masks are requested to be worn, especially when moving around the venue
4. Maintain social distancing and wash hands or use hand sanitiser provided
To inform us of any further access requirements, please contact: rjg3@soton.ac.uk