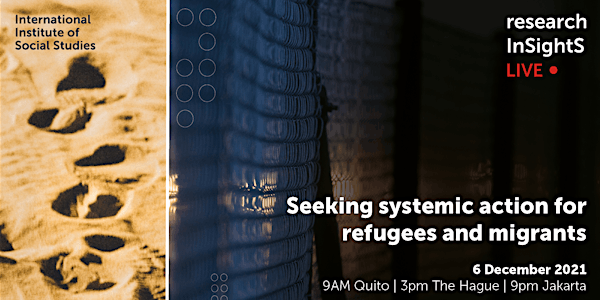 Research InSightS Live 2: Seeking systemic action for refugees and migrants
How can we move towards humane, durable and systemic action for refugees and migrants? It's TIME to talk solutions.
About this event
Join us for this hybrid event (live at Pakhuis de Zwijger in Amsterdam or online) organized in the run-up to International Migrants Day.
Here is the Zoom link to join us online: https://zoom.us/j/98835488568
The event will focus on the protection of the most vulnerable, whether refugees in camps, migrants on the move, or (undocumented) migrants closer to home. This is more relevant than ever in the face of the COVID-19 pandemic, continued migration streams and more recently the developments in Afghanistan and Belarus.
It's time to move away from ad-hoc half-solutions towards durable and systemic action - at international, national and sub-national level. What can we learn from recent research findings?
Our search for solutions will center around three themes.
First of all, how can we bring our common humanity back into the center of our responses?
Second, we will zoom into how current policies are in themselves creating humanitarian disasters.
Third and last, we will explore how insights from research, civil society and migrant perspectives can inform and transform policy and practice going forward.
The program will be interactive throughout, and participants are invited to share their questions and own insights.
The conversation will be ISS at its finest: critical, based on real-world insights, bringing together a kaleidoscope of perspectives. Topic veteran or newbie, this episode is relevant for us all and you are welcome to join!
Speakers:
Hanaa Benjeddi, Pediatric Resident at AMC
Thea Hilhorst, Professor of Humanitarian Aid and Reconstruction at ISS
Zeynep Kasli, Assistant Professor at ISS
Wies Maas, International Programme Coordinator at Dutch Council for Refugees
Anila Noor, Managing Director at New Women Connectors
Zemzem Shigute Shuka, Assistant Professor of Global Health and Development at ISS
Dhika Sjamsoeoed Sadjad, PhD researcher at ISS
Nanneke Winters, Assistant Professor in Migration and Development at ISS
Contact:
abraham@iss.nl
Practical information:
The event will be hybrid. You can attend online or in-person at Pakhuis de Zwijger, Amsterdam. The online link and details will be communicated to you in a separate email, closer to the event date.
In-person attendance will be limited to a maximum of 40 people. Please note that as per the Dutch Government's health guidelines and rules, you will be required to provide us with a Coronacheck QR code at the entrance. We will ensure safe social-distancing and health measures at the venue throughout the event.
If you wish to switch your attendance from in-person to online, please let us know at abraham@iss.nl so that we can offer your seat to another participant.
Organiser of Research InSightS Live 2: Seeking systemic action for refugees and migrants