Research symposium – building evidence for impact in community investment

Thursday, 18 July 2019 from 10:30 to 15:00 (BST)
Event Details
Investing in local communities
Social landlords across the UK invest millions every year in their communities, whether in helping residents into work and training, improving health and wellbeing, promoting digital inclusion and financial literacy, or running community programmes and spaces. Understanding what works and the impact of these programmes is an area of interest for many academics, both within and outside the housing and regeneration research field.
As part of the new Centre for Excellence in Community Investment, HACT is curating a research symposium to bringing together researchers and practitioners to explore how to increase the evidence base, and its impact, in community investment.
The Centre for Excellence in Community Investment
The Centre for Excellence in Community Investment was established by HACT in 2018 to champion and celebrate the importance and impact of community investment across the UK. The Centre will promote and evidence the impact of community investment, as well as creating insights around evidence-based research.
There is a strong appetite amongst social housing professionals to work with academics to collate published evidence, identify and fill any gaps in the evidence base, and to improve the transfer of knowledge from academia to social housing professionals. 
The research symposium
To facilitate this process, the Centre for Excellence in Community Investment will be holding its first research symposium. This will be a chance for housing academics, researchers and practitioners to start conversations about the evidence base around community investment. It will inform the Centre's future research strategy, supporting the research and practitioner community to drive forward impact in the future.
The symposium will be an interactive and engaging day based around discussions and sharing insights, rather than on paper and poster-based presentations. We want to explore opportunities for collaboration, identify and discuss critical research questions, and identify how we can work together on research that has impact on the lives of residents and communities.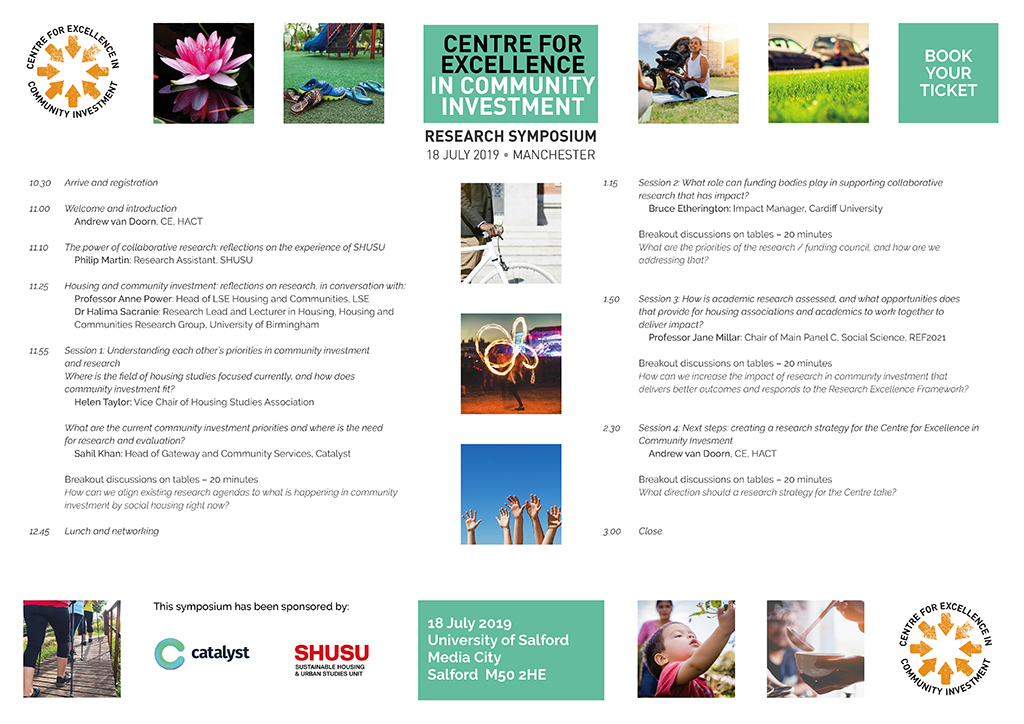 Agenda
10.30    Arrive and registration
11.00    Welcome and introduction  Andrew van Doorn, CE, HACT
11.10     The power of collaborative research: reflections on the experience of SHUSU
Philip Martin: Research Assistant, SHUSU
11.25     Housing and community investment: reflections on research, in conversation with:
Professor Anne Power: Head of LSE Housing and Communities, LSE
Dr Halima Sacranie: Research Lead and Lecturer in Housing, Housing and Communities Research Group, University of Birmingham
11.55     Session 1: Understanding each other's priorities in community investment and research 
Where is the field of housing studies focused currently, and how does community investment fit?
Helen Taylor: Vice Chair of Housing Studies Association
What are the current community investment priorities and where is the need for research and evaluation?
Sahil Khan: Head of Gateway and Community Services, Catalyst
Breakout discussions on tables – 20 minutes
How can we align existing research agendas to what is happening in community investment by social housing right now?

12.45   Lunch and networking
1.15    Session 2: What role can funding bodies play in supporting collaborative research that has impact?
Bruce Etherington:Impact Manager, Cardiff University
Breakout discussions on tables – 20 minutes
What are the priorities of the research / funding council, and how are we addressing that?
1.50    Session 3: How is academic research assessed, and what opportunities does that provide for housing associations and academics to work together to deliver impact?
Professor Jane Millar: Chair of Social Sciences REF Panel C, and Professor of Social Policy, University of Bath
Breakout discussions on tables – 20 minutes
How can we increase the impact of research in community investment that delivers better outcomes and responds to the Research Excellence Framework?
2.30    Session 4: Next steps: creating a research strategy for the Centre for Excellence in Community Invesment
Andrew van Doorn, CE, HACT
Breakout discussions on tables – 20 minutes
What direction should a research strategy for the Centre take?
3.00     Close
This event is kindly sponsored by SHUSU and Catalyst Housing Association.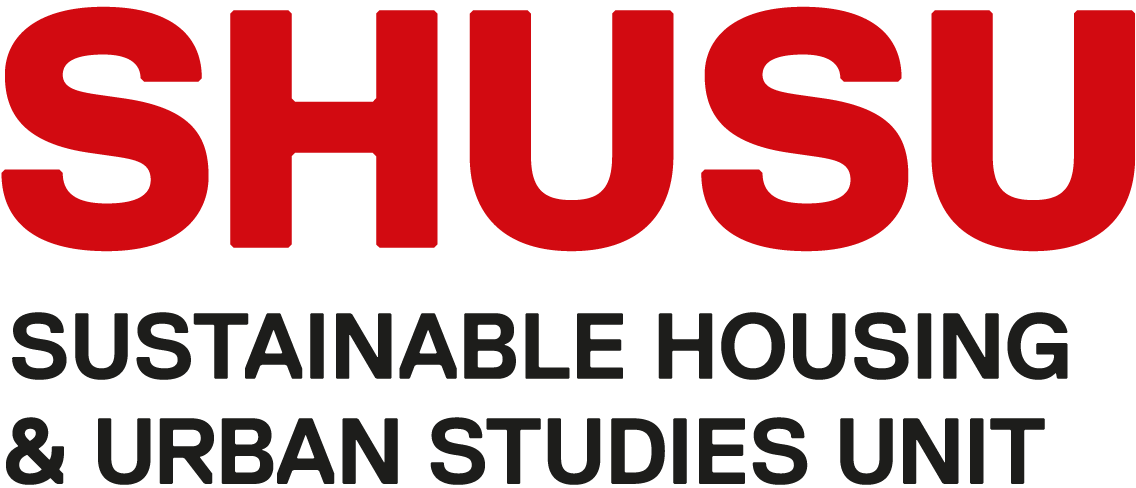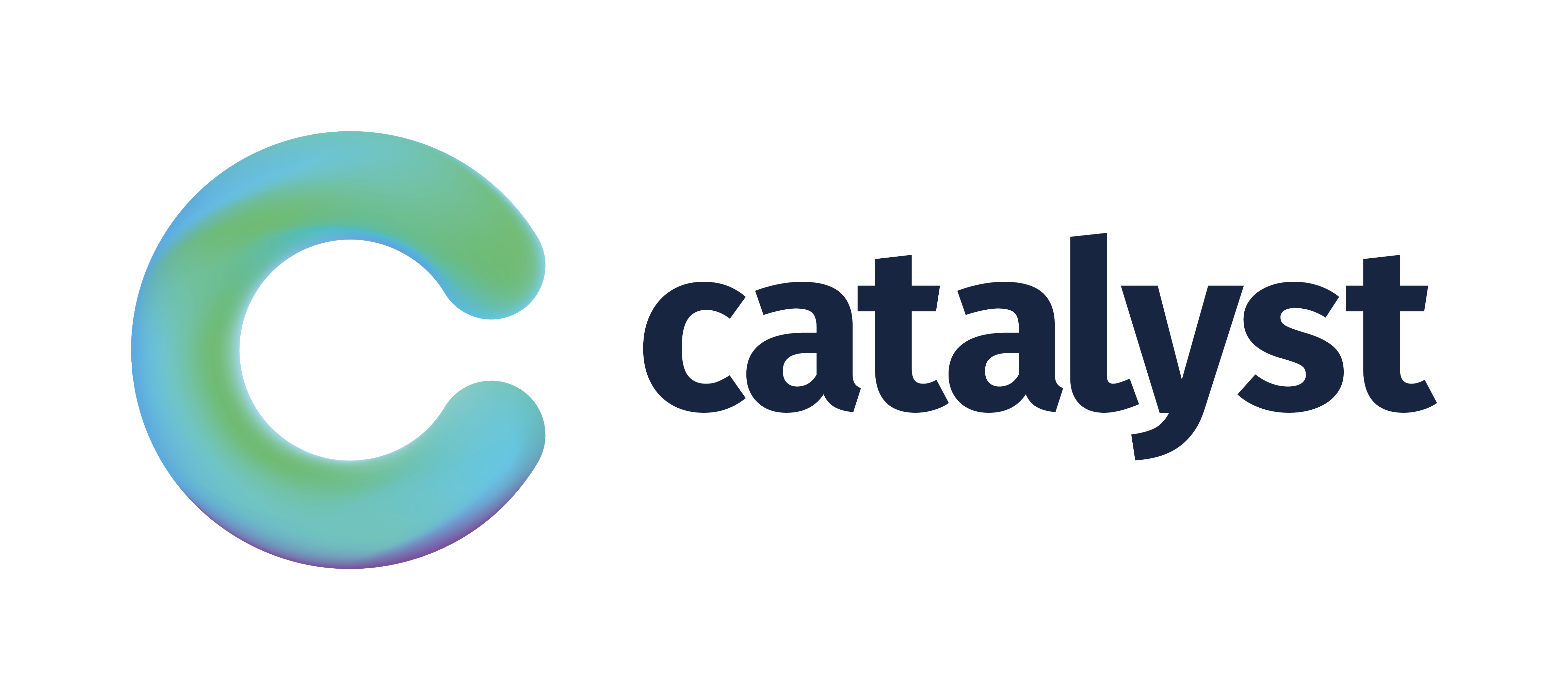 Venue
Details for travelling to Media City, including a downloadable map can be found here: https://www.salford.ac.uk/mediacityuk/location
We have been advised that the tram from Manchester Piccadilly is the most reliable option for travelling to the site. Parking is limited and those travelling by car are advised to leave plenty of time to reach the site.
When & Where

MediaCityUK
University of Salford
Plot B4, Salford Quays
M50 2HE Salford
United Kingdom


Thursday, 18 July 2019 from 10:30 to 15:00 (BST)
Add to my calendar
Organiser
HACT is UK housing's ideas and innovations agency. 
We work closely with partners in the affordable housing sector and beyond to identify, research, incubate, apply and promote innovative thinking, practice and products that change the way the sector operates, so it can achieve positive social change. 
Our tried and tested model is simple: using our expertise in housing, we leverage the power and breadth of our networks, brokering appropriate ideas and innovation from other sectors, so the collaborations we create and manage with housing providers can achieve their maximum potential. 
We've been doing this for almost 60 years. Our impact on the sector is unique: Shelter, home adaptations, care and repair, BME housing, rural housing, floating support, Housing Plus, and social value.