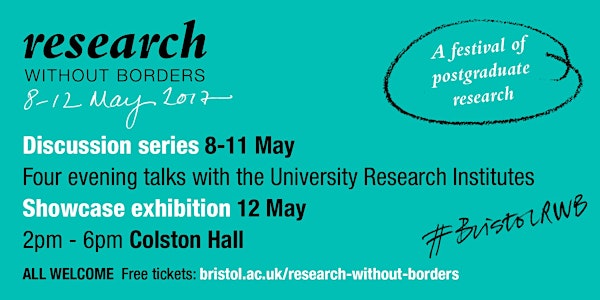 Research without Borders 2017: evening discussion series
Location
Life Sciences Building,
24 Tyndall Avenue
Bristol
BS8 1TQ
United Kingdom
Sales Have Ended
Registrations are closed
Ticket sales have now closed for this year's Research without Borders festival. Please contact doctoral-college@bristol.ac.uk if you have any concerns, queries or comments.
Description
Research without Borders 2017: evening discussion series, University of Bristol, Monday 8th May to Thursday 11th May
Join us for a series of four evening discussions in collaboration with the University Research Institutes. At each event, a specialist panel of postgraduate researchers will present their work themed a different global challenge.
Research without Borders 2017 is a week-long series of events showcasing the work of postgraduate researchers from the University of Bristol.
You can book tickets for any or all of the discussion events using the 'register' link above.
Interdisciplinarity can play a key role in changing perceptions, identities and tackling challenges facing us in today's world. From co-designing healthcare interventions to co-creating solutions between engineers and social scientists, bringing together different types of knowledge and understandings can help us share and solve complex problems.
At this evening event, a new generation of interdisciplinary and innovative researchers will set out how we acquire and utilise different forms of knowledge, rooted in understandings of languages both textual and embodied. Join us for an lively evening of discussion and experience a little of what it can mean to live well in practice.
Panel members: Lucinda Jarrett, Katiuska Mara Ferrer Portillo, Lisa May Thomas, Thea Morgan, with Professor Tim Cole.
Antimicrobial resistance (AMR) is one of the major health challenges that we face today. We know that increasing antibiotic use is associated with increasing levels of drug-resistant infections, but what should our response be and whose responsibility is it to ensure we tackle this global problem?
At this evening discussion an interdisciplinary group of research students from biomedical sciences, law and veterinary studies will set out what their research tells us about this global problem and where some of the solutions to AMR could be found.
Panel members: Juan Carlos Jimenez Castellanos, Sarah Garner, Louise Hatherall, and Gwen Rees, with Dr Matthew Avison.
The impact of environmental change is felt across borders and underlines the need for collaboration across conventional boundaries. But in today's changing world, what is the most effective response and whose responsibility is it to act?
At this event, we will travel though time, disciplines and continents to understand how our water environments and the ecosystems they support are changing. We will explore what that means for people and planet, and why we are failing on so many fronts to mitigate serious risks. From the injustice of 'disappearing islands' in the south pacific, to 'invasive aliens', to sea level rise and failed frameworks - we explore some of our major water-related challenges, and discuss what we can do about them.
Join us for a provocative and lively debate, led by a new generation of researchers at the University of Bristol.
Panel members: Laura De Vito, Alice Venn, Carlos A Gracida-Juarez, and Erik Mackie, with Professor Rich Pancost.
Data science has changed the way we do research and opened up new frontiers: it allows us to look back into our evolutionary past, to test new technologies and to understand interactions at every level, from the genome to the workplace. There are, however, also challenges associated with the expanding role of data in today's world, including the potential loss of privacy for individuals.
At this evening event, a new generation of researchers at the University of Bristol will talk about their experiences with data in a wide variety of fields, and will open a discussion on the challenges and opportunities that a data-rich world presents.
Panel members: Alexander Ballisat, Daniel Dixon, Isabel Stockton, Jessye Aggleton with Professor Bill Browne.
All events take place from 6 pm to 7:30 pm in the Life Sciences building, Tyndall Avenue, Bristol BS8 1TQ, followed by a drinks reception.
---
This discussion series is part of Research without Borders 2017: a festival of postgraduate research.
To book tickets to the Research without Borders 2017 showcase exhibition at Colston Hall on Friday 12th May, please use the seperate eventbrite form.
If you have any questions please contact doctoral-college@bristol.ac.uk
---
This event will take place in the Life Sciences Building at the University of Bristol. Our understanding is that this venue is largely accessible. For individual requirements please read the DisabledGo report or email charlotte.spires@bristol.ac.uk.