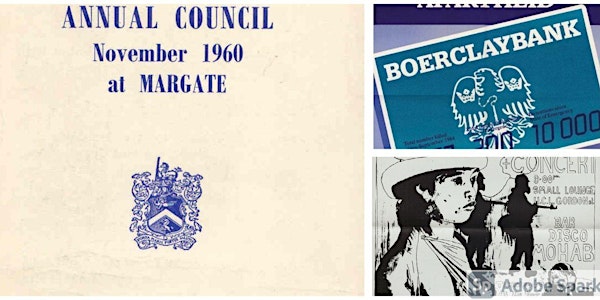 Researching student histories: Workshop 1 - The Archive
The first workshop in a series celebrating NUS' 100th anniversary. This session explores the archive and related issues.
About this event
This is the first of a series of workshops designed to celebrate the 100th anniversary of the National Union of Students UK, as well as to more broadly explore the theoretical and methodological issues associated with undertaking research into student histories.
This event focuses on the archive. It will include both presentations by those who work with the NUS archive, as well as research papers exploring key theoretical and methodological issues related to using these archival holdings.
Timetable for the event:
14:30 – 14:40 Introduction and welcome
14:40 – 14:50 Introduction to the NUS archive
Mike Day, official archivist of the NUS and author of NUS 90: A History of the National Union of Students
14:50 – 15:00 NUS archival holdings at the Modern Records Centre,
Dr Charlotte Berry, Archives Manager Modern Records Centre
15:00 – 15:20 Questions
15:20 – 15:30 Comfort break
15:30 – 15:45 'Solving the Problem of Student Voice's Absence from the History of Higher Education'
Kathryn Woods, Dean of Students Goldsmiths' College, University of London
15:45 – 16:00 'Critical Archive Studies in the National Union of Students archives: a methodology for the study of 'race' in social movements and union organisations'
Carlus Hudson, PhD candidate University of Portsmouth
16:00 – 16:30 Questions and event wrap-up
Organising committee: Dr Georgina Brewis, Dr Jodi Burkett, Dr Sarah Crook, Mike Day, Emily Sharp