Resilience: Historic Houses of India and their Custodians Revisited
The Centre for Historic Houses is Live at India Week 2020 with a review of the lecture series started during the pandemic
About this Event
Please note that the event will start at 3pm IST
In July 2020 during the pandemic the Centre for Historic Houses introduced a lecture series featuring Indian palaces and their owners entitled "Resilience: Historic Houses of India and their Custodians". It quickly became clear that these palaces are more than just historic sites and that their owners are more than custodians. Instead, they have played a vital role in the perception of the local and the global and made a contribution to society at large. The impact of Indian palaces is noticeable in many different areas from cuisine, to education, patronage of the arts, indigenous animals breeds, tourism, entrepreneurship and humanitarian causes to name a few. In this webinar we would like to review the lecture series and explore the role of these palaces today and how Indian Royal families have contributed to society past and present – using historic houses as the focal point of our narrative. Dr. Prabhakar Singh will speak about the contribution of Indian Princely States to Legal History. Akshita Bhanj Deo of the erstwhile Royal family of Mayurbhanj and co-director of Belgadia Palace in Odisha will speak about the modern management of the palace and her various initiatives in the area of social entrepreneurship. Dr. Esther Schmidt (Oxon), Director of the Centre for Historic Houses, OP Jindal Global University, will talk about the significance of historic houses in India, their role and contribution to society and the position of the Centre for Historic Houses as a place to research, promote and revive historic houses in combination with new strategies of interpretation and management. In this context we will also explore the increasing importance of the digital for historic houses and their families.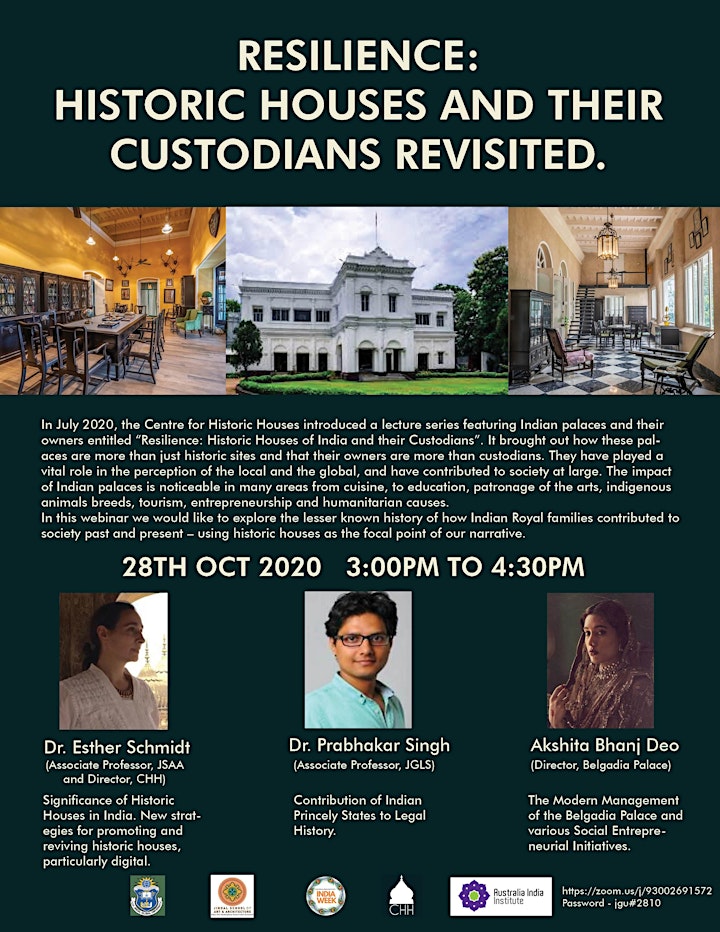 Akshita Bhanj Deo
Akshita (27) was born and brought up in Kolkata and attended La Martiniere for Girls, up until the 9th grade. Which is when she decided to travel and began her fascination with being part of the broader world of international affairs, sustainability, tourism, entrepreneurship and policy. Her family then made a decision to send her to a cosmopolitan city where she could both study and travel while living with people from all across the world so she attended the elite boarding school United World College of South East Asia, where notable alumni included Sonam Kapoor, Pavlos, Crown Prince of Greece, Kim Han-sol: Grandson of Kim Jong-il, King Willem-Alexander: King of The Netherlands among others. She is a national level sportsman in the equestrian sports of dressage and jumping and played sports through college namely swimming and basketball in Division III.After school Akshita went to college as a Davis scholar in the United States, Bard College, and pursued Political Science and Human Rights with a concentration in Media in conflict areas. After college, she moved to New York City to hone her skills in communications, brand management, and entrepreneurship and worked with the International Rescue Committee a humanitarian aid organization working closely with the former British parliamentarian David Miliband's team focusing on the Syrian refugee crisis. She is a Director of the 200-year-old Belgadia Palace in Mayurbhanj and along with her family is working to build sustainable tourism with social impact at its core to the tribal-dominated region. At present Akshita is a communication strategist at The Wadhwani Institute for Artificial Intelligence is an independent, nonprofit research institute and global hub, developing AI solutions for social good. Akshita was chosen to represent India in Le Bal des debutantes in Paris in November of 2013, and debuted into the world of high society alongside debutantes and cavaliers from notable families such as the Kennedy's and Windsors
Dr. Prabhakar Singh
Prof. (Dr.) Prabhakar Singh is an Associate Professor & Assistant Dean-International Collaborations and Executive Director-Centre for India-China Studies at the Jindal Global Law School. He holds Ph.D. from the National University of Singapore, LL.M. from the University of Barcelona, and B.A.LL.B. (Hons) from the National Law Institute University, Bhopal. He is winner of the President's Graduate Fellowship (2011-2015), Singapore, and the Sata Prize awarded by the Foundation for the Development of International Law in Asia. He serves as assistant editor of the Indian Journal of International Law and Associate Editor of the Asian Yearbook of International Law.
He has spoken at Toronto, Brown, Harvard, Nagoya, Tel-Aviv, and Melbourne universities and at FGV Law School, Sao Paolo, Bucerius Law School, Hamburg, and King's College, London. He has presented papers at Institute of Advanced Study, Berlin, and Max Planck Institute for Comparative and International Law, Heidelberg. As well as publishing about 20 journals articles in Asian, European and North American reviews, he has peer reviewed for many journals. He is co-editor of Critical International Law: Postrealism, Postcolonialism and Transnationalism (Oxford University Press, New Delhi, 2014).
Dr. Schmidt is Associate Professor of interior design, design history & heritage studies and director of the Centre for Historic Houses at O.P. Jindal Global University, India. A scholar-practitioner she is inspired by traditional design and the re-vitalization of historic principles of design in a contemporary setting. Her expertise is the research, design, development and promotion of historic houses and palaces. In this capacity she has developed designs for listed buildings including UNESCO world heritage sites and created innovative contemporary uses for historic buildings. Currently she is working on revitalization projects in India in combination with capacity building and poverty alleviation.
She has planned residential interiors for historic houses in Europe and the US and has also collaborated with the Etchika Werner design studio in Berlin (listed as one of the leading interior design studios in the world in Andrew Martin's International Interior Design Review). She has lectured worldwide including Oxford University, Columbia University, Harvard University, the Max-Planck-Institute, the Hebrew University, the Museum for Applied Art in Vienna and at the Institute for Advanced Study, London University, where she was a prize lecturer.
Her scholarship focuses on the role of objects and interiors in identity-formation and how the encounter of different cultural contexts informs design processes. Other research interests concern the role of women in the professionalization of interior design. As head of interior design departments in five Indian cities she has championed research-based design and a more holistic approach between design and theory and practice in addition to emphasizing the importance of regional, sustainable and traditional design practices.
Dr. Schmidt studies at the University of Oxford and the University of Cambridge and received her Ph. D. from the University of Oxford, where she was Michal Wills Scholar and tutor and won the John Lowell Osgood Prize for her dissertation. Passionate about historic houses she has lived in unusual houses from a Baroque palace, a rickety summer villa of the Imperial Habsburg family in the Austrian mountains, a monastery, the house of the 17thcentury astronomer Edmund Halley, the painter's Gustav Klimt's magical lake-side villa, an American neo-Palladian villa designed by a chef, magician and museum director and a hen house near the 18th century garden paradise of Wörlitz, Germany, famous for its artificial volcano eruption.
She has travelled the world from a remote German village, to Goethe's study in Weimar, to the ancient Egyptian temples at the Nile and explored the secret rooms of Indian forts and palaces. Her curiosity to look behind closed doors gets her into trouble at times, as when she explored the famous Vienna Musikverein and was tempted to open a door and found herself on stage ready for an audition in the presence of the conductor Zubin Mehta. Currently she is doing research on a palace in a region that Bill Clinton called the most dangerous place on Earth. If she does not visit historic gardens and houses she plays the piano, reads or spends time with horses and dogs.
For her work she has received the Wadsworth Atheneum Museum of Art award for contributions to European decorative arts, an award and fellowship from the Memorial Foundation for Jewish Culture in New York, the DAAD scholarship, the German Merit Foundation scholarship/Studienstiftung des deutschen Volkes and the Ian Karten Award.