Description
R3: Resilience, Response & Recovery 2019
Complimentary passes are only valid for the C-Suite in companies with more than 1,000 employees and not working for a solution provider or working as a consultant. Any registration not meeting these criteria will be automatically rejected.
Develop cyber resiliency by design in your organisation
The R3: Resilience, Response & Recovery Summit 2019 is the leading Summit focused on how you overcome the barriers to improving cyber resilience in your organisation, as well as ensuring that your incident response plans ensure the fastest possible recovery.
This one day event goes beyond assuming that your organisation will suffer, or has suffered, a data breach. Instead, we focus on the human in cyber resilience, and how leading organisations use their people and their suppliers to improve their cyber and operational resiliency.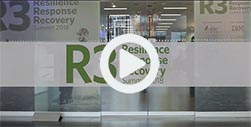 Speakers at R3: Resilience, Response & Recovery Summit 2019 include;
Senior Representative (confirmed), NCSC
Nic Devine, Global Head of Operational Resilience, Deutsche Bank
Bharat Thakrar, CTO & Cyber Advocate, Learning People
Daniela Somerscales, Head of Information Security, ClearBank Limited
Tiffany Georghiades, Crisis and Resilience Manager EMEA, The Walt Disney Company
Dr. Sandra Bell, Head of Resilience Consulting, Sungard Availability Services
For more information or for registration enquiries please visit www.teiss.co.uk/r3, call Harry on 020 8349 5580 or email harry.p@business-reporter.co.uk
Organiser of Resilience, Response & Recovery 2019 - Complimentary pass