"from as young an age as possible, our children need to understand that when the branch breaks they can trust their wings"
About this event
"Thank you for an inspired and refreshing experience today! I often talk about "resiliency" with adults but we have yet to translate that conversation into the language of our small human. He had a great time and we look forward to learning with you again soon" Dee

"If you have kiddos in your life, whether family or friend. I can highly recommend Jane Tyson's Resilient Kids. Thanks, Jane for the pleasure of hosting your sessions as part of our DULUX Wellfest events" Debi

Resilient Kids facilitates spaces for kids to feel good and flourish.

Encouraging organic growth, social, emotional learning and tools for resiliency.

Weaving in my "KIND" Canvas and Professor Rama Dasaratha's PhD LIFESMART Toolkit*

Boosting VISION, VITALITY AND VOICE.

These 18-minute virtual sessions listed here on Eventbrite are best suited to 8-10 year -olds.

In a typical facilitated session there is a game, resilience bolstering tip, a short story and time to chat and relax.

Use this contact form if you prefer a one-to-one tailored session for your primary-aged child, or are interested in booking me to speak or deliver a session for a larger group and/or your organisation.

FEES ARE FREE for these Eventbrite listed sessions, else you may like to consider a contribution here.

"Jane, you bring a reality that folk really relate to. This includes the ability to make mistakes, to not mind, and to find ways to recover from mistakes" Peter Jones, Dad

A mum asked her daughter in her words she liked my online Resilient Kids' sessions and she said "I like them, I like the feeling I can just be myself and Jane gives me lots of encouragement"

"I would definitely recommend and tell friends about Resilient Kids purely because anything that can encourage and empower our children to be the best they can be and be happy and confident with who they are is a win for me as a mum" Lizzy - Mum of two wonderful girls aged 10 and 5.
I have a full DBS, and am an experienced creative educator, wellness coach, youth mental health first aider, community host, LIFESmart Learning Guide, founder of Resilient Kids, mum to teenagers, and have 25 years of working with children.
"I love our creative time," James
"The belief phrases really help encourage me to believe I can do it. I really like these sessions." Alanah
"I enjoy the movement and relaxation stories." Fay
Group sizes for these Eventbrite sessions vary from 1 child to 8! I keep them deliberately small so the children feel comfortable.
The zoom link is sent in the confirmation email so please add it to your calendar.
I look forward to meeting your child.
If your child is initially anxious to attend, parents are welcome to stay close by to help them to settle in. Screens need to be on please at all times and not in bedrooms.
Warm wishes
Jane Tyson
Newsletters - https://www.getrevue.co/profile/resilientkids
In this session, Elijah shared how he was exploring ways to organise his toys and had started to map out his ideas in Thortspace.
Mumma Dee also shared top tips for getting organised including her clever sock pairing method!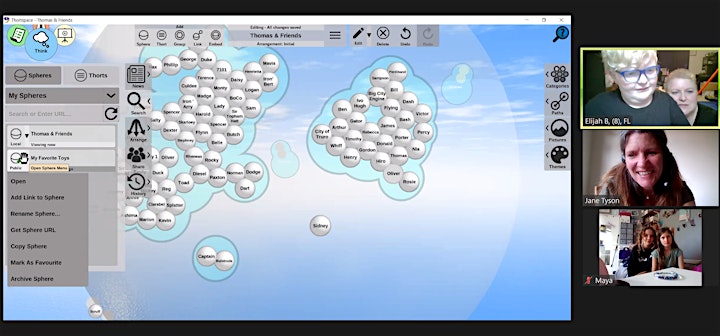 My talk below is called "Happy Kids What's Resilience Got To Do With It?"
I shared it at "The Peer Space" hosted by Niall Jones, dad of two.