Event Information
Refund Policy
Contact the organizer to request a refund.
Eventbrite's fee is nonrefundable.
About this Event
August 1 will be the first edition of Resonance: a transformational electronic music retreat in the forest with Dominik Eulberg, 1979, DJ Isis and Awake Origins.
We are organizing Resonance because we feel everyone could use an experience like this in these times. A one day retreat about the connection with yourself, others, nature and music.
Expect workshops that might change your experience of life and of yourself. We don't serve any alcohol because this day will be about sinking into your natural state of being.
Before the retreat takes place, participants fill out the extraordinary Purpose Scan. The Purpose Scan measures the unique energetical blueprint of your psyche. Throughout the retreat you will receive powerful pointers on how you can increase the resonance with yourself, others, and life itself.
All activities, lunch, dinner, tea, coffee and water are included in the ticket price. Taking COVID regulations into account we will welcome a maximum of 100 participants.
If the ticket price is too high for you, please let us know by contacting Hagar at hagar@resonance.zone. We are open to discuss pricing for people who are in challenging times due to Corona.
_________________
Concept Program
10.00 – 10.45 Arrival + Music
10.45 – 11.00 Music
11.00 – 11.30 Welcome and Sink into Presence guided by Awake Origins
11.30 – 12.30 Ecstatic Dance Session with DJ Isis
12.30 – 13.30 Lunch with meditative music by DJ Isis
13.30 – 14.45 DJ set by 1979
14.45 – 16.15 Enlightenment Intensive guided by Awake Origins / Bird Watching Tour with Dominik Eulberg
16.15 – 17.00 DJ set by DJ Isis
17.00 – 18.00 Breath Work + Meditation guided by Awake Origins
18.00 – 19.00 Dinner with DJ set by 1979
19.00 – 19.30 Meditation guided by Awake Origins with Ambient Set by Dominik Eulberg
19.30 – 21.00 DJ set by Dominik Eulberg
21.00 – 21.15 Ending by Awake Origins
Program is subject to change.
_________________
Date: August 1, 10.00 – 21.00. You are expected to arrive between 10.00 and 11.00. After 11.00 you can't enter the retreat anymore.
Location: a forest on the Utrechtse Heuvelrug in The Netherlands. We will send you the exact location when you have purchased your ticket. You can come by car, bus (there is a bus stop near the location) or train (18 minute bicycle ride from the trainstation).
Price (including lunch, dinner, tea, coffee and water)
Early Bird: 149 euro
Normal Bird: 159 euro
Late Bird: 164 euro
_________________
OUR PERFORMERS AND HOSTS
Dominik Eulberg (!K7, Apus Apus)
Dominik Eulberg is not only a music wizard, he is also a part-time forester. All his music is nature inspired. To Dominik, nature is the greatest artist of all. Dominik produces melodic electronic music as well as more contemplative ambient music. This day we will see both of these sides: he will play ambient music during a seated meditation and will end with a more euphoric set.
1979
1979, also known by his real name Giovanni Salviato, is a Venetian-born artist with a background in classical piano. His first peak took off with the powerful 'Prototipo'. Together with HOSH he currently has a big hit with 'Midnight (The Hanging Tree)'. A one of a kind producer and DJ which you definitely want to experience at Resonance.
DJ Isis
Isis van der Wel is one of the Dutch pioneers in electronic music. Over the last years, she has been constantly exploring the borders of music and ceremony. In 2018, her meditative reclining concert in the Nieuwe Kerk in Amsterdam was part of a prize winning program. At Resonance, Isis gets our bodies moving during an Ecstatic Dance workshop and plays a meditative set during our lunch.
Awake Origins
This day Awake Origins is represented by Joel aan 't Goor. Joel is an awareness accelerator, psychologist and serial entrepreneur. He is the founder of the international Origins movement. Throughout the years, he has been organizing many different kinds of expanding workshops revolving about personal growth, music and nature. Today he will take you on a journey of resonance with several layers within yourself.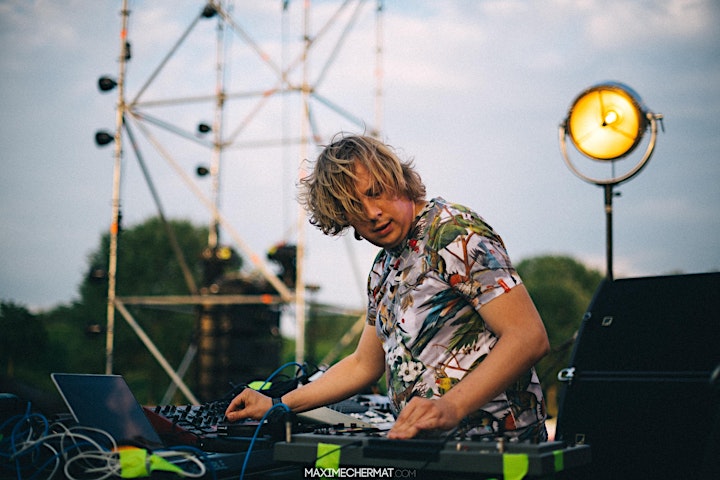 Date and Time
Refund Policy
Contact the organizer to request a refund.
Eventbrite's fee is nonrefundable.