JOIN THE EXPERTS FROM SPARK SOMERSET TO HELP YOU ATTRACT, MOTIVATE AND RETAIN VOLUNTEERS IN YOUR SOCIAL ENTERPRISE
About this event
Volunteers are a key part of the social economy, but how to you attract and retain volunteers who are well-matched to the purpose of your organisation?
Charlotte Jones, an expert in volunteer recruitment, management and retention from Spark Somerset will share her extensive experience to help your social enterprise flourish.
Gain a deeper understanding of:
Benefits and potential pitfalls of engaging volunteers in your organisation
The 'volunteer journey' and people's motivations for volunteering
Why volunteers are not a 'free' resource
Hints and tips to attract, motivate and retain volunteers
Growing diversity and removing barriers
Keeping safe and managing risk
Spaces are limited to allow participants to ask questions and take part in activities, so don't delay book you space now...
This is a FREE online event for Somerset Social Enterprise Network members. Non-members in Somerset are also welcome. Whether you are an experienced social entrepreneur, an enthusiastic start-up or are thinking of setting up a social enterprise in Somerset we hope you will join us.
Booking: Registration is needed. The Zoom link will be sent to you after booking.
Join the Somerset Social Enterprise Network today - It's free! Membership is open to social enterprises and similar organisations of all sizes and at all stages of development, across a wide range of business activities.
Please note by signing up for this free event, you agree to:
- Your name/organisation being shared as evidence of attendance with the Somerset District Councils who provide funding for this free event.
It is possible that we may need to alter the content of the event. We will do our best to notify all delegates before the event if significant changes need to be made.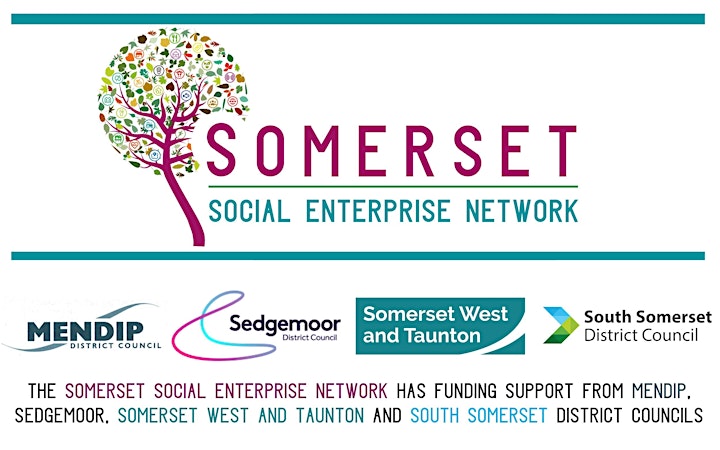 Organiser of RESOURCE IT! Volunteer Recruitment, Support and Management
Somerset Social Enterprise Network
We work to support the development and growth of social enterprises so that they can thrive and add social value by investing within communities for now and the future.
We provide events, online or in person, to provide training and networking opportunities.
We act as a voice for the sector in Somerset to decision makers and funders.
Join the network and get connected with other social enterprises who can inspire you.
Membership is open to social enterprises of all sizes and at all stages of development, across a wide range of business activities.
JOIN TODAY: www.ccslovesomerset.org/enhance-social-enterprise
Want to find a social enterprise in Somerset or Devon?
www.enhancesocialenterprise.org.uk
Support and Devon Social Enterprise Networks
The Somerset Social Enterprise Network is supported through funding from Somerset Local Authorities' Business Cluster Support Grant.
The Somerset Network works closely with a partnership of five social enterprise networks across Somerset and Devon who share knowledge and resources.
We were funded through the Heart of the South West Enhance Social Enterprise Programme with support from the England European Regional Development Fund (ERDF) as part of the European Structural & Investment Funds Growth Programme 2014-2020.