Description
A practical workshop to show the implications of inappropriate behaviour at work.
Participants will learn what is meant by acceptable/unacceptable behaviour, bullying and harassment. The workshop will also focus on how unconscious bias can lead to less efficient and more risky editorial and management decisions. And we look at rights and responsibilities, what to do when you witness or experience unacceptable behaviour, and the sources of support available.

Content:
The consequences of inappropriate behaviour in the workplace for the individual and the organisation.

How companies and individuals can make a commitment to a respectful workplace

Case study exercises to illustrate unlawful and unfair treatment in the workplace, including sexual harassment, bullying and intimidation

Key behaviours for a respectful workplace

Action planning that puts learning into practice
Sue Ahern (below) is the Training Director of Creative People, an international training and coaching consultancy which specialises in helping media business. Sue co-founded Creative People after a successful career as a programme maker: she has worked as a journalist, producer and series producer, and managed the Radio Training department for the BBC. At Creative People, Sue works mainly in the areas of management development and leadership, as well as improving individual and team performance. She is also a trained mediator.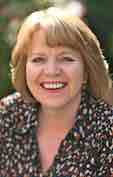 This is a workshop specifically designed for production companies who are either Pact members or who supply content to the BBC. We will need to remove you from the list if you are not able to verify the above.