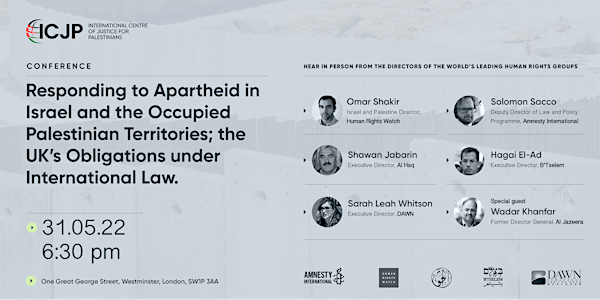 Responding to Apartheid in Israel and the Occupied Palestinian Territories
Location
The Telford Theatre
1 Great George Street
London
SW1P 3AA
United Kingdom
What do recent reports on apartheid in Israel/the OPT mean? What are the UK's legal obligations? Leading human rights organisations discuss.
About this event
The Israeli state supported by legal architecture promotes Jewish supremacy from the Jordan River to the Mediterranean Sea perpetuating a racialised regime of dispossession, cruel domination and systematic fragmentation of the Palestinian people. This constitutes apartheid according to the Apartheid Convention and the Rome Statute. A threshold has been crossed.
The International Centre of Justice for Palestinians is a new, independent London based organisation composed of lawyers, academics and politicians, who are seeking justice for Palestinians wherever they may live.
This conference, hosted by the International Centre of Justice for Palestinians (ICJP) brings together directors of five leading Palestinian, Israeli and international human rights organisations: Amnesty International, Human Rights Watch, Al Haq, B'Tselem and Democracy in the Arab World Now (DAWN) who have recently declared that Israel is committing the crimes of apartheid according to international law. This crime against humanity is occurring 'in a post-apartheid world,' as the UN Special Rapporteur, Michael Lynk has recently reported.
This conference addresses the question as to how the international community generally and the British government specifically should respond to these findings? What are its legal obligations when it comes to occupation, settlements, trade deals, supply of arms, administrative detention, the siege on Gaza and potential corporate and state complicity in war crimes?
Join us at The Telford Theatre of One Great George Street Westminster on Tuesday 31, May at 6:30 to hear directors from Amnesty International, Human Rights Watch, Al Haq, B'Tselem and DAWN explain international legal responsibilities, mechanisms for accountability and change. For those not available to be there in person, the event will be live streamed. Link to follow.