Description
Interested in understanding more about what your business/ organisation can do in response to the Climate Emergency? Then join us at our next free Investors in the Environment taster event to learn more.
Wednesday October 30th event
9:15am - 11:15am on Wed 30/10/19 @ Flexspace Business Incubation Centre, Durham Way, Newton Aycliffe, County Durham, DL5 6XP
Agenda
09:15 - Registration and networking with tea and coffee on arrival
09:30 – Welcome and introductions
09:45 – Climate change, sustainability and the future overview
10:00 – Task 1 Sustainability and you
10:15 – Task 2 Connections across the business system
10:30 – Task 3 Sustainability ambition, priorities and resources
10:45 – Introducing the iiE system
11:00 – Discussion or networking
What is Investors in the Environment?
A step-by-step adaptable approach that allows your organisation to develop its environmental ambitions by moving through different levels of accreditation to set resource use targets, develop a plan and establish a pathway for continual improvement and reduce carbon emissions.

Once you have met the criteria required your plans and efforts with be validated and you will then be awarded your accreditation.

iiE is suitable for organisations of all types and sizes and at any stage of their environmental sustainability journey – from sole traders through to large multi-site employers.
The role of the Capability North East team is to provide help and support for you to work through the steps, develop your plans and prepare for accreditation. We are the delivery body for iiE in the North East.
Contact us if you would like to have a chat about how iiE could work for your business.
Book your place via Eventbrite.
office@capabilityne.org.uk / 0191 562 3262
Organiser of Responding to the Climate Emergency - tips and guidance for your business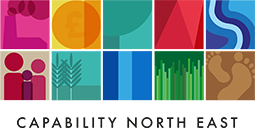 Greening the Economy of North East England by making sustainability simple, rewarding & helping businesses to save money.
Capability North East is working to Green the Economy of North East England.    Our environmental services and GENEE packages help business, NGO and public sector clients of all  sizes recognise that sustainability is not just a 'green issue' but an important operational and strategic one that can give a competitive advantage whilst bolstering profits.
Join us and become a GENEE today and we'll make it easy for your organisation to start reducing costs, work towards achieving Investors in the Environment accreditation, off-set emissions through local Forest Carbon scheme and much more!