Description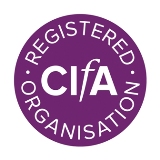 The Registered Organisation scheme fosters a culture of quality improvement and confident professionalism
An opportunity for Registered Organisation Responsible Post holders to discuss issues of concern to the sector and to influence potential developments within the scheme,
Arrive for coffee and networking from

10.30am,

Business starts at
11.00am. Finish 16.00
Refreshments and lunch will be provided. Please specify any dietary requirements
Agenda


10.30 -11.00 Arrival, tea/coffee, networking
11.00 - 12.15 CIfA updates
Chartership update

RO scheme update

o Updating RO details online

o Updated application form

o recommendations and conditions
12.15 – 12.45 Questions/discussion
12.45 – 13.15 Lunch
13.15 - 14.30 Good practice presentations
Accredited fieldwork training programme and why it is worth having - Zbigniew Pozorski, PCA

Considering ethics - Joe Abrams, Archaeology Collective

Standard Procedures for Data Management in Historic Environment Assessments - Gavin Kinsley, SLR Consulting

Undertaking organisational analysis and objective setting for the introduction of new IT - Rob Bourn, Orion Heritage

Spreading the word: Communicating through a staff newsletter - Tom Brindle, Cotswold Archaeology

A system to ensure consistent and well recorded advice given by development control archaeologists across a service - Laura O'Gorman, GLAAS

Presentation from Susana Parker, Waterman Infrastructure & Environment Ltd
14.30 - 14.45 Round table discussions
14.45 - 15.00 tea/coffee
15.00 - 15.45 Infrastructure and sector capacity
o accreditation of employer training schemes

o Archaeology Training Forum Award

o Trailblazer apprenticeships
15.45 – 16.00 Questions/discussion/summing up
Dietary requirements: If you have any special dietary requirements please email kerry.wiggins@archaeologists.net with the details, as lunch will be provided.