Event Information
Refund policy
Contact the organiser to request a refund.
Eventbrite's fee is nonrefundable.
REST & Digest Virtual Retreat - Is Entirely Online (https://vimeo.com/487595503)
About this event
Rest & Digest Retreat
Virtual Event - Zoom
This one of a kind retreat is all about EMBRACING REST. EMBODYING REPAIR. FOSTERING CONNECTIVITY. BECOME PRESENT. HONOUR YOUR CIRCADIAN RHYTHM.
Instead of whizzing off to an external location, you get to be FULLY guided to blissful locations that RESIDE WITHIN YOU!.
The mere external date of this RE-TREAT gives you the perfect setting (seasonal environmental & cosmically to close the blinds put on your PJ'S &
Join Us
Having reached the end of year festivities, along with the eruptions of last year. You now get to decide what comes next. How you respond and what meaning you take from it all. Before you do take a moment and check-in with me right now.
Have you experienced this season so far?
Or have you been going against the daylight and burning the candle at both ends?
Spinning multiple plates?
If your answer is YES!
This BED-SITE Retreat is here for you!
But although it is virtual - expansive and endless, I have only booked a space in the cosmos virtual vortex, which means you need to act NOW.
SO WHO IS THIS FOR?
🫁Have you been physically or emotionally drained?
🫁Do you have trouble sleeping?
🫁Do you suffer from a chronic illness?
🫁Have the recent festivities burnt you out?
🫁Are you out of sink with the season?
So instead of being able to rest since November, you been a busy bee?
Then this weekend of rest is perfect for you! If you need no more explanation:
🔽 GO STRAIGHT TO THE SCHEDULE BELOW 🔽
If on the other hand, you need more info please read on.
What Is Meant By Digestion?
Digestion encompasses more than food in Chinese medicine. Digestion is the stage of processing information of the matter, liquid, plasma, and energy. In other words body, mind, heart, and spirit.
So you will get the opportunity to process and digest that which has gone on before, both energetically via the nervous system whether it's a process unfreeze (or unblock or stopping the continual flow) of the physical system. By uniting the connection between the two we can start to truly embody the present and be open and ready for the future.
Schedule
Friday 18.30
UK/Opening the weekend with myself your host Dionne UK
CA/ Simone L'Abbe From Canada - Keynote Speaker of Reframing Resilience & Meditation from her Feel Fully Program
USA/ Phoebe Leona - Mvt109 (Movement Practice)
Bonus podcast - by Shaman Javier R
Saturday
SCT/ Lorna Green - Yoga
IST:/ Disha Deshpande - Yoga Nidra
UK/ Jukes Kay - Cacao Ceremony
UK/ Laura Exton: - Inner Dance
USA/ Cynthia Paris - Laughter Yoga
UK/ Jules Kay - Breathwork
UK/ Laura Exton - Plant Magic
After Hours/ Evelina Petraikyte - Sound Bath
Sunday
ITA/ Virginia J Fassio - Keynote Speaker
USA/ Dr. Megan Brothen - Yoga
SCT/ Kyle Thomas - Keynote Speaker & Mindfulness
USA/ Laura Baum - Inner Dance & CA/ Jeannette Barrow - Cook
CA/ Jasmin Wong - Nutritionist
USA/ Sky Cardenas - Cosmic Shaman
UK/ Close - Dionne
Bonus Podcast Dr. Jess - Sexologist.
Join the Facebook group here.
What an awesome line-up - With the festivities over & the kids either with or without school, all of you could benefit from a WEEKEND away reconnecting with your body/mind. Stilling the nervous, adrenaline energy away.
Harness your need to STOP and REST in the very season we're meant to rest & you'll reap the rewards.
Discounts
Discount coupons to private members of 'The Virtual Holistic Centre'.
About Me
Your main host - I help people embrace rest, embody repair so they can live in alignment with yourself, others, and your world, which is why 'The Virtual Holistic Centre's first's retreat starts here, from our beds. Sign up now to receive the benefits.
Dionne Roberts.
Meet The Facilitators
International line up - The retreat is scheduled for British time, but there will be an opportunity to engage on a replay, as we'll be giving you further access.
You can start now by joining us on Facebook
😀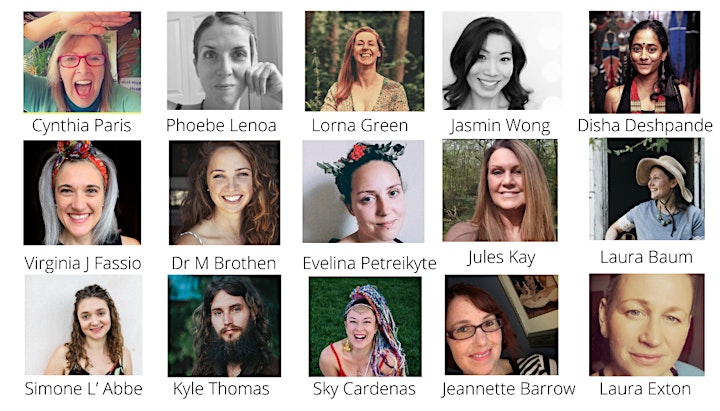 Date and time
Location
Refund policy
Contact the organiser to request a refund.
Eventbrite's fee is nonrefundable.