Description
The 'Ceramic Communities' symposium will explore how sharing skills and ideas can lead to more supported and sustained artistic practice. There will be:
- Interactive workshops
- Film premiers of innovative arts practices
- An exhibition of interactive ceramic works
- Panel discussions in the Cardiff School of Art & Design Ceramics Archive
- Presentations exploring a diversity of models of collaborative practice, from conventional residencies/studio co-operatives to new innovations, with Haptic/Tacit, Collective Matter, Clayground Collective and Whitegold
- Posters illustrating the 'About', 'Goals' and 'Methods' of a diversity of creative practice.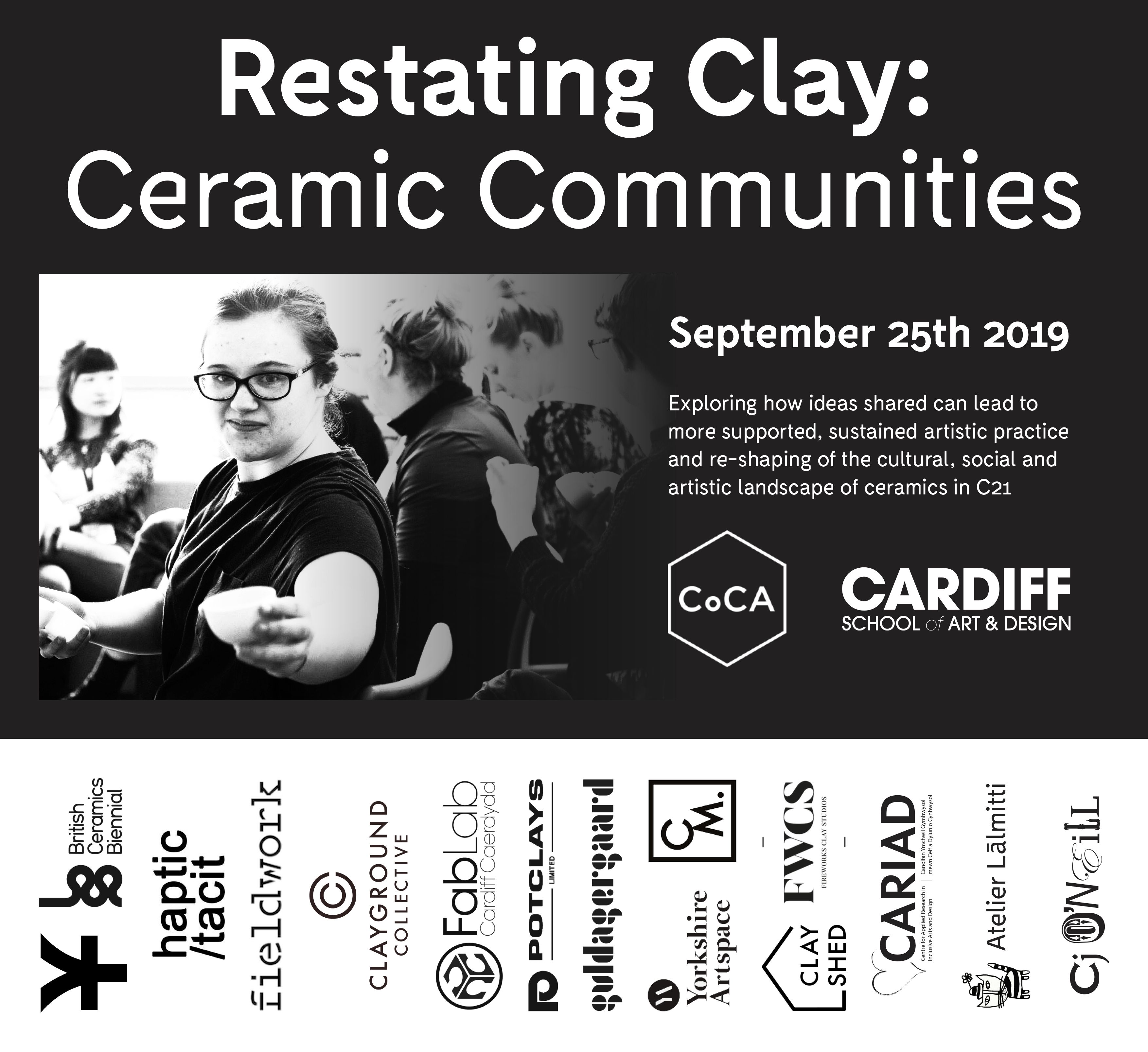 PROGRAMME
MORNING EVENTS - 9.30am -12pm
If you are travelling from further afield, and it is expensive or difficult to arrive for 9.30am, please be assured the morning programme has been designed so that you can join-in one of the simultaneous Activities whatever time you get to Cardiff School of Art & Design; some sessions are repeated for this reason.
COLLABORATIONS, RESIDENCIES & FILM PREMIERS, B-block AV Studio, (50 spaces in the Cinema). Doors will close after 'presentation' sessions begin to avoid interruption to speakers but access can be gained at all other times.
10.00am - Craft Council: Hot House (Supportive Communities), Film
10.10am - Kim Colebrook: FIREWORKS Graduate residency, Presentation
10.30am - Fireworks Clay Studio: Documentary by Pete Tefler: a day in the life of one of the largest, longest running ceramics studios in the UK, Film PREMIER
10.40am - Steve Mattison: Kecskemét Residency, Presentation
11.00am - Atelier Residency: Setting up a studio in the Himalayas!, Film PREMIER
11.10am - Natasha Parker-Edwards: A collaboration between Ceramics and Dance, Presentation
11.20am - After Louise Borgeous: Natasha Parker-Edwards, Film
11.40am - BCB Growing Cultures: anti-microbial Resistance, Film PREMIER
WORKSHOPS, COLLABORATIVE WORKS, DISCUSSION AND 3D SCANNING! B-block Foyer Gallery, Reception area & Heart Space
10am - Midday - CJ O'Neill: 'Mapping', Drop-in Workshop. Networks, contributions and generous knowledge-sharing often remain an invisible part of any artwork. Drop-in to this fascinating workshop that seeks to acknowledge the unseen others ​in creative practices. Spanning Cardiff and the British Ceramics Biennial, find your-self connected using 3D printing, silhouettes and extruded forms!
9.15 - 10.30am and again at 10.50am - 12.05pm - HAPTIC/TACIT: 'Constructing Language', Workshop (20 spaces each time only and delegates need to stay for the duration - workshop can also be observed by those not participating). There is a tacit language embedded in the medium of clay, depending on the 'body' it can speak of vulnerability, coarseness and perfection even before you fashion it into form. This workshop will use clay to explore forms of communication and expression through gesture, movement, action and reflection.
9.15 - 10.30am and again at 10.50am - 12.05pm - 'Cautionary Tales from the Ceramics Archive' with Dr Jeffery Jones, Panel Discussion (15 spaces each time only. Pre-booking for the two sessions will be required - a booking link will be included with your booking confirmation. Places allocated on a first-come-first-served basis). The ceramics archive at Cardiff School of Art & Design documents nuance and zeitgeist in the field of ceramics outside of conventional publications. It is brimming with personal correspondence, sketchbooks from makers and original transcripts as well as film, audio recordings and catalogues. Join Dr Jeffery Jones as he brings the collection alive by making connections between its contents and our keynote speakers.
LUNCH - Midday - 1.00pm (Not provided - a wide range of options are available in the College refectory)
AFTERNOON SYMPOSIUM - Lecture Theatre
1.00 - 1.10pm - Introduction and Welcome: Dr Natasha Mayo, Cardiff School of Art & Design and Alex McErlain, CoCA Steering Group, York Art Gallery
1.15 - 1.40pm Whitegold: Katie Bunnel and Rosanna Martin. The first Whitegold International Ceramic Prize is a celebration of clay in relationship to people, culture and place. This presentation will explore the submissions shortlisted for this innovative approach to cultural, environmental and socially engaged practice drawing on the history and culture of St Austell's industrial and post-industrial landscape, and its global china clay connections.
1.45 - 2.10pm – Haptic/Tacit: Grant Aston, Kim Norton, Jane Cairns. Haptic/Tacit is a collective of artists, makers, and writers that creates opportunities to make, show, and explore ambitious modern craft through a series of thematically-driven exhibitions, events, and publications. For each iteration, participating members all invite someone new to be involved, either working collaboratively, in response to one another, or due to their specific take on the subject. This approach creates an evolving network of makers, encourages dialogue, and maintains a fresh outlook, creating a new dynamic through each distinct endeavour.
2.15 - 2.40pm - CJ O'Neill: Mapping networks. CJ's practice is fuelled by an interest in authorship, collective learning, collaboration, and how to acknowledge unseenothers in the work we do. Mapping Networks explores the community surrounding 3D print in clay - the unseen networks, contributions through open source, generosity of knowledge share, online platforms and open dialogue and the 'others' present in any objects generated through this extensive network.
BREAK - 2.40 - 3.15pm
3.15 - 3.50pm - Collective Matter: Eva Masterman, Katie Spragg, Mary O'Malley. Collective Matter is a socially engaged trio, using clay and materials to explore cross-disciplinary practice and creative communication and learning. The Collective was formed in order to explore the potential of clay as an artistic and cultural tool to engage diverse audiences both within and beyond the art world. Practical clay workshops and events form the backbone of ongoing research into the potential of material language as a form of interdisciplinary learning and creativity.
3.50 - 4.15pm - Clayground Collective: Duncan Hooson. Clayground Collective is a company of creative practitioners who collaborate across artforms to engage the public, educators and researchers, working in a variety of locations and spaces, responding to the specific qualities of each one. They work collectively with others including: artists, ceramicists, poets, boatmen, librarians, graphic designers, photographers, film-makers, academics, musicians and archaeologists, seeking advice from specialists in different fields to increase their knowledge and forging different institutional partnerships to make things happen.
4.15 – 4.25 - A reconfiguration of NACHE to NACE (National Association of Ceramics Education) to reflect alternative modes of education and skill share: Anthony Quinn. Anthony is Course Leader BA Ceramic Design, Central St. Martins previously responsible for 'Firing up' a national network that encouraged the transferring of craft skills from practicing artists to teachers and in turn to their pupils.
4.25pm - Closing remarks
CLOSE - 4.30pm
Also available to see whilst at the symposium:
Poster Exhibition - N-Block Corridor Gallery. Setting out: ABOUT / GOALS / METHODS of all organisations contributing to the conference (and a good many besides) placing diverse models for collaboration/co-operatives/residencies/apprenticeships side by side
FABCRE8 Exhibition - B-Block Foyer Gallery. A multi-disciplinary research and enterprise group based in Cardiff School of Art & Design, Cardiff Metropolitan University. Driven by an interest in emerging technologies.
----
Click here for more information about finding the venue.
Parking: The university campus at Llandaff - where the symposium is taking place - can accommodate 35 cars at the cost of £2 for the day. Parking permits will need to be collected from reception at the front of the main building on arrival and displayed in the front of the vehicle. Places will be allocated on a first-come-first-served basis. Parking is also available at the Rugby Club next door to the campus and in Llandaff village.
Tickets for the symposia are free. In respect of the time, effort and public funding that have gone in to developing the programme, you are expected to attend if you book a ticket. If for any reason you are unable to attend we ask that you let us know, so you place can be taken up by someone else. Thank you.