Beginning the Journey of Building Back Restoratively
About this event
Portsmouth Mediation Service is 25 years old this year and we have decided to mark the occasion with a city-wide event at the Lord Mayors Banqueting Hall in the Portsmouth Guildhall. The afternoon conference is designed to galvanise again the Restorative work for Portsmouth and the surrounding area
The event on Tuesday the 30th of November will open from 1.30pm with Registration, Lunch and networking opportunities, there will be a couple of key presentations in the afternoon, and we will close around 5.45pm after some early evening food and fizz and some words from the Lord Mayor of Portsmouth. During the Lunch time arrival, we have invited some local partner and voluntary oragnsiations to set up their display stands and promote their restorative work.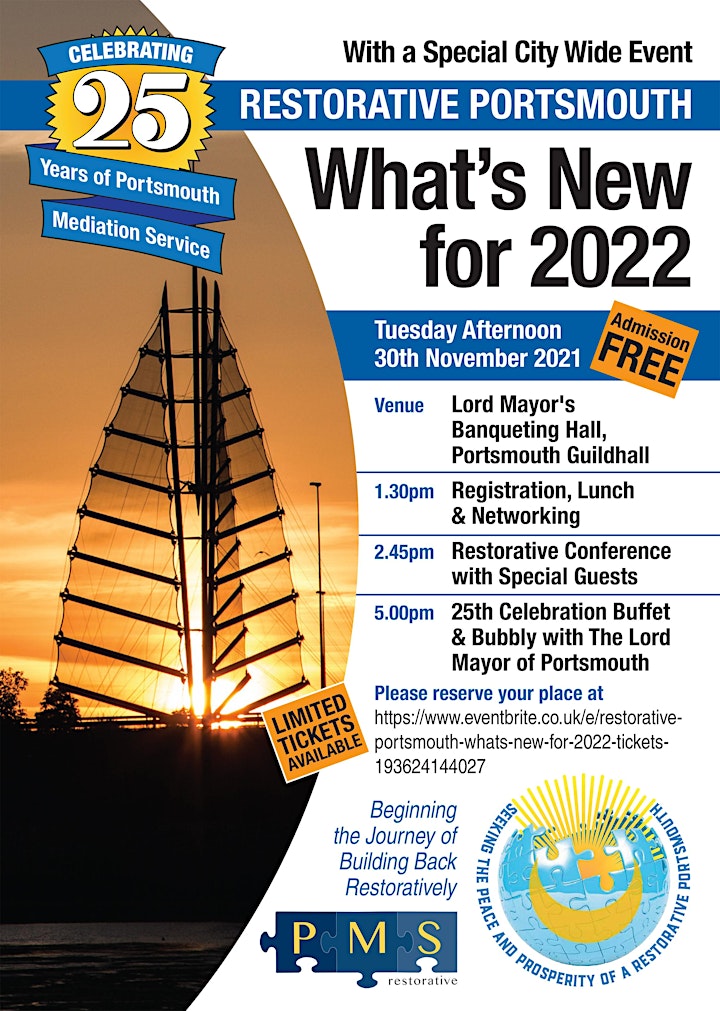 Organiser of Restorative Portsmouth - What's New for 2022
Portsmouth Mediation Service has signed up to the BIG idea of a ' Restorative Portsmouth' where its communities can enjoy peaceful lives. In all we do we are always seeking to work restoratively for the peace and prosperity of Portsmouth citizens.
We use Restorative practice to prevent conflict, build relationships and repair harm by enabling people to communicate effectively and positively. Restorative practice is increasingly being used in schools, children's services, workplaces, hospitals, communities and the criminal justice system.
Restorative practice can involve both a proactive approach to preventing harm and conflict and activities that repair harm where conflicts have already arisen.
Where the latter is required, we can facilitate restorative meetings helping to enable individuals and groups to work together to improve their mutual understanding of an issue and jointly reach the best available solution.

Restorative practice supports people to recognise that all of their activities affect others and that people are responsible for their choices and actions. It enables people to reflect on how they interact with each other and consider how best to prevent harm and conflict.