Sales Have Ended
Ticket sales have ended
Please do book onto the next event if you missed out this time around :)
Event Information
Refund policy
Contact the organiser to request a refund.
Eventbrite's fee is nonrefundable.
Sales Have Ended
Ticket sales have ended
Please do book onto the next event if you missed out this time around :)
Therapeutic and Restorative Gong Meditation
About this event
I'd be really happy if you could join us for a relaxing and balancing RESTORATIVE SOUND THERAPY MEDITATION at ZEN YOGA STUDIOS, Camberwell, LONDON SE5 8RE.
My intention is for these Sound Baths to be a purely restorative, healing and uplifting experience. Keeping it simple, it will be a time and space to relax, to breathe, to recalibrate your senses, allow for a balancing effect to take place as we practice the regenerative process of self-care.
I hope you can join us as we re-connect back to the live and profound frequency rising energy of the Sound Healing experience.
Please ensure that you read my updated guidelines here BEFORE booking This includes COVID guidelines as well as noted contra indications Guidelines click here
HEALING SOUNDS
As well as working with the magical Symphonic or Universal Gong.
More info on the GONG found here, we will also be working with the frequency of 432Hz Crystal Singing Bowls. The frequency of 432hz is noted to be calmer and more natural sounding.
When our atoms and DNA start to resonate in harmony with the spiralling patterns of nature, our sense of connection to nature is said to be magnified and amplified.
For more info on Crystal Singing Bowls and 432Hz Click Here
THERAPEUTIC SOUND
Sound has the amazing capacity to soothe, calm, quieten the mind, and triggers your body's own ability to self-regulate and heal. The sound frequencies and vibrations emitted will bathe your mind, body and soul back toward a greater state of wellness and equilibrium.
SHIFTING CONSCIOUSNESS
Things are changing so very quick and thats not always comfortable. This can be reduced if we find ways to remain calm and balanced.
Self-care remains vital during this time as does rest, good nutrition and surrounding ourselves with positive energetic frequencies and people that you can connect with.
Tickets in advance or on the door. Early booking advised.
IF YOU COULD KINDLY BE ON TIME (at least 5 mins before). We will start promptly @ 7.30pm
NO ENTRY IS PERMISSABLE ONCE WE START AS THIS INTERRUPTS THE SESSION. THANK YOU!
I look forward to seeing both familiar and unfamilar faces
Joh :)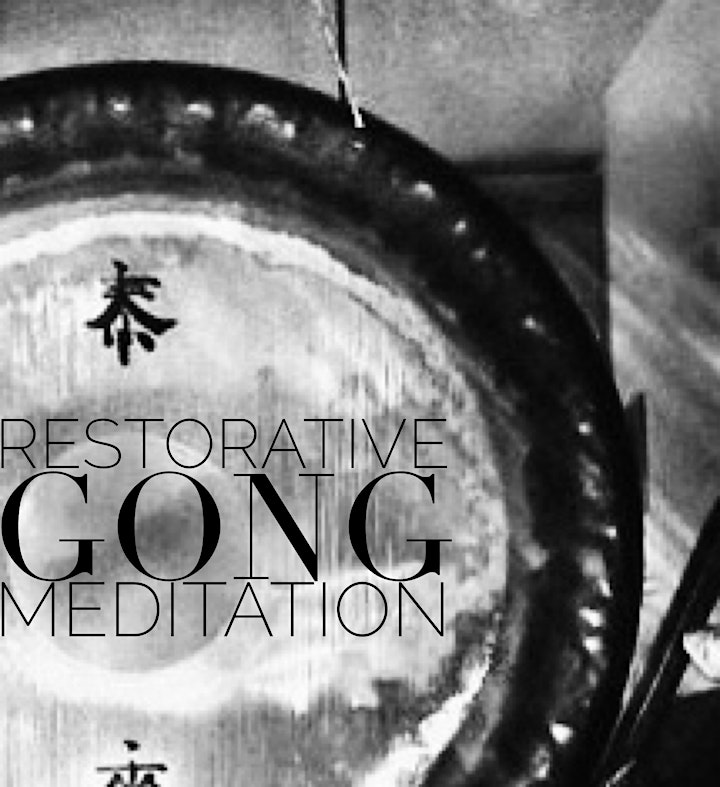 Date and time
Location
Refund policy
Contact the organiser to request a refund.
Eventbrite's fee is nonrefundable.
Organiser of Restorative Sound Therapy Meditation
Joh is a Sound Healing Therapist and published author.  Her introduction into the world of Sound Healing came after training and qualifying in other therapies including Cognitive Hypnotherapy, EFT, Theta Healing and Massage.  Joh has been a Reiki Master for more than 20 yrs.  She has trained with Gong master Sheila Whittaker at the College of Sound Healing, and Jen Zygar, Planetary Gongs.   
Joh specialises in Tuning Forks and the Gong and is a member of the College of Sound Healing, and a registered EFT practitioner with the Guild of Energists.  Joh holds regular Gong Meditation sessions at Zen Yoga Studios SE5, and at The Lodge Space SE16
THE GONG
Joh uses mostly the Symphonic Gong as its carries the widest range of tones, frequencies and harmonics to facilitate a healing response.  The tones will vibrate the cells of the body, and pull you back into a greater state of equilibrium.  Any discordant elements in the body are balanced by the Gong.  The experience allows you to become cocooned and wrapped in an envelope of nurturing energy where nothing else exists except the sounds.  In this elevated and meditative state, the mental, emotional and physical body becomes super conducting and super regenerating, and healing can take place more easily.
TUNING FORKS
Joh also works with the less familiar Tuning Pipes which are the same as tuning forks but louder and more resonant for longer.  They play single notes that target and interact more specifically with particular energy spots bringing about major positive shifts in the energetic patterns within and surrounding the human body.  
The frequencies generated can help clear out negative energy blocks quickly and effectively.  The sound is pure and will quickly move you into a space of lightness as it re-attunes, re-aligns you, shifting you into a greater state of harmony.  
NB/precautions
Kindly arrive on time so as not to disturb the class.
The sessions are for ADULTS only
Not advisable during pregnancy
If you have a pre-existing illness or metal implants (pins,screws, pacemaker etc) please ensure you consult your GP before attending. It can resonate the metal or change the rhythm of the pacemaker.
Recent surgery - within the last 6 six weeks.
If you have a history of serious psychological/mental disturbance, please consult your GP before attending.
Any condition that is sound sensitive can be triggered by sound – tinnitus, Ménière's disease, epilepsy. Please seek your doctors advice before attending
No claims for the curing of any illness is made
FOR MORE INFO 
Email info@johjohnson.com
Tel 07958 348887