An evening of story sharing through art: this is a special art workshop that will create a calm space to share stories of the past.
About this event
The Fandangoe Kid (Annie Nicholson) is a London-based print artist who makes characteristically colourful, large-scale, boldhearted, narrative driven pieces for the public realm. She seeks to smash taboos and start real conversations around complex subject matters such as mental health, loss, trauma release and gender constructs.
Join Annie for a special art workshop that will create a calm space to share stories of the past year and beyond and make some artwork in response. The workshop focuses on the process as opposed to the outcome, taking away your own graphic narrative pieces with you. The workshop caters for up to 20 people and seeks to create a safe, nurturing space where anyone is welcome.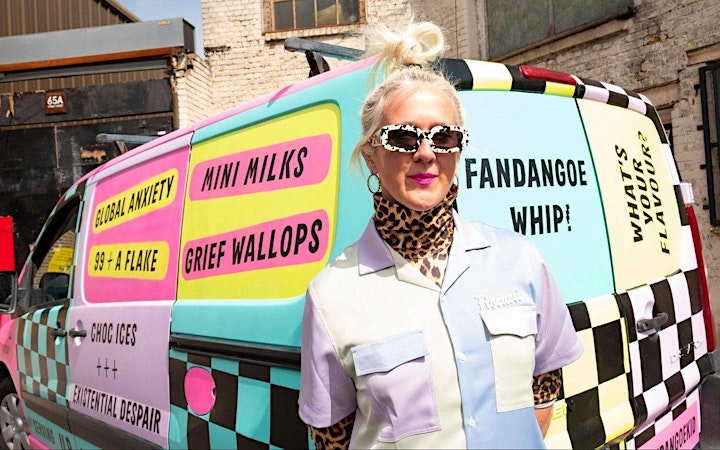 ABOUT The Fandangoe Kid
The Fandangoe Kid is a London-based print artist who makes large-scale narrative driven pieces for the public realm. Annie Nicholson seeks to smash taboos around complex subject matters such as loss, trauma release, mental health and gender constructs. The artist has created work for a wide range of purposes, for example her 'Staircase of Dreams' for London Design Festival 2020, working with young people to develop a collective narrative on daily activism.
During the first lockdown, The Fandangoe Kid redesigned nurse's scrubs for Marie Curie x NHS London, working with a palliative care nurse via Zoom to develop the uniform, celebrating International Year of the Nurse. The artist's work was shot for a feature about grief and mental health for Channel 4, looking at the importance of her practice in the pandemic. The Fandangoe Kid also works in film, screening her first short, Into Your Light, directed alongside Tara Darby, at Tate Modern and on the Manhattan Bridge, looking at dancing as a tool for survival following great personal loss.
For summer 2021, Annie launched The Fandangoe Whip, an ice cream van for mental health. The project has since been commissioned by Tate, South London Gallery, Design Museum and many other institutions to deliver ice cream and workshops on creativity as catharsis. Much of the artist's work is driven by navigating her own story, following the loss of many individuals in her family back in 2011, her practice being largely underpinned by the will to create a platform for open dialogue around the still taboo subject of grief.
She currently runs a monthly radio show on Soho Radio, called The Grief Mixtape, following on from her book Tender Hearted Bold Moves, published by Rough Trade Books. She has worked with young people in Hackney and inner-city London for over a decade, her remit being to encourage young people from all backgrounds to know themselves better through their creative practice.
ALL PROFITS FROM TICKET SALES WILL BE DONATED TO YOUNGMINDS
YoungMinds is the UK's leading charity committed to improving the emotional wellbeing and mental health of children and young people. They campaign, research and influence policy and practice. YoungMinds also provide expert knowledge to professionals, parents and young people through our Parents' Helpline, online resources, training and development, outreach work and publications.
*Please note that filming/photography will be taking place on site for the duration of this event for promotional and archival purposes. The photographs and recordings made are likely to appear on our website. If you would prefer not to be photographed please let Fora know on arrival to the event.
**In booking a ticket, you are opting into the Fora Events mailing list. We would like to keep you informed about our upcoming events, but you will have the opportunity to unsubscribe from these emails at any time.
Organiser of Restore: Creativity as Catharsis - Workshop with The Fandangoe Kid
Beautiful, professional, flexible workspace. 
Fora is reimagining the office experience by employing members' club-style service, premium design, innovative technology and a curated approach to Resident activity. Fora looks beyond simply supplying a desk to creating the most cohesive and productive workplace experience. Spaces are designed to allow Residents to choose exactly how, when and where they work and meet.