Let's disco! Join Frame for 45-minutes of cardio dance class done the fun way!
About this event
***FORA RESIDENTS, BOOK YOUR EXCLUSIVE TICKET THROUGH THE FORA APP***
Get your blood pumping with 45-minutes of cardio done the fun way. Mix easy choreography with a playlist full of DISCO CLASSICS for an addictive workout that will leave you buzzing! We'll even have a glitter artist to add some sparkle before you dance the night away...
FOR THE MIND
Dancing is the ultimate mood booster! It increases levels of the feel-good hormone serotonin which studies have shown can help reduce stress and ease anxiety. That sometimes tricky choreography might just be keeping our brain young and agile!
FOR THE BODY
Dance Cardio is a full-body workout that targets every muscle group. Moving in a large range of motion targets small and large muscle groups. Great for strengthening your heart and lungs while getting blood pumping around the body. Targetting arms, core, glutes and legs.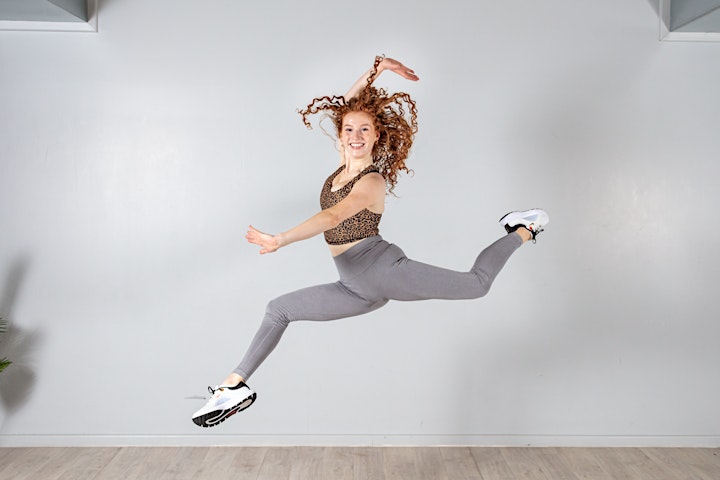 ABOUT Lydia Jervis
What makes your class awesome?
My classes are all about letting go and having the most fun possible! Don't worry if you're feeling short of energy, I will pick you up and promise you will leave the room feeling amazing.
What was your journey to becoming an instructor?
I trained as a professional dancer so have always been active but started to take fitness more seriously during lockdown. I got really into home workouts and calisthenics, so decided to train as an instructor, and I am so happy I did.
What is your signature move / style?
Strength related – Pistol squats! It took me a while to get there but I love banging them out on leg day and people are usually impressed! Dance related – I love a good hair flip.
ALL PROFITS FROM TICKET SALES WILL BE DONATED TO YOUNGMINDS
YoungMinds is the UK's leading charity committed to improving the emotional wellbeing and mental health of children and young people. They campaign, research and influence policy and practice. YoungMinds also provide expert knowledge to professionals, parents and young people through our Parents' Helpline, online resources, training and development, outreach work and publications.
*Please note that filming/photography will be taking place on site for the duration of this event for promotional and archival purposes. The photographs and recordings made are likely to appear on our website. If you would prefer not to be photographed please let Fora know on arrival to the event.
**In booking a ticket, you are opting into the Fora Events mailing list. We would like to keep you informed about our upcoming events, but you will have the opportunity to unsubscribe from these emails at any time.
Organiser of Restore: Disco Dancing with Frame
Fora is re-imagining the way a working environment can support ambitious, innovative and high growth businesses. We curate the best elements of co-working, flexible offices, private members clubs and dynamic events spaces. The result is a portfolio of premium workspaces that support the needs and ambitions of some of the most exciting businesses in the world, through driving productivity, wellbeing and community.