Description
Sometimes when life hands you lemons, you have to do more than make lemonade. The natural stressors of the daily 9-5 can really take a punching to your wellbeing on all levels: physical, mental and emotional. As the cooler days draw in, turn up the energy on your mood and positivity with a recharging wellbeing meditation, mindfulness and yoga day nestled within the woodland grounds of the Hampshire countryside. This restorative day of healing guidance will help break down the emotional blockages that accumulate through stress and hinder our abilities to create a peaceful life. Through a plethora of rejuvenating meditation practises, a gentle, slow and relaxing yoga session, we will lead you to a day of awakening, peaceful and rewarding connection to your inner calm and wisdom.

This beautiful day retreat is held by Carolyne Bennett, Life Coach, Soul Coach & Awakener from Carolyne Bennett Coaching and Louise Furmenger, Yoga Teacher & Holistic Practitioner from Blue Butterfly Health. Carolyne and Louise would love for you to join them, with open hearts ready to make positive change in your life.

What to expect?

Guided Meditation.
Inspirational 'Life change session'.
Slow and gentle Hatha Yoga session to help you connect within, stretch your body and allow your energy to flow freely. Suitable for beginners.
Deep relaxation – Rejuvenating yogic sleep.
Mindfulness sessions - experience the magic of living in the 'now'.
Learn visualisation techniques to manifest the life you desire.
Earthing mindfulness/restorative practice.
Release energetic blockages and relax with the healing sounds of the Gong.
Closing Fire Ceremony.
Important information
Your place on this event is guaranteed upon us receiving full payment. No refunds will be given for cancellations made less than 30 days before the start of the event. In the event of the event being cancelled a full refund will be given.
Please bring the following with you:
Yoga Mat
2 x Blankets
Cushion or Pillow
Healthy lunch & snacks
Journal & Pen
Comfortable clothing
We will provide:
Directions
This event will be held in the bungalow, which is located on the left-hand side as you enter through the gates of Firs Farm. There is parking space outside the bungalow as well as down the gravel track. You can park anywhere except for near the right hand annexe (as you look at the main house). Please keep cars off the grass areas.
Please arrive no later than 10 minutes before the retreat starts.
Please note that sat nav will not get you to our door, only the general area. Being familiar with the road layout in advance will serve you well. Capers End Lane is off a road called 'The Plantation' and is easily missed. When you arrive on Capers End Lane (Gravel track) proceed all the way down to the end and you will pass through the gates of Firs Farm. Please see maps below, call 07825 727331 if needed.
By Car
Firs Farm is located between the village of Botley and Bishops Waltham, Capers End Lane can be found off the B3035, and off The Plantation (see map below).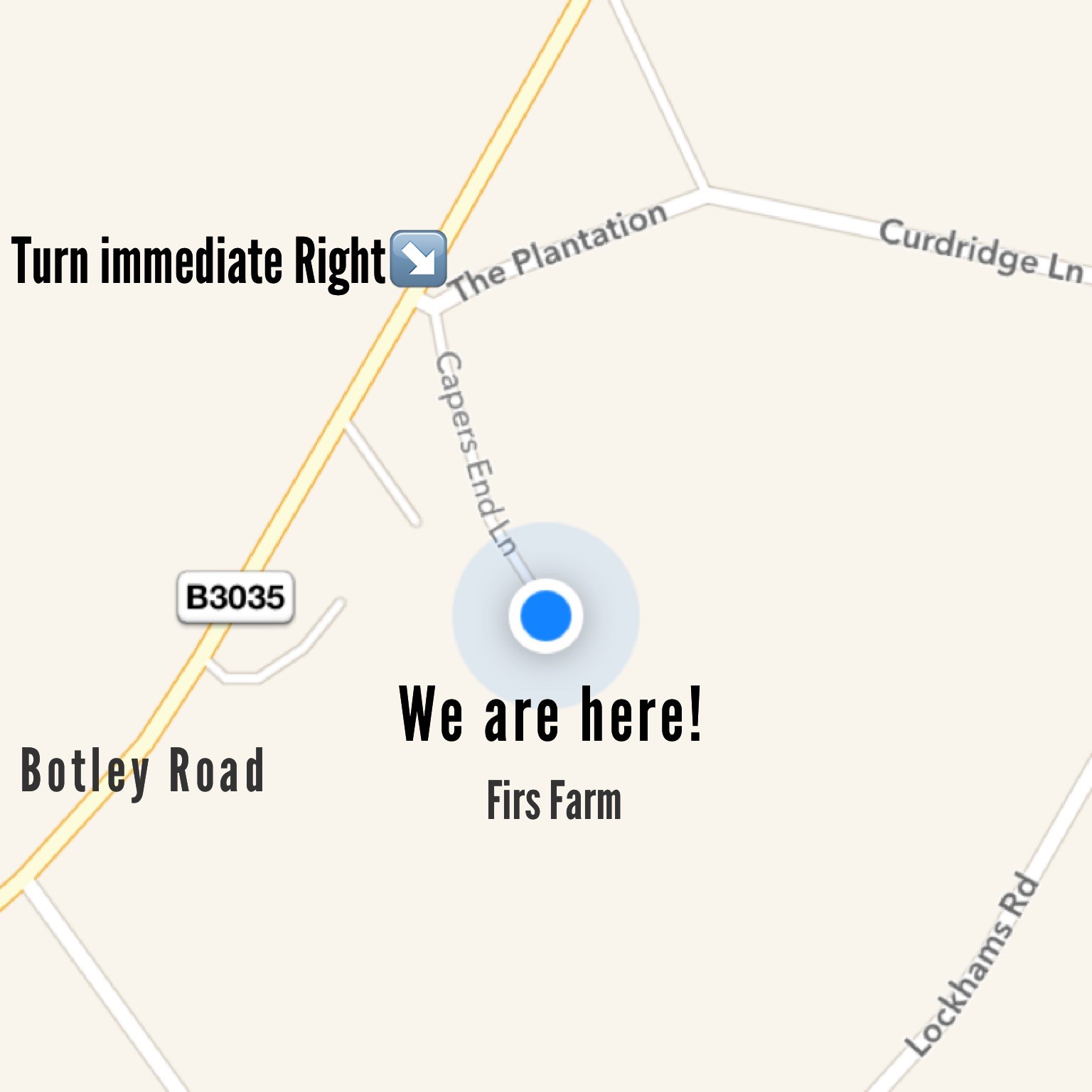 By Train / Taxi
Botley train station is a small station and approximately five-minute taxi drive to Firs Farm. The taxi would need to be pre booked. There are accessible ticket machines at this station as well as customer help points.
Local taxi services
Hedge End Service - 6 Botley Road (01489 696969) - OPEN 24 HOURS
Millers Private Hire Cars - 19 Allen Road (01489 788888)
Phipps Taxis Ltd - 6 Botley Road (070 0444 4444)