Rethink Success a dialogue with global governance experts Maja Groff and Ar...
Description
Join this online dialogue to rethink success and the fifth in a series of exploratory sessions to give you new ideas and insights to reflect upon and take into action in your workplace. ( see here past video summaries )
Rethinking success in global governance
We seem to be teetering on the brink of several catastrophic global failures, whether in preventing the re-arming of states for military conflict, failing to respond adequately to the accelerating climate crisis, watching helplessly as a potential global pandemic advances, or allowing new information technologies to be used for political interference and manipulation of the public to fragment societies and undermine confidence in governments, among others. Our present mechanisms for global governance in the United Nations system and other international organizations and agreements have obviously failed to address these risks adequately, yet hardly anyone considers seriously that multilateral action can be improved in the near future. Too many countries are against it. There is a clear need to rethink success in global governance.
Based on our new book "Global Governance and the Emergence of Global Institutions for the 21st Century", we shall explore a number of questions:
Is there any reasonable prospect of reforming the United Nations?
What would need to be done to make the UN fit for purpose today?
What roles can businesses, civil society organizations and individuals play in working for better global governance?
What values and spiritual principles will we need to inspire and facilitate global governance reform?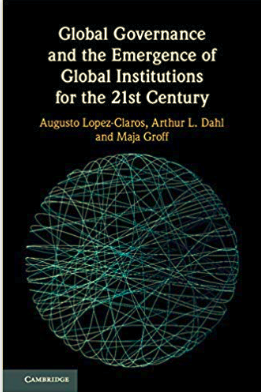 When & Where
Sunday, 5th of April at 16:00 (Geneva time)
ONLINE using ebbf's zoom link
Password: 002907
MORE about Maja Groff and Arthur Dahl in the event's speaker's list