Rethinking Education: Setting Research Priorities Event
Our second event seeks to identify the key areas of research necessary to ensure we can learn lessons from education during lockdown.
About this event
Setting Research Priorities
There's lots to be learned from the past year in terms of children and young people's mental health and wellbeing, especially in terms of how it relates to their education. In this meeting, we will work together as young people, parents, educators, researchers, and professionals to choose the most pressing research questions. What areas do we need to study to make sure we can learn from this past year?
You are welcome to submit ideas beforehand or to just show up on the day for the discussion. And if you have any questions, please email us at info@rethinkingeducation.org.uk.
If you wear 'multiple hats' please choose the ticket type for the group you'd most like to join in a breakout room.
Rethinking Education: Lessons from Lockdown
This year has been an extraordinary time for children and young people; especially in terms of their education. The Rethinking Education: Lessons from Lockdown Special Interest Research Group, funded by Emerging Minds, aims to bring together all those with the desire to learn from these experiences. The group will identify opportunities for collaborative research, capturing learning from lived experience, to ensure wellbeing is an intrinsic part of all education provision within a system that enhances the life chances of all.
This is the second of our three meetings this year:
- Launch & Relationship Building (19th July)
- Setting Research Priorities (11th October)
- Catalysing New Research (Late November/Early December)
In our first meeting, we discussed what we hoped for in the future of education. We then turned our focus to what we missed about pre-Covid education, and what we liked about education during the pandemic. We learned that we all want similar things for education, and that there have been both positives and negatives of pandemic education. We agreed that there's lots to be learned from the past year.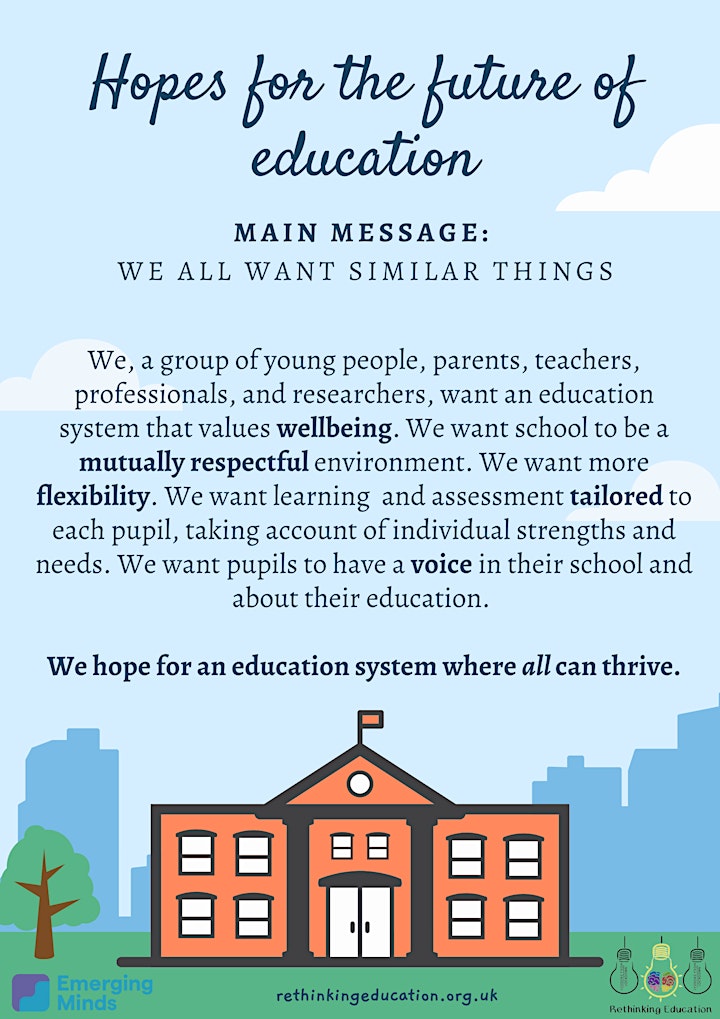 Organiser of Rethinking Education: Setting Research Priorities Event