Rethinking Income Streams Part 1 & 2 | Ailfeddwl Ffrydiau Incwm Rhan 1 & 2
Covid-19 and Your Business - Rethinking Income Streams Part 1 & 2 | Covid-19 a'ch Busnes - Ailfeddwl Ffrydiau Incwm Rhan 1 & 2
About this Event
This event is run in two parts, participants will need to attend both sessions and undertake the self-directed learning. THIS SESSION WILL BE DELIVERED IN ENGLISH ONLINE. Welsh documents are available upon request.
Cynhelir y digwyddiad hwn mewn dwy ran, bydd angen i gyfranogwyr fynychu'r ddwy sesiwn ac ymgymryd â dysgu hunan-gyfeiriedig. MI FYDD Y SESIWN HON YN CAEL EI GYNNAL YN SAESNEG AR-LEIN. Mae yna ddogfennau Gymraeg ar gael os oes angen.
(Please scroll down for English)
----------------------------------------
COVID-19 a'ch Busnes - Ailfeddwl Ffrydiau Incwm
Mae Hwb Menter Ffocws y Drenewydd yn falch o allu cynnig cyfle i chi gymryd rhan yn y rhaglen 'Ailfeddwl Ffrydiau Incwm' gan Academi Mentrau Cymdeithasol Cymru.
Mae cynlluniau busnes yn cael eu hailgynllunio i adlewyrchu'r realiti presennol a beth allai fod y 'normal newydd' y tu hwnt i'r cyfnod presennol.
Mae 'busnes fel arfer' yn annhebygol o fod yn opsiwn ymarferol. Rhaid i bob sefydliad adolygu dulliau gwerthu a chynhyrchu incwm, tra bod yn ymwybodol y bydd y ffordd rydym yn gweithredu yn y cyfnod presennol yn cael ei gofio.
Beth fydd cynnwys y cwrs?
Bydd y rhaglen yn eich galluogi i archwilio gwahanol ddamcaniaethau a modelau tra'n dysgu o brofiadau cyfranogwyr eraill y rhaglen.
Hydref 6
Adolygu eich model busnes presennol yng ngoleuni gwirioneddau masnachu newydd;
Gwerthuso eich asedau a sut maent yn cyd-fynd ag anghenion cwsmeriaid a buddiolwyr;
Archwilio'r cysyniad o Feddylfryd Mentrus.
Hydref 13
Nodi gwahanol ffynonellau cyllid ar gyfer twf;
Archwilio gwahanol Offer Twf a sut y gellid eu cymhwyso i'ch model busnes sy'n esblygu;
Archwilio gweithio mewn partneriaeth fel ffordd o gynyddu effaith gymdeithasol a chynhyrchu incwm.
Ar gyfer pwy mae'r digwyddiad?
Mae'r rhaglen hon wedi'i chynllunio ar gyfer arweinwyr busnesau/sefydliadau, p'un a yw eich incwm yn seiliedig ar fasnachu, rhoddion, nawdd neu grantiau.
Cefndir y Siaradwr
Rosie Sweetman yw Cyfarwyddwr Sweetmans and Partners, corfforaeth B sy'n bodoli i wneud gwahaniaeth cadarnhaol i'w cleientiaid, pobl a chymdeithas. Maent yn arbenigo mewn gweithio gyda'r sector gwasanaethau ariannol, cyfreithiol a phroffesiynol a sefydliadau a arweinir gan bwrpas.
Mae Rosie yn hyfforddwr gweithredol cymwysedig a phrofiadol a dyfarnwyd yr anrhydedd uchaf iddi am arweinyddiaeth yn rhestr The Times o'r 100 elusen gorau i weithio iddynt dros ddwy flynedd yn olynol, ac enillodd Wobr IOD Cymru am y Cyfarwyddwr Arweinyddiaeth mewn Cyfrifoldeb Corfforaethol 2016 a Gwobrau CIPD Cymru am ymgynghoriaeth Allanol Orau yn 2018 (arian) a 2019 (aur).
Manylion Pellach
Mae'r rhaglen yn cynnwys:
1 x 3 awr a 1 x 2 awr o ddysgu a arweinir gan hwyluswyr ar Zoom.
6 awr o ddysgu hunan-gyfeiriedig.
Bydd angen i gyfranogwyr fynychu'r ddwy sesiwn ac ymgymryd â dysgu hunan-gyfeiriedig.
_________________________________________________________________________________________
COVID-19 and Your Business - Rethinking Income Streams
Focus Newtown Enterprise Hub is pleased to be able to offer you the opportunity to participate in the 'Rethinking Income Streams' programme from The Social Enterprise Academy Wales.
Business plans are being redesigned to reflect both the current reality and what might be the 'new normal' beyond the present time.
'Business as usual' is unlikely to be a viable option. All organisations must review approaches to sales and income generation, whilst being aware that how we operate in the current time will be remembered.
What will the event cover?
The programme will enable you to explore different theories and models whilst learning from the experiences of other programme participants.
October 6th
Review your current business model in the light of new trading realities;
Evaluate your assets and their fit with the needs of customers and beneficiaries;
Explore the concept of an Enterprising Mindset.
October 13th
Identify different sources of finance for growth;
Examine different Growth Tools and how they might be applied to your evolving business model;
Explore partnership working as a route to increasing social impact and income generation.
Who is this workshop for?
This programme has been designed for leaders of businesses/organisations, whether your income is based on trading, donations, sponsorship or grants.
About the speaker
Rosie Sweetman is Director of Sweetmans and Partners, a B corporation that exists to make a positive difference to their clients, people and society. They specialise in working with the financial, legal and professional services sector and purpose-led organisations.
Rosie is a qualified and experienced executive coach and was awarded the highest accolade for leadership in The Times Top 100 charities to work for over two consecutive years, and won the IOD Wales Award for Director of Leadership in Corporate Responsibility 2016 and the CIPD Wales Awards for Best External consultancy in 2018 (silver) and 2019 (gold).
Further Details
The programme is made up of:
1 x 3 hour and 1 x 2 hours of facilitator led learning on Zoom.
6 hours of self-directed learning.
Participants will need to attend both sessions and undertake the self-directed learning.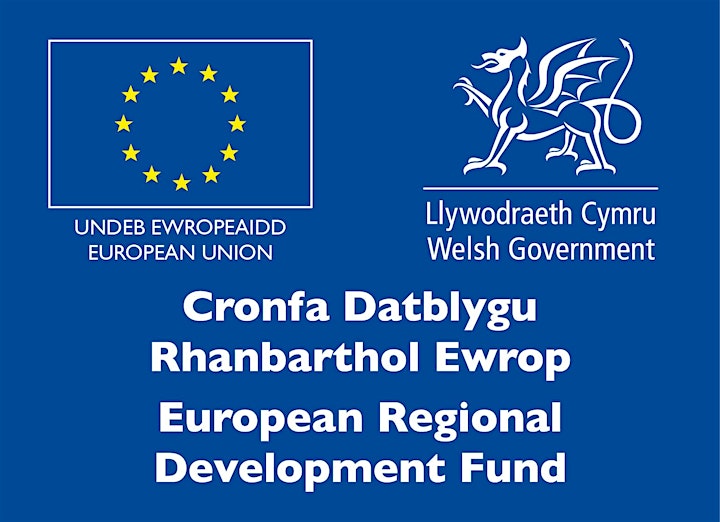 Mae Hybiau Menter Ffocws yn darparu gofod arloesol i ddeori a sbarduno busnesau newydd a'r rhai sy'n ehangu. Mae Hwb Menter Ffocws y Drenewydd a Hwb Menter Ffocws Caerfyrddin yn cael eu hariannu'n rhannol gan Gronfa Datblygu Rhanbarthol Ewrop trwy Lywodraeth Cymru
Mae'r digwyddiadau a ddarperir neu a gynhelir gan raglen Hybiau Menter Ffocws Llywodraeth Cymru am ddim ac yn agored i bobl o bob oedran, ond rhaid archebu lle ymlaen llaw. Mae'r niferoedd yn brin a disgwyliwn alw mawr am lefydd, felly archebwch yn gynnar i ddiogelu'ch lle.
Focus Enterprise Hubs are an innovative space to incubate and accelerate new, and growing businesses. Focus Newtown and Focus Carmarthen Enterprise Hubs are part funded by the European Regional Development Fund through the Welsh Government
Events delivered or hosted by the Focus Enterprise Hubs programme for the Welsh Government are free and open to all ages but must be booked in advance. Please be advised that numbers are limited and we expect high demand for places, so book early to secure your place.