Rethinking Property Approaches in Resources for the Circular Economy Conference

Friday, 21 June 2019 from 09:00 to 18:30 (BST)
Event Details
Faced with constrained resources and the needs for sustainable models of growth, there are growing calls to transition to 'circular economies' in which resource and waste streams are reused, recycled, or recovered instead of sent to landfill or incinerated in order to achieve both economic prosperity and environmental protection. The challenge lies in operationalising such transitions. Property rights in resources and waste are one key influential component that can facilitate these by influencing resource and waste management.
The conference will explore questions including:
What incentives and barriers to reuse, recycling, and recovery are provided by current property interest models and conceptions of ownership?

To what extent can the circular economy depend on mutual self-interest of private owners?

Do we need to re-think the relationship between property and responsibility?

What can communal property and communal resource governance contribute towards effective, reuse, recycling and recovery of resources and waste?

To what extent should changes in the nature of a thing lead to a reconfiguration of the property interests in it?

Are different property approaches required for different kinds of things?

Do humanitarian, health or environmental concerns clash with property rights in the adoption of circular economy regulation?

How is liability associated with the implementation of circular economy policies distributed across different actors (e.g. producers, consumers, intermediaries) in complex supply chains?

How do different models of stewardship and public trusteeship sit with circular economy initiatives?

What are the implications for circular economy approaches and property rights in the Global South?

What are the human rights implications of resource ownership within a circular economy?
Provisional agenda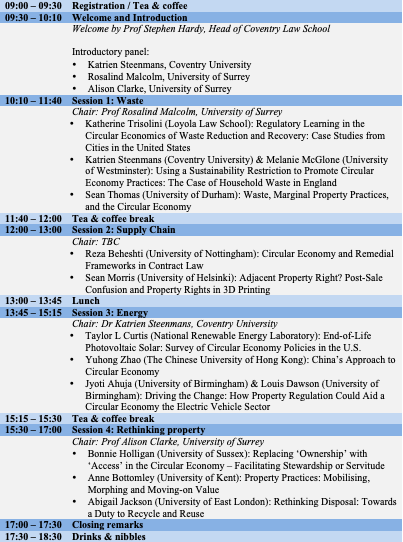 Organisers: Dr Katrien Steenmans (Coventry Law School and Sustainable Production and Consumption Cluster, Centre for Business in Society, Coventry University), Prof Rosalind Malcolm (School of Law, University of Surrey), Prof Alison Clarke (School of Law, University of Surrey).
The conference is supported by a Society for Legal Scholars Small Projects and Events Fund. Please note that there are limited travel bursaries available for PhD students. Please contact Katrien Steenmans (katrien.steenmans@coventry.ac.uk) for further information.
For any further information, please visit the conference website or contact Katrien Steenmans (katrien.steenmans@coventry.ac.uk).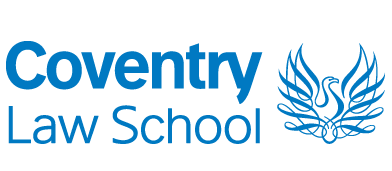 Do you have questions about Rethinking Property Approaches in Resources for the Circular Economy Conference?
Contact the organiser
When & Where

WM106, William Morris Building
Coventry University
Gosford Street
CV1 5DL Coventry
United Kingdom


Friday, 21 June 2019 from 09:00 to 18:30 (BST)
Add to my calendar