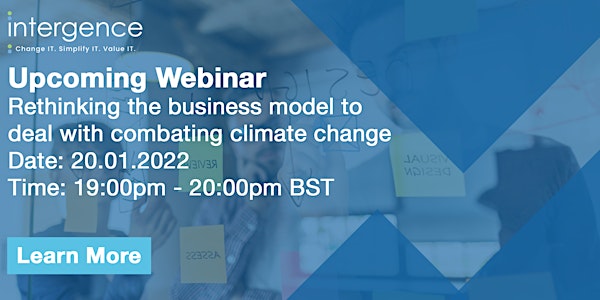 Rethinking the business model to deal with combating climate change
Upcoming webinar featuring special guests from an ex-winter Olympian to the co-owner of Wild Ken Farm featured on SpringWatch
About this event
Overview
Existing business models will be ineffective in combating climate change and preventing further biodiversity loss. Yet we live in a data orientated digital age, equipped with all the tools to prevent catastrophic climate change and biodiversity loss. But without a wholesale adoption of new business models, this technology is unable to deliver its benefits to the climate and biodiversity. 
Join Mark Chillingworth (Journalist), Chemmy Alcott (Ex Winter Olympian), Dominic Buscall (Co-owner of Ken Hill Farm) and Peter Job (CEO of Intergence) to discuss their experiences of adapting to a more sustainable approach.
This webinar should bring benefits to you and your business on how re-thinking your business model can not only help the battle with climate change but also help reduce costs and increase efficiencies. 
Agenda:
7.00 - 7.05pm - Welcome by moderator - Speaker: Mark Chillingworth
7.05 - 7.15pm - Lightning talk 1 - Rethinking business models - rent, re-use and make less - Speaker: Chemmy Alcott
7.15 - 7.25pm - Lightning talk 2 - Rethinking business models - Rewilding and Sustainable Farming - Speaker: Dominic Buscall
7.25 - 7.50pm - Debate on: Working differently and challenging existing methods and how to use data to derive insight that enables rethinking business models with the aim to be more environmentally sustainable.
Moderator will make a statement on the above topics that the 2 speakers will respond to.
7.50 - 8.00pm - Final thoughts and close