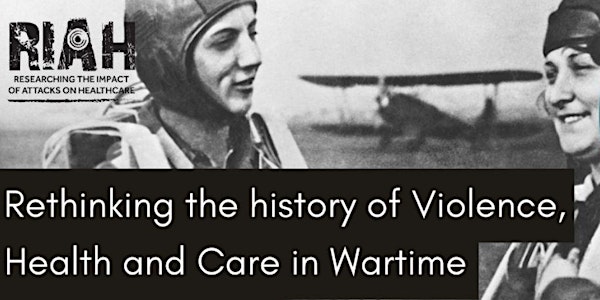 Rethinking the history of Violence, Health & Care in Wartime, c. 1860-2000s
One-day online workshop exploring the history of violence against health and care, broadly conceived, in wartime.
About this event
Understandings of the impacts of attacks on healthcare have changed significantly within the last ten years. Within this new climate, many academics and policy-makers have searched for historical precedents to better understand current debates about the definition(s) and impacts of attacks on healthcare workers and facilities. This renewed interest in the history of international humanitarian laws (IHL) offers an important opportunity to gain clearer understandings of the origins, development and broadening of the international legal framework established to protect healthcare workers and facilities (Breitegger, 2013; Hull, 2014).
The aim of this workshop is to bring together scholars working on the topic of violence, health and care in wartime and discuss the new approaches that historians have taken to examine the framing, impacts and legacies of violence and attacks on medical spaces. Amid an ongoing cycle of commemorative events for the adoption of the Resolution 2286 by the UN Security Council on the Protection of civilians in armed conflict, academic and public interest in the impact of attacks on healthcare is growing. Participants will bring fruitful new elements to the ongoing reflections about the definition and impacts of attacks against healthcare, while offering valuable new perspectives on the history of violence and health in wartime. The tentative schedule of the day is as follows:
• 9h30 - 10h00 Welcome and Introduction: Rethinking the history of Violence, Health and Care in Wartime, c. 1860-2000s
• 10h00 – 10h40 Keynote: Jessica Meyer (University of Leeds) – 'Nursing Under Fire: Nurses and nursing orderlies in First World War combat zones'
• 10h50 – 11h40 First panel: Wartime Violence and the Politics of Neutrality on the ground
• 11h40 – 12h30 Second panel: Neutrality under Fire and the Materiality of Attacks
• 12h30 – 13h00 Conclusion thoughts on the first two panels (Duncan McLean, MSF): Historical Antecedents to Understanding Contemporary Attacks on Healthcare
• 13h00 – 13h45 Lunch
• 13h45 – 15h00 Third panel: Beyond Genevan Humanitarianism? Revisiting the history of medical neutrality
• 15h10 – 16h25 Fourth panel: Documenting Attacks in Historical and Contemporary Perspectives
• 16h40 – 17h40 – Concluding Roundtable. New directions in the history of violence, heath and care in wartime
This workshop is hosted jointly by the Researching the Impact of Attacks on Healthcare (RIAH) project led by Larissa Fast (HCRI, University of Manchester) and the AHRC-funded project 'Colonial and Transnational Intimacies: Medical Humanitarianism in the French external Resistance, 1940-1945' (AH/T006382/1) led by Laure Humbert (University of Manchester), with Bertrand Taithe (HCRI, University of Manchester) and Marie-Luce Desgrandchamps (Université de Genève).
Websites: