NOW Gallery presents RETURN TO SLYGO by Nicholas Daley.
About this event
NOW Gallery is thrilled to welcome one of the UK's most pioneering young fashion designers, Nicholas Daley, as its 2021 Fashion Commission. The fully immersive exhibition, RETURN TO SLYGO will celebrate the coming together of Nicholas's multicultural Jamaican-Scottish roots with his passion for music in a multi-sensory installation.
A marriage of Nicholas's three core values of community, culture and craftsmanship, the exhibition comes at a moment when we are all reaching out beyond our immediate circle, and with hope, a fitting moment of national healing and togetherness. RETURN TO SLYGO sees the gallery transformed into a welcoming space for the local community and visitors alike to come, slow down and dwell.
Offering an insight into Nicholas's fierce sense of family and how his upbringing has had a powerful influence on his approach to fashion will be a key theme of the experience, with his family honoured throughout. Two films offer a vison of his parents in relation to his practice and how they influence him. A screen will provide an opportunity to experience an intimate documentary style film exploring knitting techniques and interviews Nicholas and his mother discussing family and ancestry in relation to Nicholas Daley's current knitwear; and how his mother's skills and craftmanship have been passed down generations.
The second film is a tribute to Nicholas's musical connections. The director Akinola Davies Junior explores a musical interchange between black British artists from different generations creating a musical conversation on ancestry, culture and resistance. 
An exclusive, free Nicholas Daley tote bag designed by Gaurab Thakali will be on available for a limited time, along with an exclusive zine produced for the exhibition with stills by Piczo from the film 'Return to Slygo' available to buy, with all profits going to Tomorrow's Warriors, an innovative jazz music education and artist development organisation.
Jemima Burrill, Curator at NOW Gallery, comments: "Nicholas Daley is giving us the exhibition we need right now. Return to Slygo celebrates community and diversity but also flags up the brilliance and importance of UK design and manufacture. Nicholas Daley brings music and art into the mix, when we need a shot of light hearted hedonism and an exploration of what is good in the world, at this time."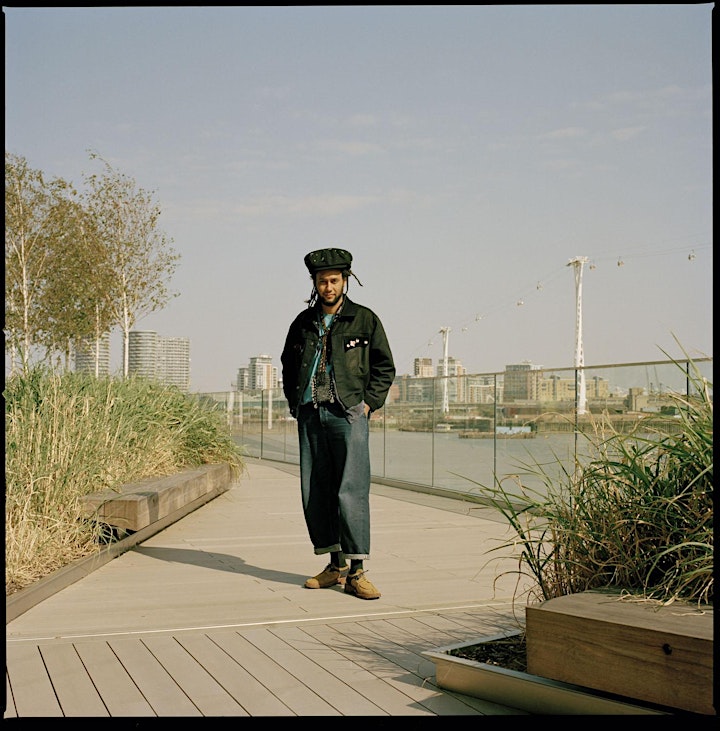 About Nicholas Daley
Nicholas Daley graduated from Central Saint Martins in 2013 and launched his eponymous label in 2015. Since the brand's genesis, Nicholas has continually explored his dual-ethnic heritage, being of Jamaican and Scottish descent: he widely questions and reflects the notion of multiculturalism within the British identity.
Placing great significance on craftsmanship with his production within the UK and Japan Nicholas works with recognised artisans creating bespoke textiles and fabric finishes for every collection. For the last six seasons Nicholas has been supported by The British Fashion Council's NEWGEN designer program showcasing his collections during London Fashion Week Men's. He was also the recipient of the 2019 International Woolmark Prize Semi-Final Award, presenting a custom collection titled 'Reggae Klub' .
He has collaborated with iconic brands such as Adidas and Fred Perry continuing his creative narrative into new areas of the fashion market. Nicholas is stocked within notable stores such as International Gallery Beams, Browns, Mr Porter, SSENSE and Dover Street Market.
Image credit: Adama Jalloh
Please ensure that you have downloaded the NHS Covid-19 App before your visit.
You will have 30 minutes to enjoy the exhibition.
Staying Safe During Your Visit:
In light of the ongoing COVID-19 pandemic, we've introduced additional safety measures to keep both visitors and staff safe. We operate a Covid Secure and ask that you familiarise yourself with the below guidelines before you arrive:
● If you are travelling via public transport, ensure that you wear a face mask on the journey, keep your distance from others and where possible avoid peak transport times.
● If you are travelling to the event from outside of the Royal Borough of Greenwich, ensure that you check the Tier status of the area you are travelling from at https://www.gov.uk/findcoronavirus-local-restrictions. Unfortunately, if you are travelling from a Tier 3 area you will not be permitted to attend the exhibition.
● Timed tickets are required for entry to the exhibition, these tickets are available through Eventbrite only. Please ensure you arrive at least 5 minutes before your scheduled time slot, unfortunately, we cannot guarantee entry if you arrive late.
● Please follow the one-way routes and safe distancing measures both inside the space and when queuing for entry. You will need to maintain a distance of at least 2m from other people within the building unless they are part of your household or support bubble.
● You will be only be allowed entry to the gallery accompanied by members of your household only. In the interest of keeping everyone safe if you do arrive with a guest and are unable to provide proof of shared residency, we will be required by law to permit single entry in a socially distant manner.
● We've introduced screens, installed hand sanitisers, increased cleaning regimes and decreased touchpoints. Please ensure your hands are cleaned upon arrival, we will ask you to sanitise upon entry and exit.
● Face coverings are now mandatory within gallery spaces. Our gallery staff will be wearing a face covering and we ask that all visitors wear one too (unless exempt) when inside the space to help keep everyone safe.
● Before making your journey to the galley please make sure that you have not been requested to self-isolate and that you do not have any of the following; a high temperature; a new continuous cough; a loss, or change to, your sense of smell or taste. If you do have any of those symptoms do not travel and contact NHS Direct.
● In the event that you start to feel ill on site please keep your face covering on, maintain social distancing and notify a member of gallery staff who will take you outside and advise how to proceed.
We will brief all visitors on our COVID-19 protocols upon arrival and are really looking forward to welcoming you back to NOW Gallery.