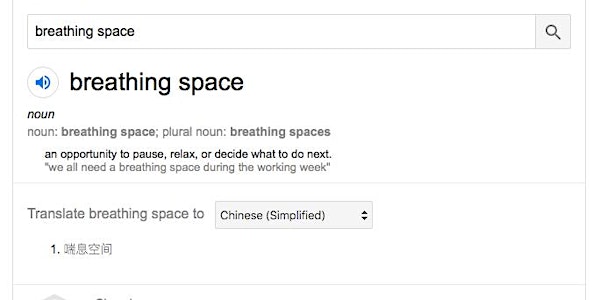 Returning to Home Workshop 1: let me give you some breathing space
"Returning to Home: A series of re/embodied workshops that focuses our attention to recognising, resetting and restoring."
About this event
"Returning to Home: A series of re/embodied workshops that focuses our attention to recognising, resetting and restoring."
This series was first envisioned as a three-day workshop utilizing theatre skills in bringing together bodies in movement, play and intimacy. These months of compounded challenges of the pandemic, social distancing and isolation, the shift to the digital space, and the surge of rage at the brutal murder of George Floyd - opened up painful questions around what does it mean to be 'present' physically? What does it mean to be together? What does it mean to allow each other space to breathe?
Apart from being simply a substitute holding space, can the digital realm provide conditions that allow for deeper connections and even more radical transformations? Looking to other narratives where the physical body has been denied, negated, or de-valued, the workshop series have been re-made with the priority of sharing space, recognizing our many states of flux and being, redistributing our resources and attention to reclaim being-at-home with ourselves.
Curated by Annie Jael Kwan. Commissioned and produced by performingbordersLIVE
Workshop 1: let me give you some breathing space.
Everything, and everyone, starts with the breath. In the age of safe social distancing, the act of breathing has been perceived as perilous, and possibly violent. In the public space of systemic racism and violence, breathing is a desperate act. As we wait, in the fact of ongoing anxiety and rapid social changes, we catch our breath. This digital workshop offers a safe space for us to recognize what we've gone through and what we're carrying, and to relocate the self in this space of transition and flux between the digital and the disembodied. Working with 'presencing', breathing, listening, writing, sound, we will gather, ground, and honour our scattered selves in an experimental, collective creative process.
Duration: 1.5 hours
For workshop 2, please follow this link: https://www.eventbrite.co.uk/e/109164205076
For workshop 3, please follow this link: https://www.eventbrite.co.uk/e/109166174968
Access:
We will provide live captioning throughout the workshops.
If you have hearing impediments and would like us to send you the UTR for a more enhanced live caption experience, please contact us on this email address performingborderslive@gmail.com and we will send it to you near the workshop date.
The workshop will have members of the performingbordersLIVE team to support any needs that might occur throuhout this process and the management of participants where needed.
This workshop is free and open to anyone. If you have any particular access requirement needs or would like more information, please contact us at performingborderslive@gmail.com
Annie Jael Kwan is an independent curator and researcher based in London and working across Europe and Asia. Her background is in theatre studies, cultural studies and modern and contemporary art history, and her practice is located at the intersection of contemporary art and activism with an interest on issues related to archives, histories, feminist, queer and alternative knowledges, collective practice and solidarity. She is a recipient of a Diverse Actions Leadership Award 2019 and co-leads Asia-Art-Activism, currently in residence at Raven Row till November 2020.
performingbordersLIVE is a programme of events and new commissions curated by Alessandra Cianetti and Xavier de Sousa and focusing on the exploration of artistic practices happening within the UK Live Art sector around notions of cultural, juridical, racial, gendered, class, physical and everyday borders. performingbordersLIVE20 is presented in by performingborders and Foreign Actions Productions in collaboration with Counterpoints Arts (London, UK), Live Art Development Agency (London, UK), Contact Theatre (Manchester, UK), East Street Arts (Leeds, UK), Attenborough Centre for the Creative Arts (Brighton, UK), The Albany & Deptford Lounge (London, UK), Asia-Art-Activism & Something Human (London, UK), King's College London, Never Done (London), OROAnike (London), East London Cable (London, UK), Green Rooms Hotel (London, UK), Howlround Theatre Commons (Boston, US), and International Performing Arts Festival – IPAF (Copenhagen, Denmark). Supported by the Arts Council England.