Description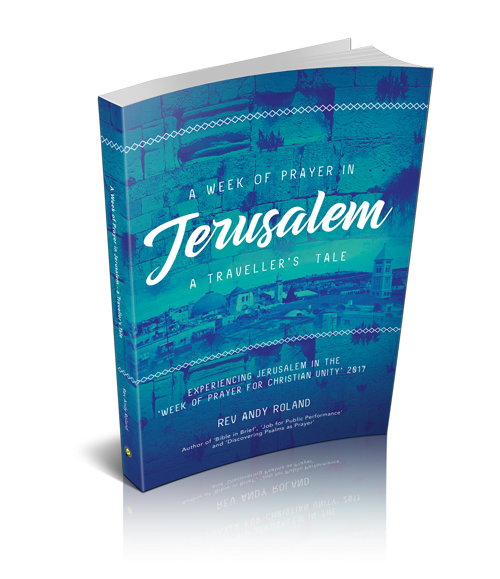 You are cordially invited to join Rev Andy Roland for the launch of his new book "A Week of Prayer in Jerusalem"
£8.99 from all good bokk shops ISBN 978-1-912256-44-0
ABOUT ANDY ROLAND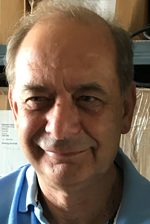 ABOUT THE AUTHOR
Andy Roland is a retired vicar living in Earls Court London who has been fascinated by Israel for over 50 years.
His interest in Israel was sparked by an article in the Observer newspaper in August 1963 which said anyone could volunteer to take part in a massive archaeological dig at Masada, Herod's fortress-palace by the Dead Sea. Andy went out for a fortnight, and has been back six times since, in 1975, 1990, 1996, 2012, 2015 and 2017. He co-led a parish pilgrimage to Israel in 1996, and has taken part in the Week of Prayer for Christian Unity three times.
Since retiring in 2015 he has become engrossed in writing. In April 2017 he published "Bible in Brief", a six month exploration of the Bible with an accompanying website www.bibleinbrief.org; "Discovering Psalms as Prayer", drawing on his experience in South India; and "The Book of Job for Public Performance", with a foreword by Rowan Williams, former Archbishop of Canterbury.
He has an innate curiosity which loves questions rather than quick answers and values journeying over taking root.
ABOUT THE BOOK
In January 2017 Andy Roland made his third visit to the Week of Prayer of Christian Unity in Jerusalem. He takes the reader with him in words and photos, walking through Jerusalem and to each of the evening services.
Each day has its own theme: Holy Sepulchre, the Christian pilgrim sites; the Muslim and Jewish Quarters, the Israel Museum, Tel Aviv and Bethlehem. Andy Roland gives fascinating background facts about all these places.
The reader meets some ordinary Jerusalemites, such as a Muslim cobbler, an Armenian money-changer, a Jewish taxi driver, a Palestinian Christian lady of 90, a German human rights worker and two Israeli soldiers.
Every day the author encountered some of the tangled political issues that infect the land, which he recounts with the aid of his past visits to Israel. When leaving, he found in the airport eleven wall panels giving the Zionist narrative of Israel; he reproduces this in the book together with some comments and uncomfortable facts.
As he says in his conclusion: Jerusalem is fascinating, energising, exhausting and deplorable but never dull!
The book is profusely illustrated with colour photos taken by the author.
THE BOOK LAUNCH
When? Friday 13th October 2017
Where? Institute of Directors, 116 Pall, London SW!Y 5ED
Just walk from Piccadilly Circus down Regent Street St James.
Timetable: 6.00 Doors open
6.30 Welcome and introduction of author
6.40 Andy's author journey
6.50 Describing the book and Q&A.
7.30 Talks of three charities working in Israel/Palestinian territories:
Amos Trust, Embrace the Middle East, Living Stones.
8.15 Networking
9.00 Event closes
THIS BOOK IS FOR YOU IF
you have ever wondered what it would be like to visit Jerusalem;

you would like to know more about the Christian churches in Jerusalem in all their amazing variety;

you have visited Jerusalem and would like to compare notes;

you are tired of newspaper headlines about Israel and the Palestinian Territories and would like to get a feel for ordinary life in Jerusalem;

you are interested in the history of Jerusalem and how we got to be where we are, (the appendices aim to help in this);

you want to hear some good news about how the Christian churches in Jerusalem are committing themselves to unity;

you want to be constantly surprised and occasionally shocked;

you are confused about the rights and wrong of the situation in Israel and the Palestinian Territories. I hope that after reading this book you will still be confused, but at a deeper level!