Description

7th Annual AMRA Conference: "Revealing the Unseen"
In light of Huzur's recent call to Ahmadi's regarding research, AMRA invites you to its 7th Annual Research Conference. This conference will bring together individuals from across the UK to meet and listen to top Ahmadi researchers present their latest work. Presentations are aimed for all, particularly those with a keen desire to multiply their knowledge.
The theme of this year's conference is "Revealing the Unseen", in reference to the Qur'anic injunction of belief in the unseen. Our speakers will present aspects of their field that are visible to them, but invisible to most. Innovative talks will be delivered on the following:
'Evolution strikes back: the fight against bacteria'
'Aqua farming: the solution to water shortage?'
'The future of battery storage'
'The art of design: communicating through vision'
'The brain and health: an inseperable connection'
'Gravitational waves: the unseen ripples in space'
'The logistics of disaster: complexities in providing emergency aid'
In addition, our keynote external speaker this year is Dr Sami DeGiosa, from the Oxford University Khalili Islamic Research Centre. Dr DeGiosa will speak on the topic of 'The Unseen Contribution of Women in Islam', in reference to the role of women in Islam throughout the Middle Ages.
Be part of Huzur's vision, and expand your knowledge. We look forward to seeing you there!
Please note this event is for Khuddam, Ansar and Atfal.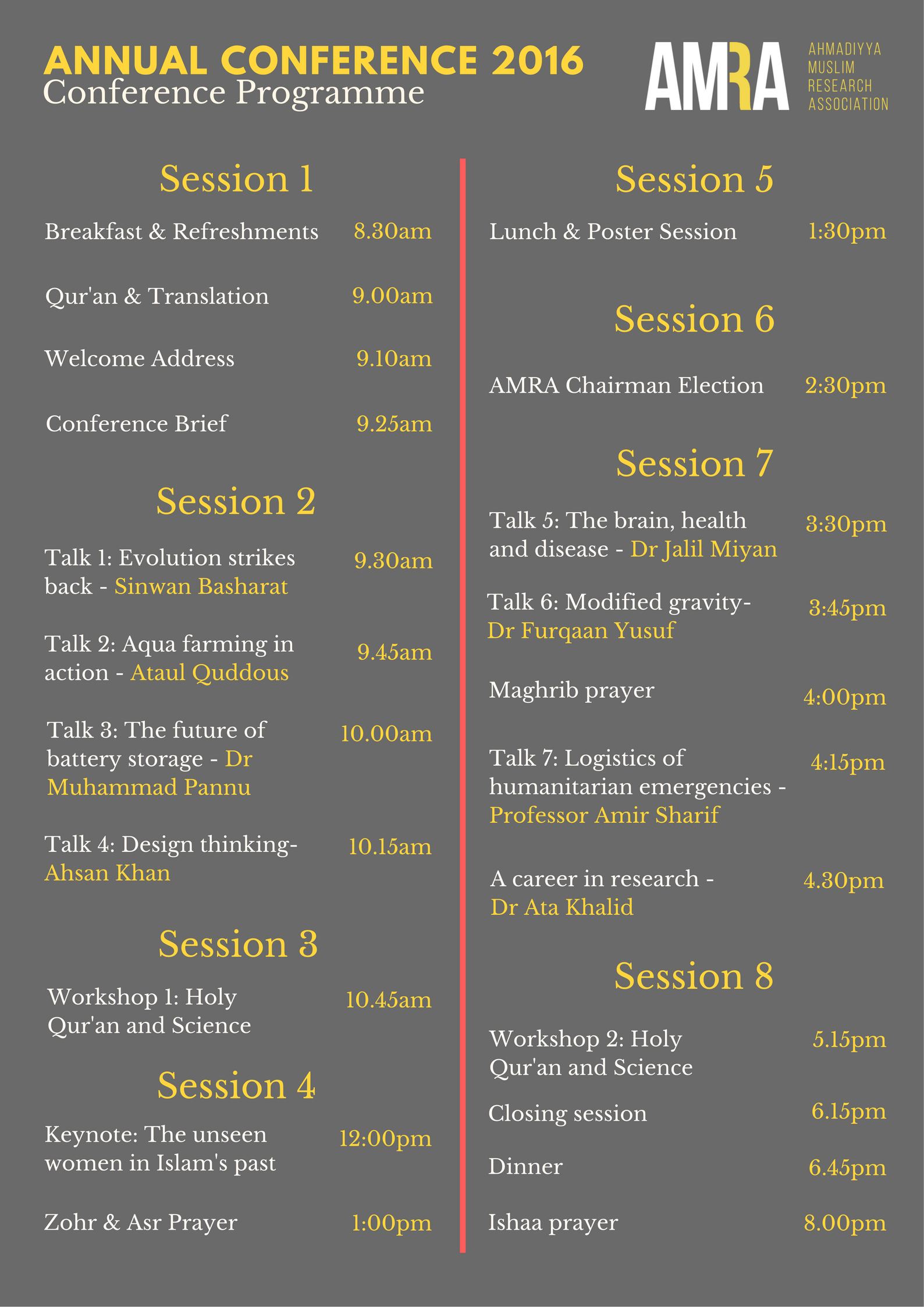 Travel information:
Car
There are parking places available within the mosque complex, as well as on surrounding roads.
Train
The nearest train station is Kempton Park. Trains go directly to Kempton Park go from the following stations:

Clapham Junction (35 mins)
Earlsfield (32 mins)
Wimbledon (28mins)
Raynes Park (25mins)
New Malden (22mins)
Norbiton (19 mins)
Kingston (16 mins)
Hampton Wick (14 mins)
Teddington (11 mins)
Bus
From Kempton Park the 290 bus opposite the road goes directly to Baitul Wahid (around a 6-8 minute journey)
Underground
The nearest underground station is pretty far. If you are unable to come by train or car, please contact us and we will try to make appropriate arrangements.