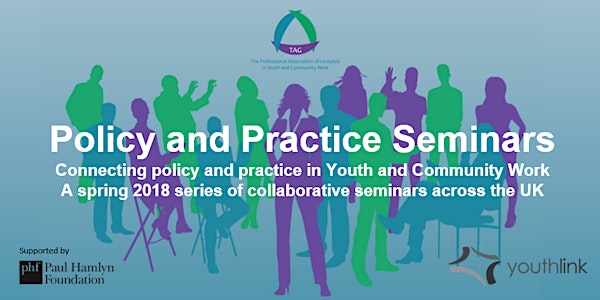 Revisiting the Value of Faith-based Youth Work (Belfast)
Location
Youth Link Northern Ireland
Farset Enterprise Park
638 Springfield Road
Belfast
BT12 7DY
United Kingdom
Description
The Professional Association of Lecturers in Youth and Community Work is funding a series of FREE national, collaborative 'Policy and Practice' seminars around the UK. The aim of these seminars is to foster greater levels of collaboration between higher education institutions and practice agencies in the profiling of challenges and opportunities facing youth and community work policy and practice across the UK.
This Seminar Title: 'Re-visiting the Value of Faith-Based Youth Work'
Hosted by the Youth Link Northern Ireland, this seminar is being delivered in partnership with the Institute for Children, Youth and Mission, Moorlands College, Nazarene Theological College, Scottish School of Christian Mission, the UK Christian Youth Work Consortium and YMCA George Williams College.
This Seminar Brief:
The purpose of this seminar day is to progress a conversation about the value of faith-based youth work at a time of change in the sector. Faith-based* youth work has had a chequered history with regards to its importance and recognition within the sector. Some organisations value it greatly and ensure that those working within the sector are fully supported with access to training, professional development and support from within their organisations. Others see youth work, or youth ministry, as an entry level work, training ground, or stepping stone to other ministries within faith-based or church settings. This seminar will facilitate a discussion on how to best support professional youth work in faith-based settings with discussions that will address the adequacy of training, funding and support available through institutional structures that sponsor or employ faith-based youth workers.
This seminar will be held in Northern Ireland where youth services have been complicated by a number of home issues that have impacted the youth work sector in recent years. In addition, there has been no policy leadership from Stormont since the June 2017 elections that has resulted in some youth workers being 'stood aside until funds have been reinstated' through to the closure of programmes altogether. This policy context and other national youth policy programmes will inform the discussion of issues facing the sector.
*The partners involved in hosting this seminar recognise they are drawn from broadly Christian faith-based agencies and invite active participation from wider faith perspectives.
Download a full copy of the event programme via this link
Who should participate?
We invite participation from practitioners, academics, researchers, agencies, institutions and activists from across the UK who share a concern for the wellbeing of young people and communities. The seminar will include opportunities for participation and networking with a view to extending partnerships between academia and practice agencies.
How do I book?
Click on the green 'register' button to reserve your free space (which will include refreshments; and catering where a seminar includes a typical meal-time). Please select the booking category that best fits your status and you will be emailed a confirmation 'ticket'. Further updates and information will follow as the event draws nearer with final joining details and a full programme emailed a week in advance of the seminar date.
What other seminars are taking place?
This seminar is one of ten free 'Policy and Practice' seminars taking place around the UK - each with a unique theme and approach - and you can view the full list of events via this link.

The Professional Association is grateful to the Paul Hamlyn Foundation for a grant that allows us to offer these seminars as free events to all participants. More information on the grant making activities of the Paul Hamlyn Foundation Youth Fund are available on their website via this link.