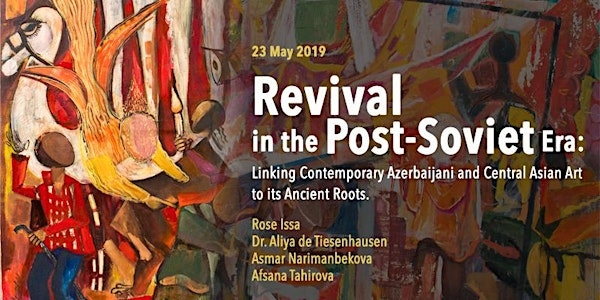 Revival in the Post-Soviet Era: Linking Contemporary Azerbaijani and Centra...
Location
Asia House
63 New Cavendish Street
London
W1G 7LP
United Kingdom
Description
Revival in the Post-Soviet Era: Linking Contemporary Azerbaijani and Central Asian Art to Its Ancient Roots

#AsiaHouseArts
FREE FOR STUDENTS!
Join us for a fascinating conversation with art historian Dr. Aliya de Tiesenhausen, artist Asmar Narimanbekova and gallerist Afsana Tahirova moderated by curator and writer Rose Issa, as they present the journey of contemporary Azerbaijani and Central Asian art from its historic roots to current times. They will expand on the region's oppressed cultural identity under the Soviet regime, its powerful revival in the Post-Soviet era and its manifestation in today's Azerbaijani and Central Asian art. The talk coincides with Caspia Contemporary Gallery's exhibition Contemporary Art from Azerbaijan | Journey of the Soul, on view at Asia House from 21 to 25 May 2019, 10.00 – 18.00 on weekdays, and 10.00 - 13.00 on Saturday.
The talk is organised jointly by Asia House and Caspia Contemporary Gallery.

This event is kindly supported by:
The Embassy of Azerbaijan in London, Azerbaijan House in London and The British-Kazakh Society



About Rose Issa
Rose Issa is a curator, writer and publisher who has championed visual art and film from the Middle East for more than 30 years. She has lived in London since the 1980s showcasing upcoming and established artists, producing exhibitions with public and private institutions worldwide, and running a publishing programme. Through curating numerous exhibitions and film festivals, she introduced Western audiences to many artists who have since become stars of the international scene, including: Ayman Baalbaki, Shadi Ghadirian, Monir Farmanfarmaian, Bahman Ghobadi, Hassan Hajjaj, Farhad Moshiri, Abbas Kiarostami, Rashid Koraichi and Nja Mahdaoui among many more.
About

Aliya de Tiesenhausen
Dr. Aliya de Tiesenhausen is an independent scholar of Soviet and post-Soviet Central Asian art who received her doctoral degree from the Courtauld Institute of Art in London in 2010. She co-curated Focus Kazakhstan: Post-Nomadic Mind, London 2018 – the first major exhibition of modern and contemporary art from the country in the UK. She is the author of Central Asia in Art: from Soviet Orientalism to the New Republics, I.B. Tauris, 2016. She worked as an icon specialist at Christie's London, assisted with the production of Kazakhstan Swings film and co-convened conferences on the subjects of 'Framing the Other: 30 Years after Orientalism' at the Courtauld and 'Russian Orientalism through Art Production and Education' at Cambridge Central Asia Forum. In January 2019 she co-convened a doctoral research workshop on Central Asia 'Art and Culture: Actors or Representatives?' at the University of London.
About

Asmar Narimanbekova
Asmar Narimanbekova is an Azerbaijani artist, curator and associate professor of fine arts currently living in Paris, France. She received her degree in Fine Arts in 1986 at the Academy of Arts in Tbilisi, Georgia. Her works are in private collections around the world and in institutional collections including the United Nations Gallery in New York, USA, Ministry of Culture of China in Beijing, Ministry of Culture of Georgia in Tbilisi, Museum of Modern Art in Baku Azerbaijan, UNESCO Art Collection in Paris France and many others. In 2002 she was awarded the prestigious title of 'Honorary Artist of Azerbaijan' by the President of Azerbaijan for her contributions to the cultural heritage of the country. In 2017 she founded 'Togrul Narimanbekov Association' in Paris named after her father, Togrul Narimanbekov, a prominent Azerbaijani painter. The association organises exhibitions of contemporary Azerbaijani artists in Paris and Baku, and promotes cultural dialogue between Azerbaijan and France through artistic collaboration projects.
About Afsana Tahirova
Afsana Tahirova is the founder and Managing Director of Caspia Contemporary - a brand new gallery established in London, UK with an aim of bringing exceptional works of art influenced by the culture and history of Azerbaijan to the global art world. Afsana has extensive project management experience and an MBA degree from London Business School. Coming from a family of art lovers her passion for art and cultural heritage of her country Azerbaijan was matched with her extensive business experience to launch Caspia Contemporary in order to represent highly talented Azerbaijani artists in London and around the world.

This event is part of the Asia House 2019 Spring Arts and Learning Programme, a completely unique initiative in the UK in presenting a pan-Asian artistic and cultural programme with a scope of more than 40 countries in the region. Through our programme of events on arts, culture and education we act as a catalyst for the discovery of the diverse arts and cultures of Asia and the Asian diaspora, and serve as a bridge of understanding between the UK and Asia.
Sign up to our mailing list for all the latest on this year's events, and visit our Eventbrite profile to book more tickets!