Description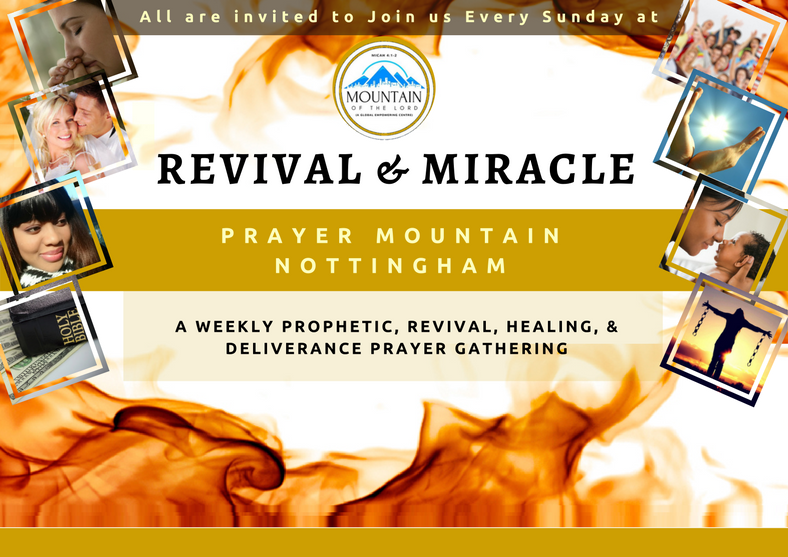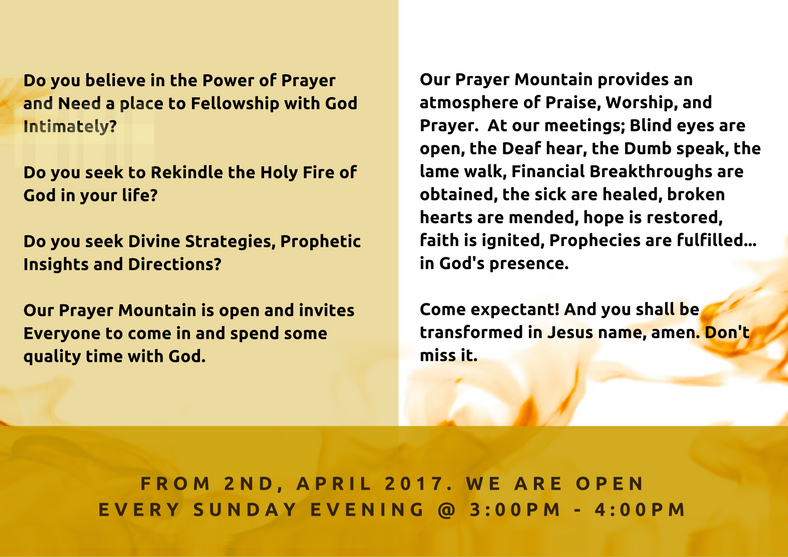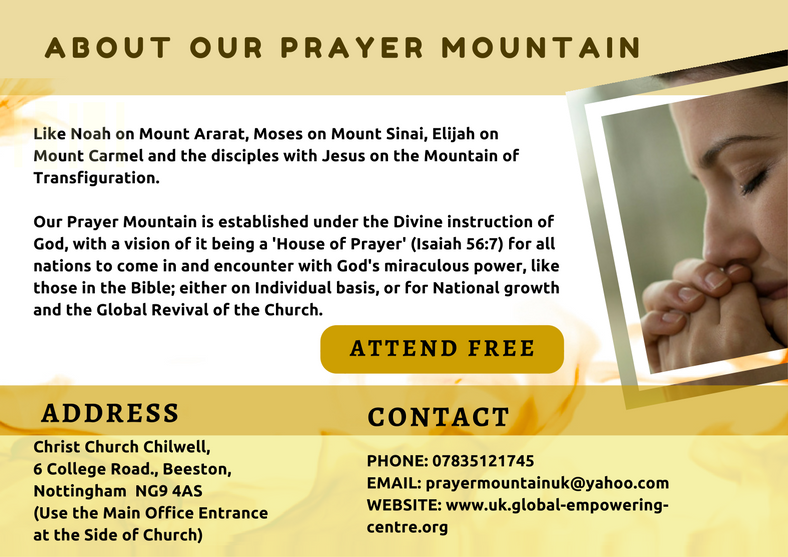 You are Invited.
Come and fellowship with Kingdom-minded people, and get calibrated with God's plan for your life.
Free parking spaces available....
For further Enquiries: 07835121745
FAQs
What is a Prayer Mountain?
Our prayer mountain does not necessarily mean a physical mountain; it represents an atmosphere which connects you with the Presence, Power and Glory of God.

FAQs
Did Jesus Pray on the Mountain, while on earth?
Yes, Jesus while on earth commune continuously with God without being distracted on the mountains. We find several instances in the scriptures where the Lord Jesus went to a mountain to pray. Matthew 14:23 tells us, "And when he had sent the multitudes away, he went up into a mountain apart to pray: and when the evening was come, he was there alone." We read in Luke 6:12, "And it came to pass in those days, that he went out into a mountain to pray, and continued all night in prayer to God."
FAQs
Is there a significance to the Lord going to a mountain to pray? Does the Lord hear us better from the mountain top?
In relation to a Physical mountain, to both of these questions, I would say "No". However, a Spiritual mountain takes our attention from ourselves and positions us to enjoy true time of uninterrupted communion with Our Heavenly Father. We are able to pour out our hearts to the Lord, allowing His Spirit to bring things to our minds to pray about. Romans 8:26, "Likewise the Spirit also helpeth our infirmities: for we know not what we should pray for as we ought: but the Spirit itself maketh intercession for us with groanings which cannot be uttered." Luke 9:28,29 &36 says, "And it came to pass about an eight days after these sayings, he took Peter and John and James, and went up into a mountain to pray." Immediately after this, the Lord was transfigured in the presence of these three disciples.
FAQs
What do I experience on the Prayer Mountain?
Expect the visible demonstration of God's presence and power like never before, expect transformation, expect personal revolution, expect re-alignment, expect deliverance, expect healing, expect creative miracles etc.
FAQs
Are there ID requirements or an age limit to enter the event?
No ID required just come in.
FAQs
Where can I contact the organizer with any questions?
Contact our Support Team via direct call or SMS on +44 7835121745
FAQs
What are my transport/parking options getting to the event?
There is a Free parking space directly by the side of the building. And a bus stop for NCT Bus 36, Y36, Indigo etc at the front of the building.
FAQs
I have never been a Christian but wants to learn more about Jesus?
You are welcome to join us, our friendly support team is happy to help you.