Revive & Thrive Town Centre Solution Challenge - The Judges

Thursday, 24 September 2015 from 10:00 to 21:00 (BST)
Event Details
Revive & Thrive are inviting key respected professionals in town/city centre regeneration or economic development to judge the best solutions for promoting and protecting our centres to help them revive and thrive.  

Our venue for the Town Centres Solution Challenge on September 24 2015 is the Black Country Living Museum.  Holding the event here will both ensure an enjoyable and informative day and enable us all to compare and contrast with town centres of the past.
Participating as a Judge allows - 
Full access to the 26 acre Black Country Living  Museum

An immersive and interactive judging event

Entry to the current and future town solutions exhibitions and workshops

Free refreshments throughout the day

Lunchtime tour of the museum with Hobbs' & Sons traditional fish and chip lunch

Gamification, treasure hunts and competitions
Why hold this event? 
Regeneration and Town Practitioners simply don't have the time to consider all the solutions that can preserve or bring about positive economic and behaviour change in a community.  So we are going to spend a varied day together which will include listening to presentations and scoring the products and solutions in a Dragon's Den style format.
The day will result in a number of 'Best in Class' winners and best 'Overall Solution for Town & City Centres.'  This will help colleagues, in their day to day work, to prioritise which projects are worthy of their consideration as judged by a panel of their peers.
Solutions that will be judged on the day are not limited to, but may include car parking projects, events, websites, mystery shopping, window dressing, signage, apps, street furniture, pop up shops, retailer training, lighting, loyalty schemes,  Christmas lights, markets, entertainers, footfall counting, maps, newsletter, local press, cost reduction services, shop local campaigns the list goes on and on and these examples are for illustrative purposes only.  Here's more information about why we do what we do.
Who else can attend on the day?

In addition to the judges, the exhibitors and the businesses who are presenting, the doors are open to this exclusive event to anyone involved with or interested in retail, town/city centres and communities.  You can find out more by visiting this webpage but, in brief, day visitors are invited to the exhibitions, workshops and the museum for £20 + vat.
The agenda for the day will include -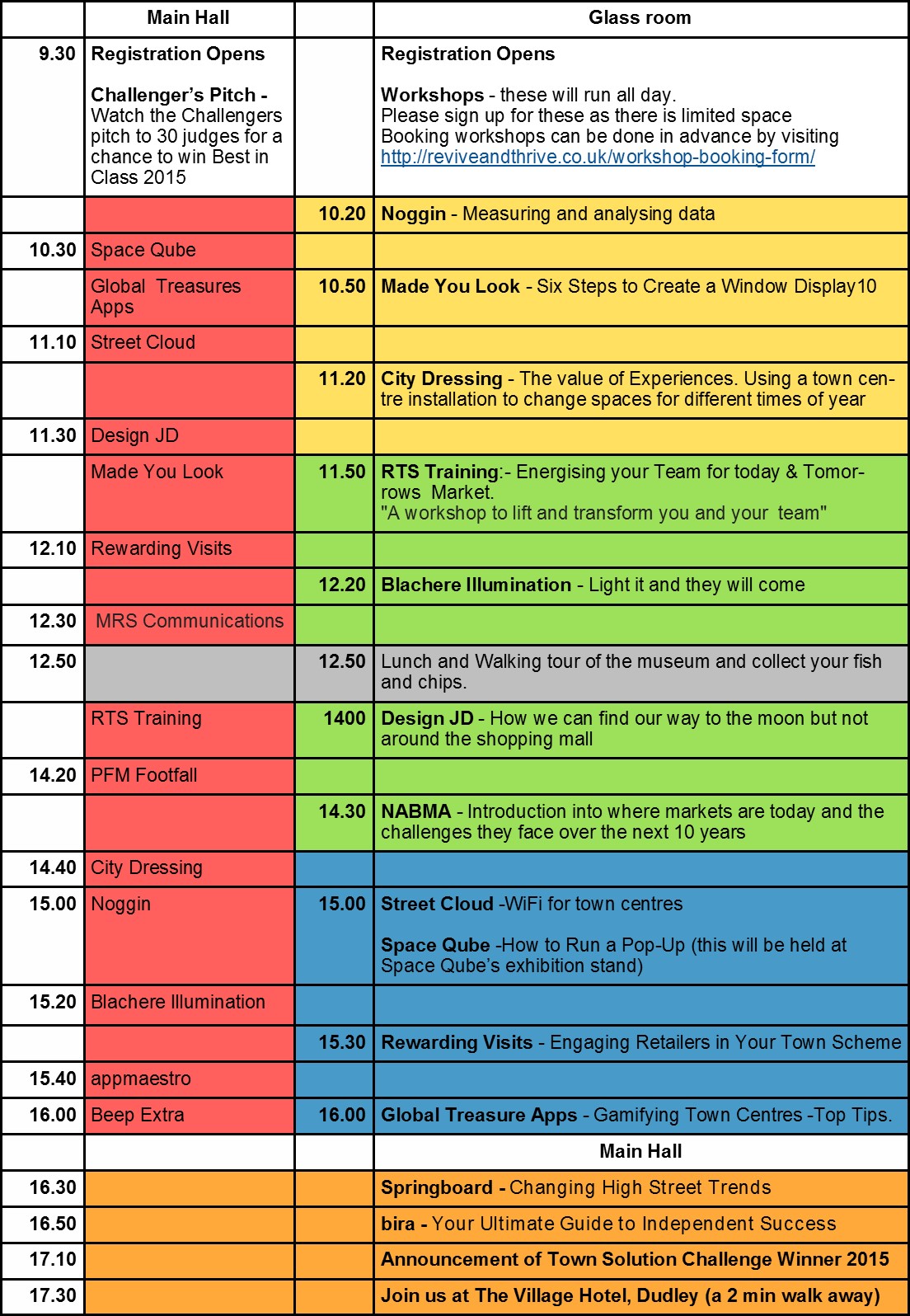 Inclusive workshops can be booked seperately here.
Cost -
We are being asked to charge a nominal fee of £10 + vat to secure the judging seat.  This does includes all of the above with the drinks, food and entry to the museum included.  The main reason for charging is to ask the smallest amount of 'buy in' from the Judges to reduce the risk that positions on the panel go empty at last minute.
We are grateful to our judges for taking the day out of normal work to make the event and its outcomes successful.  The nominal fee is a token contribution to secure an element of commitment and is non refundable.
How to be a judge.
Judges are invited but if you think you have what it takes to judge the best tools and solutions for UK town and city centres we want to hear from you.  A judge might be a well known and respected regeneration or high street luminary and/or a representative of a BID, Council, Business Group, Shopping Centre or Town Team/Partnership.
Invited Judges are asked to register by clicking this link.
Email any enquiries or apply to be a judge via mark@reviveandthrive.co.uk or call 03330 124285.
Revive & Thrive is available for your high street and community right now.  Take a look at the Revive & Thrive Partnership, as well as Who's Who.  
Why not join the the free Revive & Thrive Town and City Community designed 'for ALL people passionate about place' where you can enjoy many cost saving opportunities such as Revive & Thrive Financial Services.
Get inspired by our innovative Revive & Thrive Business Group and, if relevant read how to join the Business Group.  Also see our testimonials and our free 'Ask the Partnership' service.
See how you can promote and defend your town and city centre by using Time 4 Towns our Town Centre Management Outsourcing Service, our BID Feasibility Service and our unique PR Service
Want to get the best from social media for your community, town or city?  See the results that we achieved on Retweet For Towns Day and how the Revive & Thrive Twitter Service could deliver these outcomes to you today
For further information please contact us direct.
When & Where

Black Country Living Museum
Tipton Road
DY1 4SQ Dudley
United Kingdom


Thursday, 24 September 2015 from 10:00 to 21:00 (BST)
Add to my calendar
Organiser
Revive and Thrive are the UK's fastest growing regeneration company. Committed to action, we work quickly, passionately and cost effectively. We employ the latest business models around sponsored networking and content provision. Our belief in what can be achieved by working together means we make membership, events, newsletters and our industry leading PR service available free – join in!
We constantly research and review products and services that are on offer to regenerate, improve or otherwise help town centres, so that we can bring the best of these to you to you through our Business Group. We offer knowledge services from our Business Group members at discounted rates which can be taken advantage of individually or as a complete package. Businesses interesting in joining Revive and Thrive can learn more about the benefits here.
We have a Partnership of professional service providers who are dedicated to shaping the future of our towns and high streets today and ready to answer any questions you may have for free. Please post your questions via our contact us page and we will get an answer for you within 24 hours.
As well as the products and services of our business group and partnership, Revive and Thrive offer our own solutions in the form of Time4Towns a complete solution tailored for your town and managed by R&T directors. We also have our BID Feasibility Serviceand Town Centre Management Outsourcing Service, both providing the multifaceted expertise required to help your high street thrive cost effectively, with no down time or  additional costs and our industry leading PR service which can be extended beyond our basic membership service to write press releases and create focused campaigns just for you.