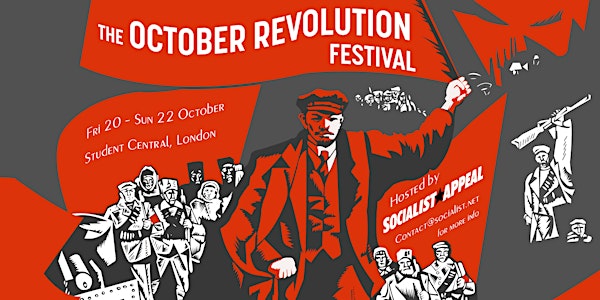 REVOLUTION 2017 - a three day festival of Marxist ideas
Event Information
Location
Student Central
London
WC1E 7HY
United Kingdom
Description
100 years ago, the masses in Russia - led by Lenin and the Bolsheviks - changed the course of history with the inspiring October Revolution. For the first time in history, the working class took power into its own hands and attempted to transform society in the interests of the vast majority.
Today, with the world in the midst of crises at all levels - economically, politically, and socially - there is once again a thirst for revolutionary ideas to make sense of the turbulent processes taking place and explain the way forward for society.
From the chaos of the Trump administration and the growing global military tensions between America, China, and Russia; to the radical political movements seen around Melenchon in France, Sanders in the USA, and Corbyn in Britain: it is clear that the status quo has failed and the system has broken. Now more than ever, therefore, there is a need for revolutionary change and a socialist alternative.
Join Socialist Appeal and the International Marxist Tendency this October for REVOLUTION - a three day festival celebrating the events of the 1917 Russian Revolution; learning the vital lessons from such revolutionary historical events; and discussing the relevance of Marxist ideas in understanding how we can fight for radical change today.
With guest speakers and special sessions on:
The life and ideas of Leon Trotsky - new documentary, introduced by Esteban Volkov, Trotsky's grandson (via video link)
How the working class took power: lessons of the 1917 Russian Revolution
The international impact of the Russian Revolution
Introductions to Marxist economics and philosophy
And much much more!
E-mail contact@socialist.net to book your place now.
Early bird tickets available until 1st August: £5 unwaged / £10 waged
Limited accommodation available - e-mail to reserve.
Date and time
Location
Student Central
London
WC1E 7HY
United Kingdom