About this Event
With the world advancing towards unprecedented technological growth, it is extremely essential to be aware of the contemporary social issues and how it can change the way the world works.
The Black Lives Matter(BLM) movement has provided an impetus to the idea that social movements shouldn't be limited to traditional categories of identity.
Intersectionality has existed in the society for decades and now it is time to understand that overlapping racial and gender identities create new forms of discrimination which directly needs to be recognised and addressed. The analytical study of Intersectionality and social movements could help us challenge biases, achieve equality and celebrate each person irrespective of their social class, race, age and gender.
I am Paulette Watson from Academy Achievers and today we are going to talk about the way of uniting all oppressions on the theory of "Intersectionality".
In this talk, I will be discussing the concept behind Intersectionality and how it would be instrumental in building a more sensitive world that is free from biases.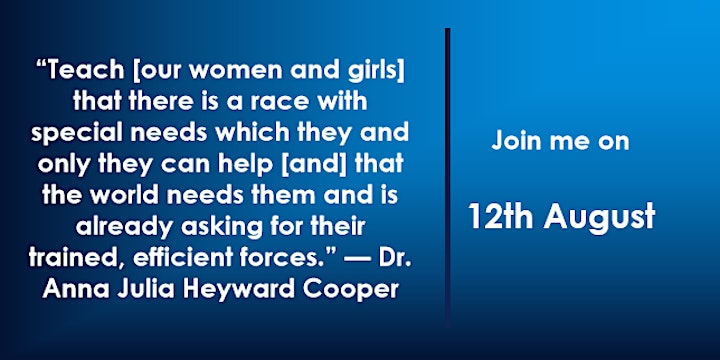 We will kick off at 7:00 pm London Time on 12th August 2020.
The event will stream from zoom and a link will be provided once you have purchased your ticket.
You can find the full schedule and convert it to your timezone at https://www.academyachievers.co.uk.
Find out more about our excellent speaker and more details about her work at https://www.academyachievers.co.uk.
Sharing:
Please share on social media using the hashtags.#AcademyAchieversTech, #BeMeSTEM and #BeMeSTEAM
For those in your network who haven't registered, they are still welcome to come and listen if they are aligned to promote digital literacy.
Sample post you can share with your networks: I am attending #NewTechnologies #EmergingTechnologies today from 7 pm. Join this free virtual tech conference to spread digital literacy at https://www.academyachievers.co.uk #AcademyAchieversTech #BeMeSTEM #BeMeSTEAM
We hope you enjoy, learn, and connect on 12th August! We will send out a survey after the conference to get your feedback and listen to your suggestions. For any queries, feel free to reach out to us at : info@academyachievers.co.uk
Please let us know if you have any questions. See you at www.academyachievers.co.uk
Linkedin - AcademyAchievers
Facebook - AcademyAchievers
Instagram - AcademyAchieversltd