Location
Village Hotel Edinburgh
140 Crewe Road South
Edinburgh
EH4 2NY
United Kingdom
Refund policy
Contact the organiser to request a refund.
Eventbrite's fee is nonrefundable.
Learn the ESSENTIAL information and the absolute MUST DOs of successful property investing. REAL strategies to help you create REAL WEALTH.
About this event
We're Laurie Duncan and Alex Robertson, and we're the founders of Real Estate Wealth Development (REWD) Group. After working years in our corporate careers, we decided to start investing in property and create a life on our own terms.
With the help of Conar Tracey; our Head of Group Development, we went from 0 to 200 properties worth over £11 million, generating over £100,000 per month in passive rental income in just 2.5 years.
At REWD Essentials LIVE!, we're going to share our story and our replicable strategies that you can use to build wealth and create a new monthly income source starting with no prior knowledge, experience or money.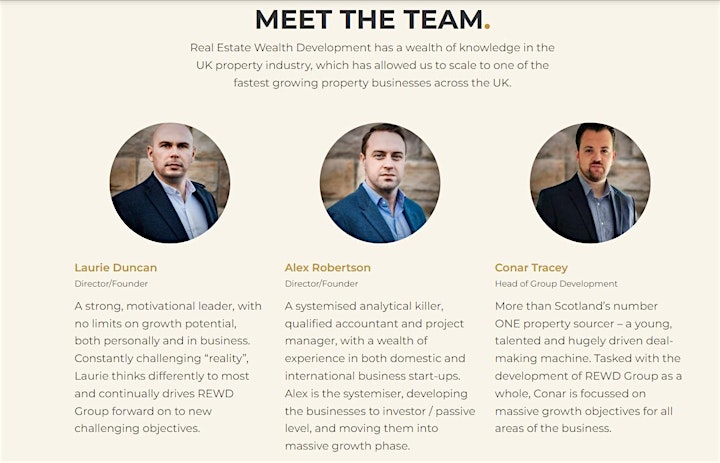 Learn How To Gain Financial Freedom.
Following our rapid growth, we are delighted to support others in their property journey with one simple objective:
To help you grow a scalable property business that not only has the potential to replace your full-time income, but can change the lives of your entire family by creating GENERATIONAL WEALTH using the most trusted asset class in history.
We'll teach you how to harness the power of property investing through 9 key learning modules:
MINDSET: Any success must start with change! Changing the way you think about money, wealth and success. This module will open your eyes to entrepreneur mindset.
THE BASICS: The essential, base knowledge you need when starting out in property. From explaining why property is the best investment vehicle to explaining the purchasing process, we cover it all.
THE STRATEGIES: There are MANY MANY ways to make money in property and in this module we will give you an overview of key strategies. Whether you have cash or not there will be a strategy to get you started in property.
INTRO TO PROPERTY TAX: So many courses don't cover this essential learning. With so many changes in property tax over the last 5 years its critical you understand the fundamental (BEFORE YOU START) or be prepared to hand the tax man a lot of your hard earned cash.
DUE DILIGENCE: Arguably the most important step within property investing is completing the due diligence to make sure your deal stacks up. This module will walk you through this process and some of the key tools to improve the accuracy of your analysis.
FINANCE: No matter what your financial position you need to learn the skill of attracting finance into your property investment business. This module will show you all the ways you can finance your investments.
UNDERSTADNING THE NUMBERS: This module will teach you how to calculate and evaluate the numbers associated with each of the various property investment strategies. In this module we give live examples of deals that REWD Group has done and the numbers associated.
MULTIPLE STREAMS OF INCOME: Why just implement ONE strategy? In this module we cover the power of employing multiple strategies to grow a large and synergistic property investment business.
BTL AT MASSIVE SCALE: The heart of REWD Group: Buy to Let at massive scale! Having grown our own BTL portfolio from 0 to over 200 properties in less than 3 years, we will share with you in this module an insight how you can achieve similar results.
If you're thinking of getting into property investment or if you've already started, there must've been a really compelling reason that made you interested in the first place.
Maybe you heard that it can bring in additional income?
Maybe you like the idea of not exchanging time for money?
Maybe you want something more to life than what you're currently doing?
Perhaps you're like us and you're thinking much bigger and want to create generational wealth and leave a legacy.
Whatever your reasons for getting started, you won't get anywhere without taking action.
We'll answer the key questions people want to know when starting out in property investment:
What is the best location to invest in?
How do I buy a property with no money?
How can I buy properties at half of their actual value?
How do I make profit from property and avoid tax legally?
How can I rapidly speed up the process of building a property portfolio?
This is the most comprehensive property training for beginners on the market. Without question.
All you have to do is book your ticket, turn up and be prepared to have your eyes opened to what can be achieved when you know how.
What You Will Receive:
- Free Ticket to REWD Essentials LIVE! at Village Hotel in Edinburgh
- Networking and Q&A session with Alex, Laurie & Conar at the end of the event
- Access to the full REWD Essentials Online course (12 Months Access)
- Deal Calculator to help you quickly assess viable investment opportunities
- Property Viewing Checklist
- Free copy 'The 0 -200 Formula: Our Replicable Method Of Building An £11 Million Portfolio In 2.5 Years' E-Book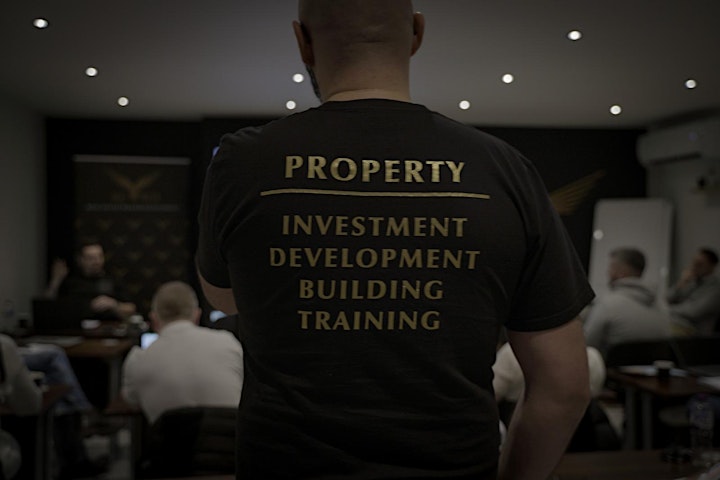 Invest In Your Future By Learning From Us
www.rewdtraining.co.uk